How can we assist students in a secondary schools reach their fullest potential?
As a part of the Realizing Potential Journey (RPJ) model, we encourage each educational entity to establish a foundation when it comes to developing students, parents and teachers. This foundation is essential when setting personal, academic and/or family goals; so, each goal becomes a realization. The journey to reach these goals is crucial to establishing a successful and sustainable process.
At the core of our message when conducting sessions is to offer all participants the gift of self-awareness. A moment where each student can know what he or she brings to a team, a course or to his family.
This process begins with students taking an online survey to determine their E-Colors. After their E-Colors are identified out of 12 possible combinations, students identify their strengths and potential limiters, as well as quirks and tendencies.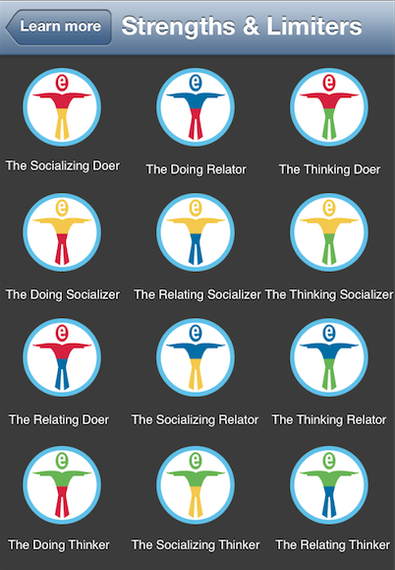 Taft Union High School District in Taft, California implemented the RPJ model. Their decision to do so has positively impacted the lives of many teens. Ted Pendergrass (R/G) an educator at Taft UHSD became one of the first official E-Colors in Education facilitators. He obtained his certification to conduct awareness workshops within his school district. Ted along with several of his teacher colleagues set out to conduct a workshop this summer for high school students.
I presented E-Colors Awareness and Personal Intervention to 60 incoming freshmen enrolled in High School Preparation during summer school. The week before the three teachers Eric Newton (Y/B), Brad Van Roekel (B/Y), Amber Tripp (B/G) had all the students take the PDI so they were ready when I arrived Monday morning. Since I didn't have access to wristbands, I had "name tents" made up with the E-Color figures printed on them. Students got their respective figure and wrote their name on the tent, and some even decorated those, as you see in one of the photos. Then we conducted the Caricatures Ice Breaker and the students presented to the group. This was difficult for freshmen High School Prep students. Students who have been identified as low motivation, possibly not graduating 8th grade, and scoring low on placement tests.

After introducing E-Colors, students broke into their top E-Colors and answered the Self-Focus Questions. We came back together in a circle and discussed the answers. Students started to see the differences in personality styles. As an example, the top E-Color "reds" said they were strong leaders and we discussed that with them in front of the group. I then went to the top E-Color "blues" and asked them how they felt about that. By juxtaposing the two groups, students were able to see that the others were not wrong, just different. The students enjoyed this part of the day, as did I. We discussed one strength and one potential limiter with each color.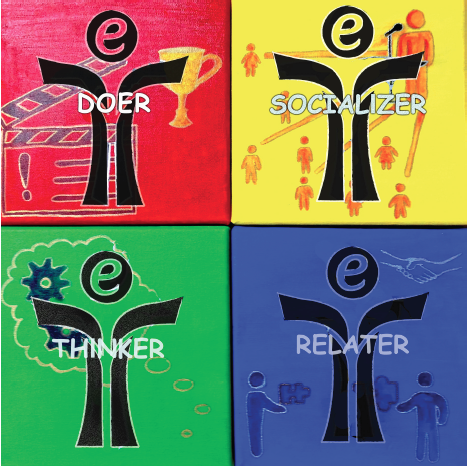 The next activity was going through the basic concepts, strengths and potential limiters of each color. The point was stressed that because you have all the E-Colors within you, you may see strengths and potential limiters of yours in colors you are not identified as.

I decided to do the SuperPower activity with the students next, which proved to be difficult for them. The main difficulty came in getting them to identify a skill, talent, or gift. It took a lot of talking to help them through this. Friends seem to be the best help. I would ask a friend of theirs what skills, talents, and gifts the person had. That seemed to help the most. After this we taught them the debrief process and ended the first day.
Day 2 started off with reviewing the E-Colors through the Identify the E-Colors game. We had several students get 10 of the 12 correct! The students understood the basic concepts and were starting to identify those personality styles. I had some spare E-Colors Journals Rosalinda had given me, so I used those as awards. Hopefully, the students will use them!

The next activity was Spy Hunter. I was the judge, Eric and Brad the observers, and Amber helped the "spies" complete their questionnaire. During the debrief process, we were able to discuss the personality style differences and the "assume good intent". It is interesting to watch how top E-Color "yellows" and "reds" have no problem assuming the leadership role, while "blues" and "greens" are very apprehensive about it. Top E-Color "blues" were observed not even wanting to participate.

After the discussion about Personality vs. Character, I had four students participate in the Paper Tearing Exercise and we discussed the different listening styles of the E-Colors. We talked about the importance of intentionally communicating with each style so that all the E-Colors are satisfied. We also discussed the importance of them to learn how to ask the questions they have and become proactive in their education. This lead into Personal Intervention exercise and modeling coaching with students who were willing to volunteer, and how to use the "play" and "pause" buttons. The day ended with commitment cards and the E-Colors Ethics.

All in all, I think the students got a lot out of the two days. We were able to talk about the different aspects of their lives that E-Colors can impact- friends, family, teachers, school, sports, coaches and teammates. Hopefully, some of these students will go on to become E-Color Champions!
I fully believe that if we can replicate Taft Union High School's example at other secondary schools, students would have the opportunity to become self-aware to advocate for oneself, speak up for others and understand the world around them to truly prepare them to be 21st Century learners and leaders. Thank you, Taft Union High School District for transforming your community one student at a time and offering students a skill set that will take them beyond their secondary school experience.
E-Colors in Education, Inc. is a public charity that offers human performance coaching and professional development to educational entities across the nation. In a multilayered process, we develop exercises to discuss self and team awareness. We establish shared vision and values. Along with setting clear roles and processed, we build trust and celebrate diversity of thought. E-Colors in Education, Inc. is committed and accountable to the public we serve, always encouraging continuous learning and improvement.
Calling all HuffPost superfans!
Sign up for membership to become a founding member and help shape HuffPost's next chapter