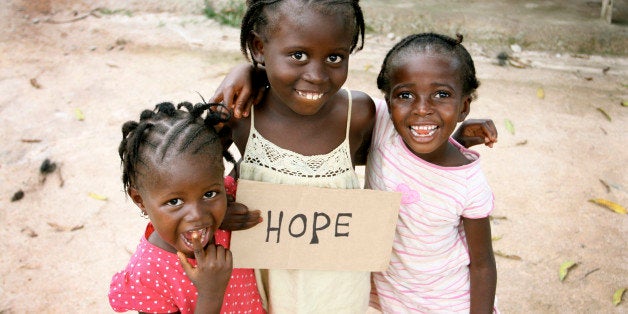 The holidays are upon us, and with that an opportune time to reflect on what we have, what we want, what has happened over the past year, and what will come in the next.
2014 was, in many ways, a good year for those advocating for the health, rights and wellbeing of girls and women. We saw more women gaining access to contraception, a continued momentum to ensure girls and women are prioritized in the post-2015 agenda, and an inclusion of human rights and involvement of young people included in the Secretary General's draft synthesis report on the Sustainable Development Goals. However, we also saw conservative forces chipping away on sexual and reproductive health and rights around the world, and it is clear that there is still much work to be done.
As we gather with friends and loved ones this holiday season and feel the warmth of giving back, let us reflect on a gift that truly keeps on giving -- an investment in girls and women. 2015 marks a critical time where the world has a unique opportunity to prioritize the lives and wellbeing of girls and women. As the United Nations solidifies and agrees on the next development agenda, we must work harder than ever to guarantee that structural and power changes occur so that girls and women will get opportunities to exercise their full rights -- living longer and healthier lives, free of violence, with opportunities for education and employment. Such 'a power cocktail' truly has positive ripple effect where families, communities, and nations can benefit from women's unleashed potential, creativity, and productivity.

Recently, the Guttmacher Institute and the United Nations Population Fund, in their Adding It Up report, calculated that to provide what we could call a basic 'reproductive health and survival package' to every 15-49 year old woman across the developing world would, on average, cost only $25 per woman. Such a 'survival package' would include access to modern contraception, maternal and newborn care, care for women who miscarry or have a stillbirth, abortion-related care, consultations for women living with HIV, prevention of mother-to-child HIV transmission, and treatment for sexually transmitted infections. It would save hundreds of thousands of lives and improve the lives of millions more. Talk about change. Talk about impact. For $25!

Today, 225 million women worldwide would like to postpone their next pregnancy, but don't have access to modern contraceptives. Think about the consequences of that. And then think about what it would mean for each and every one of them if they had the contraception they need and want: the ability to decide when and how many children to have, the possibility of staying in school longer, keeping a job, having an income, taking care of a family - a brighter future for all! And it would be cost effective for society. Research shows, that for every additional dollar invested in family planning, $6 is saved.

Another winner investment is investing in a girl's education, including secondary education. Costs of school supplies, clothing, and school fees are out of reach for many low-income families worldwide and a key reason girls drop or are taken out of school. Other reasons include early or forced marriage, caregiving responsibilities, safety concerns, and lack of water and proper sanitation, which becomes a big obstacle when girls reach puberty and begin to menstruate. We know that keeping girls in school beyond 7th grade makes them more likely to postpone marriage, have an average of 2.2 fewer children, be less likely to die in pregnancy or childbirth, and more likely to have healthier children themselves and to send those kids to school. A true virtuous circle!

The Millennium Development Goals marked the new millennium nearly 15 years ago, and since then the countries that have increased quality education for girls, as well as access to comprehensive maternal, sexual and reproductive health care, have seen improvements in gender equality, women and children living longer, and a decrease in poverty and HIV and AIDS.
We are excited to explore and share these examples at the next Women Deliver conference -- May 16-19, 2016 -- in Copenhagen, Denmark. There, we will be joined by world leaders, influencers, activists, advocates, academics, journalists, front line workers, young people, and private sector and CSO leaders to discuss and showcase how we can implement the upcoming SDGs to matter most for and improve the lives of girls and women. The focus will be on solutions, evidence and impact and it will underscore just how girls and women are at the heart of sustainable development.

Investing in the health, rights and wellbeing of girls and women, including their maternal, sexual and reproductive health and rights, is truly a gift that keeps on giving. Providing girls and women with education, access to health care and opportunities for employment, etc., comes back tenfold as women tend to invest a higher share of their earnings back into their communities.
Let us keep this in mind during the holidays and as we transition into a new year. What better gift can we ask for than one where truly everybody wins?

If you would like to invest in girls and women, Women Deliver can recommend to support the following: