Let's face it, moms are the masters of meeting everybody else's needs first...we take first-place at coming in last.
But with Christmas just around the corner, it's time to start thinking about our own wish-list, as well as everybody else's.
I say 'wish list', because I have already positioned carefully-placed post-it notes for my husband, with 'real' gift hints attached...my real-life Christmas list is pretty much sorted. Yet in addition to my mommy-must-haves, I also have a whole list of crazy and impossible answers milling around inside my head.
I'll take it; just an hour if that's all there is on offer...or if you're feeling particularly generous, perhaps two.
And another from my fairy-list...pampering.
Although I can't get to the spa, because I've got a date with Winnie The Pooh and have promised my daughter a marathon bake-off, gingerbread style. Ok, well if you could bring the spa to me, that would be super, thanks for asking. A hint? Sure, you can't go wrong with a gift basket...anything that comes with slippers will win me over from the start...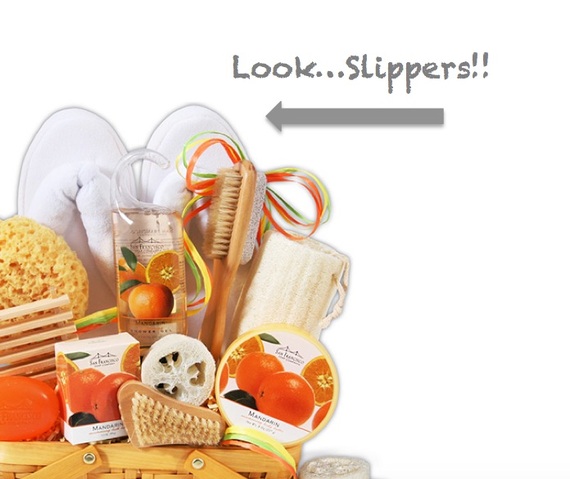 And if you happen to know a personal chef, please pass on my details, because this imaginary list wouldn't be complete without a fresh plate full of hot food (hot food...ah, I remember you.)
Because being a mom is truly a juggling act, with immense joy and near-exhaustion co-existing side by side, day in and day out.
Yet I wouldn't change it for the world. So I'll see you on Facebook, fellow moms, at 3am on boxing day...nursing a wakeful child back to sleep as we chatter about life through our mommy-screens. And if I'm very lucky, I might just be wearing my new slippers.