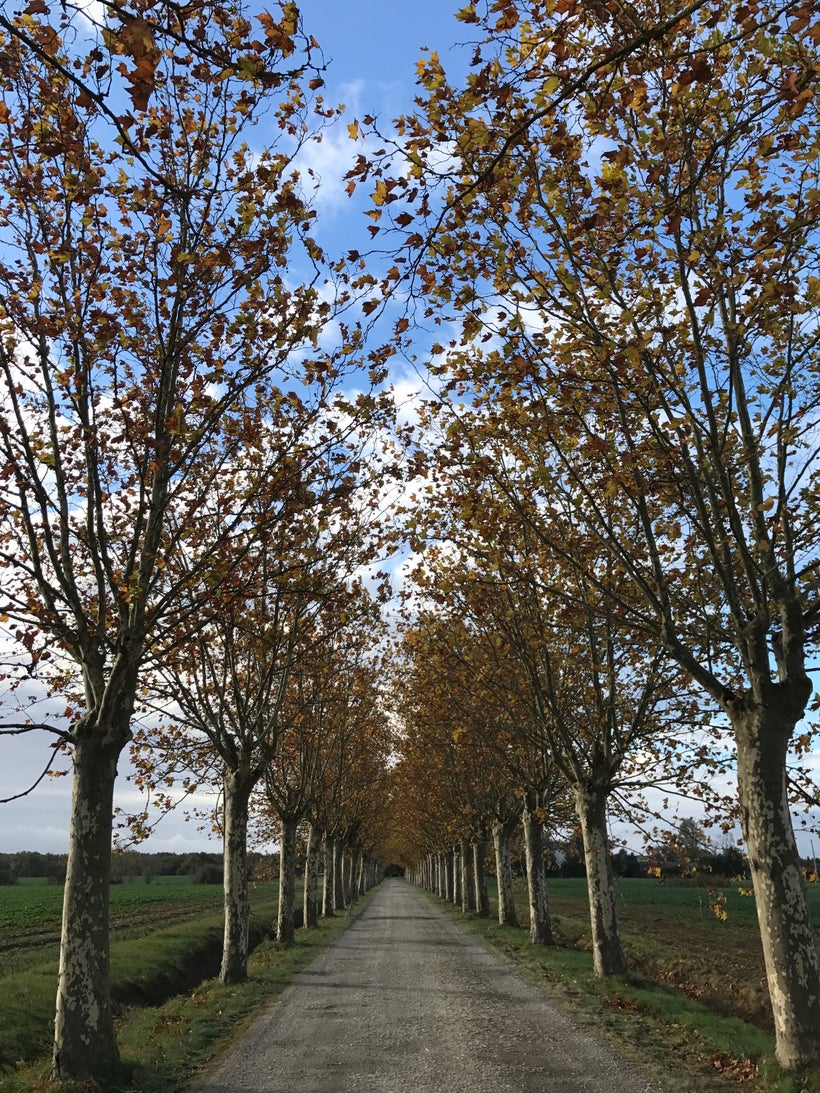 My family recently moved to France after nine years in Saudi Arabia.  For good and for bad, our new home is so different from our old home.  The food, the culture, the people, the landscape – everything is different.  But the thing I have noticed most are the trees.  Everywhere I look there are trees.  I had forgotten how wonderful it is to have seasons and to be in a forest or on a path lined with ancient trees.  It gives you a sense of connectedness and belonging.  It reminds you that you are a part of a continuing story. 
In our part of France, seemingly every street, road, and country lane is lined with trees.  Some of them are huge and must be hundreds of years old. In the fall, we walked through forests and along the Canal du Midi.  I would look up at the trees and think of the hands that planted them. It felt like time travel.  I felt connected to the people who planted and nurtured them.  Who was the planter?  What was his or her story? Did the planter ever get to enjoy the trees?  It always strikes me how beautiful trees are a gift from one generation to another.  One generation plants but never really gets to see the full potential.  They plant with faith and hope, and another generation enjoys without realizing all the work and forethought that went into it. 
My family is probably a lot like yours. There are many gifts we enjoy every day that were handed down to us from people we never knew. We have a new baby at home and in the winter we wrap her in beautiful hand-knit sweaters made by her Northern Irish great-grandmother. We lost her great-grandmother this year, before the baby was born. Although her Irish Nana never met our baby, her love and efforts still live on and are literally warming a new generation. We make orange coconut cake every Christmas from a hand-written recipe from great-grandmother Foree who died before my wife was born. I make buckwheat pancakes with my kids on a cast iron skillet using the same recipe from Preston County, West Virginia, that my grandmother uses and her parents used before her.
As we look forward to our first Christmas in France, I keep thinking about the trees.  We have bought the presents and decorated the house, but I think the most valuable gifts my wife and I will give our children are not found under the tree.  They are gifts of tradition, love, family, and belonging.  We recently started the tradition of a family fire night.  Before we go to bed we build a fire, have hot chocolate, and sometimes s'mores, and just spend time together.  We don't do anything.  We just sit quietly.  Sometimes we tell stories.  Sometimes we talk about our day.  Sometimes we read.  We started reading A Wrinkle in Time by Madeleine L'Engle.  My parents read it to me as a kid. The kids love the tradition and now request it every night.  
A year ago when our two-year-old son died, I understood in a very primal way how everything we have will someday be taken from us. We don't own anything. Our health, our youth, our wealth, our accomplishments, our status, our loved ones, even our very lives - we will have to give all of it back someday. The only thing that will last is the love that we invest into others. We plant seeds in others' lives and patiently nurture those seeds with our love, time, talents, compassion, and efforts. We never really know whether or how those seeds will grow. We simply must plant with faith and hope, and trust that what we plant will grow into something beautiful.
I like to think of our fire nights in France as a gift that I am giving not only to my children, but to my grandchildren, great-grandchildren, and beyond.  I like to think that just maybe, many years from now, a family will sit down in front of a fire to tell stories and share of themselves, and that their sense of belonging and tradition will be in some small way connected to us.  The toys we give the kids this year will eventually break and be thrown away. But the gifts of love, tradition, and family will grow and continue to be given again and again. Just like the Plane trees along the Canal du Midi, I hope they grow tall and strong, and provide comfort and shade to many generations.
Calling all HuffPost superfans!
Sign up for membership to become a founding member and help shape HuffPost's next chapter
This post was published on the now-closed HuffPost Contributor platform. Contributors control their own work and posted freely to our site. If you need to flag this entry as abusive,
send us an email
.