By Anabella Isaro, WiSci STEAM Camp Counselor

I want to be successful in life; I want all other girls to be successful, because their success means my success. From a young age we are groomed for competition in various fields, thus rendering it easy for women to be seen as greedy since there is little on the plate for us as compared to men.
I have been in positions where I inevitably felt bad if I lost, but even worse if I lost to a girl. I used to be one of those girls who used to say, "I don't do girl friendships", so it was a living nightmare when my parents sent me to an all-girls boarding high school. I am however changed now, being surrounded by females everyday for hours on end, it is hard not to see how women can empower each other and proper each other's success. Since I began attending an all girls' school, I've tended to seek the company of females rather than males. Being around males didn't necessarily empower me, it just made me want to be more 'like' them, but there is something special about seeking the company of your fellow women. You are unapologetically feminine and it makes you embrace the beauty that is being a woman and realizing your full potential.
There are times when I have been ultimately shocked by the indifference between us women, sometimes it is like we are always trying to pull each other down in the quest to reach the top .
A few months ago I had the privilege of being part of a camp that was held at my former all girls' high school, which I never tend to stay away from. It was an all women camp -- WISCI an abbreviation of Women in Science camp. During this retreat I learnt about something called a "GirlCode." I was a camp counsellor and tech facilitator, and was astounded and inspired by how these girls, none of whom were above the age of eighteen, have this GirlCode that I believe many successful women lack. There have been times when I was ultimately disgusted by the lack of support amongst females. But these girls showed me how bright the future can be and thus is for women.
These girls hailed from nine different countries with all sorts of different backgrounds, for many of them everything was a first, their first time to shower in open showers or their first time to sleep in an open dorm with other 60 girls. We all know that we tend to shy away from things we are not used to and it was a challenge for many girls to do things they hadn't done before and you would expect a challenge to bring out the worst in everyone. But it was uplifting to witness how these girls supported and motivated each other during this challenging and learning experience. With every challenge they always seemed to have each other to lean back on (it is no surprise then 'Lean On Me' by Bill Wither was our anthem), but whether in classroom challenges as they worked with Intel Cooperation to build their Galileo Boards or when one of them was homesick they always had each others back to lean on. It was my first time seeing a diverse group of young girls who barely knew each other coming from different countries and continents empowering each other, not because they are best friends, but because they realised they had one fundamental common feature, they are all girls and want each other to be successful and create a voice for a girl in a world where girls have been ignored for so long.
Here is something women and the rest of the world can learn from these girls in the WiSCI camp 2015. There is something dubbed the GirlCode and it has nothing to do with girls over boys but how we women, who had to struggle and overcome the challenges of striving in this male dominated world, can ensure that we create an easier path for the next generation of young women to be successful. Today If you are a woman I challenge you to find a girl that you mentor. You don't have to take her golfing like men do, just give her your email and make sure you at least check in every three months or so to see how she is coming along with her career goals. Send her information on opportunities you think she would be interested in. Make sure that in your lifetime as a woman you have had an impact on at least one girl's life. If I can be a mentor of 12 girls at the age of twenty, why can't you? We have to remember that an individual's success is always limited as opposed to being successful as a group.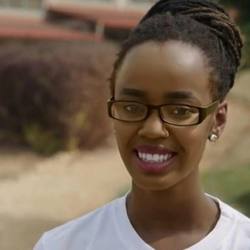 Anabella is a sophomore at Worcester Polytechnic Institute where she is majoring in Computer Science. She grew up in Rwanda but now lives in Worcester Massachusetts where she is pursuing her bachelor's degree. She is interested in advocating for global issues surrounding women and girls and creating a path that encourages girls to pursue STEAM related fields.