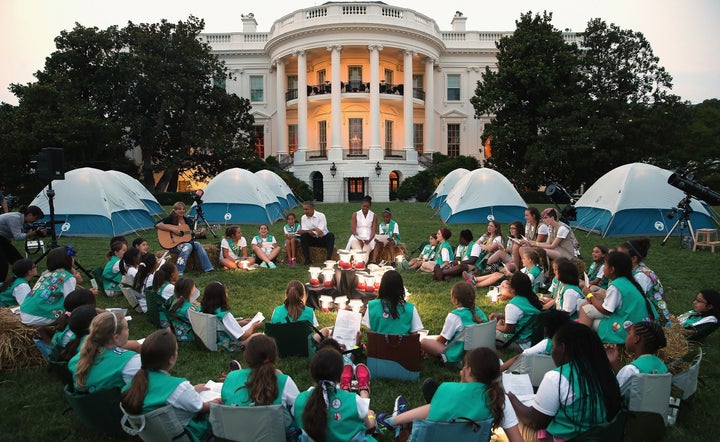 The Girl Scouts of the USA came under fire following the announcement that members of the organization would be marching in President-elect Donald Trump's inaugural parade.
On Tuesday, the Presidential Inaugural Committee announced the official lineup of parade participants. Among the many military groups and marching bands listed, the "Girl Scouts of America" list item certainly stood out.
Twitter users ― including current and former Girl Scouts, troop leaders and parents of scouts ― were quick to express their concerns with the organization's involvement in Trump's inauguration festivities.
Many stated that the president-elect's widely reported treatment of women and girls goes against the Girl Scouts' values, and makes the group's participation in the parade indefensible.
Responding to complaints, the official Girl Scouts account tweeted, "Since 1917, Girl Scouts have engaged in Presidential inaugural events to learn about the US democratic process & civic engagement."
The organization later added, "As a non-profit organization GSUSA is nonpolitical, nonpartisan, & will continue to encourage our girls to be civically engaged."
The Boy Scouts of America is also listed on the inaugural parade lineup. Though that group's participation has not generated nearly the same level of response, several former scouts have spoken out against the Boy Scouts' involvement.
"Thank you for your feedback," the statement begins. "As you know, for 100 years, Girl Scouts Nation's Capital has participated in the presidential inauguration. The event is an important symbol of our democracy and the peaceful transition of power."
"Girl Scouts will participate in this historic event because at Girl Scouts, civic engagement, responsibility and duty are at the heart of our values and ideals," the statement continues. "It is written into our promise and law, which among other things calls on girls to serve their country, respect authority and make the world a better place."
Though several commenters pledged solidarity with the organization's decision, the response to the Facebook post was overwhelmingly negative.
"So now we're back to teaching our girls to blindly submit in obedience to men of authority," wrote one commenter. "Your statement is most disturbing, and suggests that young girls should 'respect authority' without question. I find this frightening," added another.
When asked directly about scout participation in the marches, the Girl Scouts tweeted, "GSUSA respects the rights of each member of our Movement to make their own decision regarding their participation in this event."
As Friday approaches, former and current members continue to speak out on Twitter. Many have also called the Girl Scouts to express their concerns in the hopes that the organization might change its mind.
As one former scout, scout leader and mother of two scouts wrote on Facebook, "This is one tradition that should have been broken."