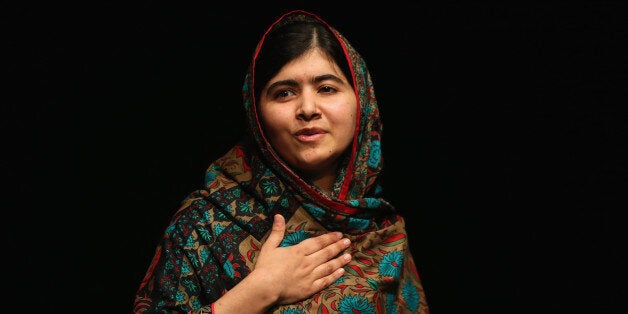 I haven't been fortunate enough to meet Malala Yousafzai, but many of my co-workers have. She appeared on many talk shows for the news channel I work for, and everyone who met her is in awe of her. She inspired them by the simplicity of her message: education for girls.
It's such a simple concept, a fundamental human right, but Malala never presented it as such. She, with her simple elegance, has always presented it as a request: Let girls be educated, not just because it is their basic human right but because they will learn to read and write and imagine ideas that will change the world.
After Malala won the Nobel Peace Prize, international papers and websites observed a strange phenomenon in Pakistan: Some people were not happy that Malala had won the Nobel.
There is a reason that this minority group in a nation of 182 million felt animosity toward the youngest recipient of the Nobel. They think Malala is part of a conspiracy by the West to malign Pakistan. This viewpoint, as extreme as it is, like all extremism, is held by a minority of people. According to this group, Malala was propped up by the West from the very beginning, when she started writing a blog for the BBC on what it was like living and studying under Taliban control in Swat, a beautifully scenic part of Pakistan where she was born and raised. When Malala first brought her cause to the media, she was interviewed by a senior talk-show host, who recalls that meeting with awe in his eyes. He says she stood in front of a group of men who were sympathetic toward the Taliban, some of whom were even part of the organization, and stated, simply, that girls like her just want to study and should be allowed to. These men were hiding guns under their shawls, he says, and she didn't blink, didn't show a glimmer of fear.
When Malala was shot and survived, this minority group turned to conspiracy theories. Malala wasn't shot, they said, because who could survive a bullet to the head? She concocted this whole episode, with the help of Western powers, to leave Pakistan and portray a "bad image" of the country, they said. For them, when she won the Nobel, it was confirmation that she was a tool used by the West to malign the image of Pakistan.
Why did a 17-year-old living in self-imposed exile deserve a Nobel Peace Prize? Like her, like her struggle, the reason is simple: She represents the most basic human right, the first spark of human intelligence and the first word of the Holy Quran that was revealed to the Prophet Muhammad (peace be upon him):
When you think of Malala, the first thing that pops in your mind is education. The second: education for girls. Compared with her co-recipient, 60-year-old Indian children-rights activist Kailash Satyarthi, she is inexperienced and hasn't struggled for decades for her country. This minority group believes that because her struggle has been short-lived, only shooting her to stardom because of an act of violence, she doesn't deserve this award.
But Malala -- as Pakistani columnist Mina Malik-Hussain put it -- is "The Girl Who Lived."
She represents all that is good -- her right to education, her religion Islam, and her courage against an evil that wanted to quash her. When the Talib aimed the gun at her, she squeezed her friend's hand, old enough to know what was coming next, with no magic wand to protect her, no gun to fight back. She sacrificed herself and lived. She went back to school with thundering scars and began a worldwide struggle against evil. And that, in itself, is pure magic.
How many girls in the world now want to be Malala? Millions. She represents a movement that has swept the world. She didn't need to work for decades to make schools and physically be present to convince parents to send their children to school. She simply went to school herself and refused give in to fanatics who wanted to take her rights away from her. She gave the ultimate sacrifice and lived to go to school again. And that inspired millions to make schools and to educate their children. That inspiration, that hope, deserves a Nobel Peace Prize over and over again.
Malala has made Pakistan proud. And I'm not talking about the Pakistan that has been represented by this minority in the foreign media. She represents the pure, unscathed and hopeful Pakistan. The Taliban and their supporters and sympathizers are an indoctrinated minority created by the government -- and funding -- of the United States and fanatic elements in Pakistan.
They do not represent Malala, and they do not represent Pakistan.
Malala is the daughter of this nation, a country that is struggling to overcome the burden of its own mistakes and fighting ongoing battles created by a cold, cold war. Malala is Pakistan; the army doctor who saved her is Pakistan; the father who sent his daughter to school after he realized the importance of her message is Pakistan. She fought for our rights as Pakistanis and lived, giving us hope in an idea as simple and as magical as her: education.