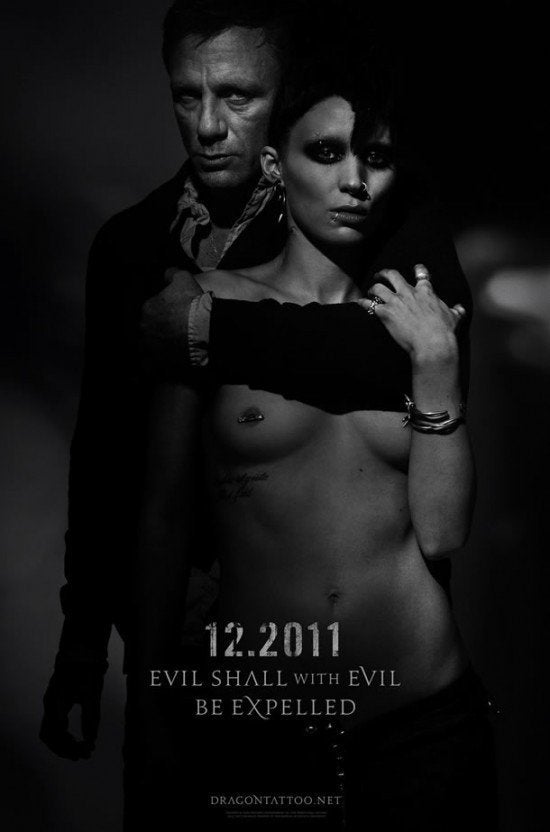 Shocking and brutal, the rape of Lisbeth Salander by her guardian/probation officer is the inciting incident to the quest for revenge that helps power "The Girl With The Dragon Tattoo." Portrayed starkly and disturbingly in the original Swedish film adaptation of the book, the American, David Fincher-directed movie version also sought to bring to screen the unmerciful sequence of events described on the pages of Stieg Larsson's hit novel.
Speaking to Entertainment Weekly, Rooney Mara, who completely transforms to play the role of Lisbeth, described the difficulty -- and importance -- of making the rape scene as true to the book as possible.
"It was incredibly intense. We did it all in a week -- the week of Valentine's Day, oddly enough," she remembered. "We were working 16 hours a day, and it was really, really challenging, not just emotionally but physically. But it's such an important scene. We wanted to do everything we could to get that right."
"Sony and Scott Rudin [producer] told me they wanted to be in the adult-film-franchise business," Fincher said. "And they said, 'We want you to kick the A in adult.' They already had a release date--December 2011--but I wasn't sure I wanted to do another movie about a serial killer [following "Zodiac"]. Then I read the script, and I called Scott and said, 'I can't imagine why you thought of me.'"
Of course, about that last part, he was joking -- Fincher is known, through films such as "Fight Club," to be a director willing to brush up against boundaries of violence and brutality. Daniel Craig, who stars in the film as Mikael Blomkvist, confirmed as much in a recent cover story for Esquire.
"This is adult drama. I grew up, as we f*cking all did, watching 'The Godfather' and that, movies that were made for adults. And this is a $100 million R-rated movie," he said. "Nobody makes those anymore. And Fincher, he's not holding back. They've given him free rein. He showed me some scenes recently, and my hand was over my mouth, going, Are you f*cking serious?"
WATCH
:
Popular in the Community