Boss ladies: Extreme focus is overrated. I am over it. And I am sending you this memo to convince you to indulge in a few distractions in 2015. First off, you are really good at being the boss; you keep that paper stacked, control maintained and get a lot of work done before lunch. You are too good with discipline -- it borders on being a tad boring and stifling. Do you have the feeling of restlessness? If so, that is the tiny voice whispering to you about the need for a distraction, and you must yield to it.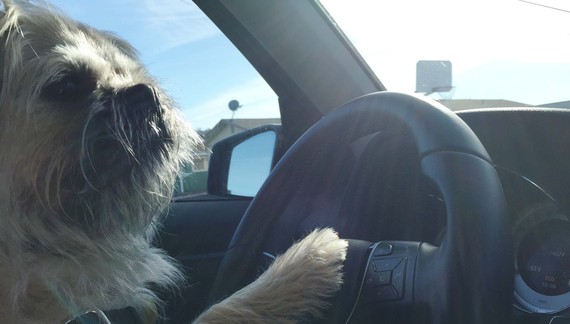 Maybe it's telling you to get in a car and drive towards a mini outdoor adventure (within cell phone range for those needing to be connected). Recently, I gave into that voice and breathed some air into the small pleasure of escaping for a day hike. I let my internal voice take over, and it manifested into an incredible exploratory day in the middle of a dessert where I hung out with my favorite blondes: Lady the Stray and blonde ale. A perfect pair to accompany me on my distraction.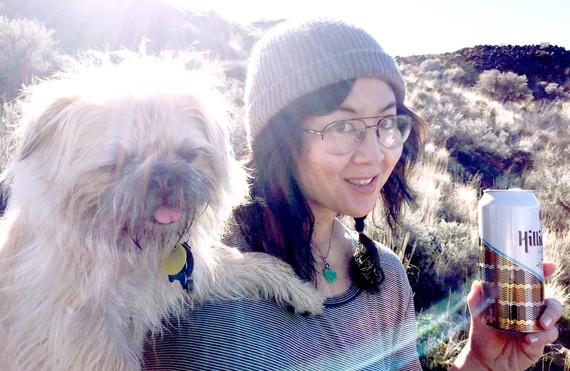 Seattle experienced extreme spring temperatures in February, which made it hard for me to focus this past President's Day weekend. I had blocked out time to work, but didn't follow through. I should have stayed put, blacked out my windows, and finished my ever-mounting projects in order to check off all my to-do boxes. Instead, I decided to go on an unplanned adventure, and drove east 2.5 hours. It was fun speeding through the I-90 corridor, driving into the landscape as it changed from evergreens to dessert. I felt like a kid again, blasting Lykke Li's Youth Novels album with my co-pilot, Lady (a miniature yeti), sleeping in my lap. The scenic route led me onto a vineyard -- off-roading next to an irrigation ditch. Eventually, I found myself at Cave B Inn, and heading down a trail off of a basalt cliff towards the Columbia River.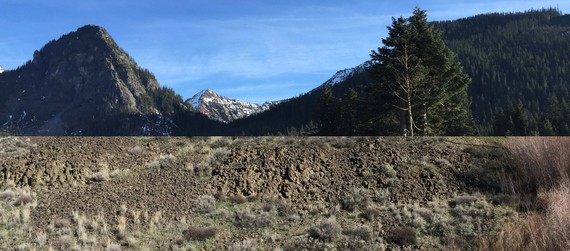 The sunlight in Eastern Washington is a blinding unfiltered orange that casts hard shadows. The temperature was about 50 degrees, and was a perfect day to explore behind the Gorge Amphitheater. I dubbed this trip Vision Quest 2015 to help me feel a little less guilty for leaving my responsibilities to take a self guided reflection in the middle of nowhere. As I sat next to the Columbia River, I was focused and listening. The acoustics along Wanapum Lake amplified and created a new life for the originating sound as it echoed along the gorge.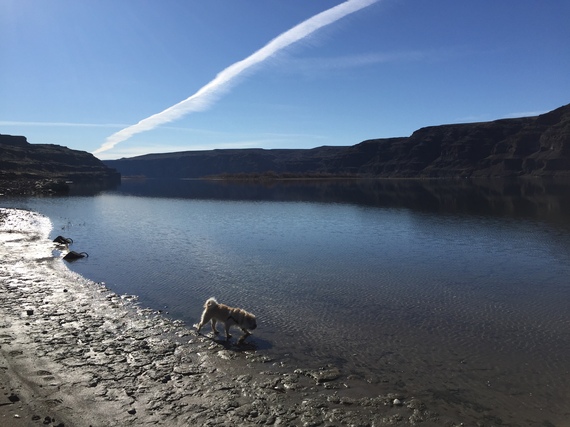 Reflecting about life on the river bank, I made a list of all the things I would focus on:
Blog at least once a month (blew it already)
Keep up with hashtags and the Twitter news cycle
Inspire others to go on adventures
Explore how successful people deal/have dealt with rejection
Be feral and free (letting go of focus and focusing on distractions)
In mid-thought, I heard the engine of a car or plane. I opened my eyes and realized that it was a flock of birds. It blew my mind that the amplified sound of about 20 birds beating their wings could reverberate into the sound of a jet. My take away for Vision Quest 2015 is that nature and man are eternally entwined, and my practical takeaway is that giving into your distractions will help you focus.