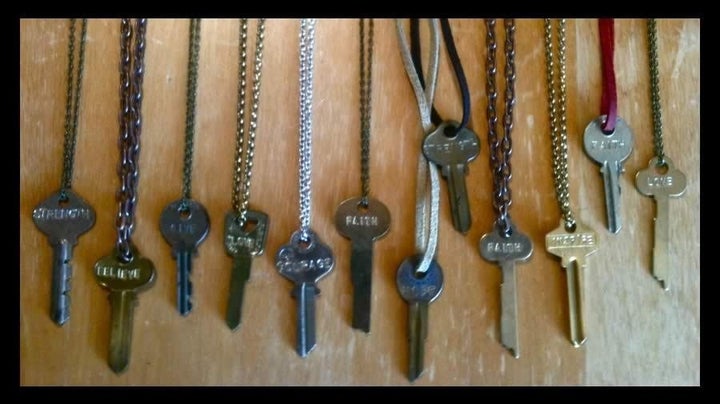 It started in a New York motel. The key to my room was old and rusted. And I immediately loved it. So I 'permanently borrowed' it, put it on a chain, and slipped it over my neck. The rush of compliments that key received completely surprised me. After all, it was just a key. Or so I thought.
Back home in Los Angeles, I asked a locksmith to engrave the word LOVE on the key. And the questions and compliments kept coming.
When it was time for my next music tour, I decided to sell an assortment of used and discarded keys at the merchandise tables, next to my CDs. Each key was engraved with a message: HOPE, STRENGTH, COURAGE, FIGHT, BELIEVE, FEARLESS, PEACE, DREAM, FAITH, etc.
From the stage, between songs, I would talk to the audience about embracing our imperfections. I was beginning to realize that we are all like keys: unique, flawed, scarred, and at risk of being discarded. I asked them to find and wear a key that would remind them that they are one-of-a-kind.
Every night, from state to state, the key necklaces would sell-out. And suddenly, before every show, instead of rehearsing and tuning my guitar, I found myself scrambling to find keys and assemble the chains and clasps, just to keep up with all of the orders. That's when I started encouraging people to give their necklace to someone they felt needed the message on that particular key. Now the keys were becoming stories. So I created www.TheGivingKeys.com, a place where folks could post the story of their key.
Incredible tales began to pour in. But still, I knew there was a missing link. So I decided that the money from the sales should go to a charity or some special cause. I wanted 'The Giving Keys' to be more than 'Pay It Forward.'
Not long after making that decision, I attended a screening of the documentary Invisible Children about child soldiers in Uganda. It was held at Ecclesia Church on Hollywood Boulevard and after it was over I walked out of the main building and into the rain. My face was red and puffy from crying. But at the same time, I was on fire. I wanted to change the world, wanted to help. Right there, right then. I was bursting with passion for humanity. Every person I passed on Hollywood Boulevard had a story I wanted to know.
That's when I saw them. The homeless couple sitting under an umbrella holding a sign that said "Ugly, Hungry and Homeless." I went to them, I'm not sure why, and fell in love.
Their names are Cera and Rob. They were 23. Their stories were profound... and I ended up canceling my plans for the evening to take them to dinner at Kitchen 24 on Cahuenga. I ordered a glass of red wine, Rob and Cera ordered 'Judgement Day' & 'Raging Bitch' beers. We ate salmon, and Rob's favorite, New York strip steak, rare (yes, he asked the waiter to send it back when it was prepared medium). I complimented Cera on her necklace. She said she had made it herself. A light bulb went off. I had an 'Aha Moment' right there in the restaurant. I flung my hands up in the air and screamed, "Ahhhh! You guys are the missing link! You have to be my business partners!" I showed them "The Giving Keys" website and it was 'on.'
The next day I went back to the locksmith and ordered an engraving kit. I bought hammers at Pep Boys to give to Cera and Rob to start production. We started meeting at various Fed Ex, Kinko's, post offices, and transitional homes, just to work on the project. Once they became pros, and I saw how hard they worked and how trustworthy they were, I started handing over more and more responsibility. We probably looked like we were doing drug deals every time we met in a Hollywood alley where they handed me a small paper bag and I handed them cash. They would cut little slits into their microwavable dinner boxes to hang the necklaces in so they wouldn't get tangled. They started saving money from all the sales and soon they started staying in the Mark Twain Motel. Little by little, they started GED classes and Rob ended up scoring in the 99th percentile and is now registered to start community college. Still working full-time on The Giving Keys, he saved up enough money to get his first apartment. After months on a waiting list, Cera finally got into a fantastic women's transitional home and graduated on the fast track. On top of working for The Giving Keys, she now also works at the San Diego Zoo.
I knew nothing about the fashion or jewelry industry when this all started, but the word of mouth has spread, and now The Giving Keys are being sold at Fred Segal, as well as 40 stores around the country. So I've hired more great people, all trying to transition out of homelessness, just to keep up with the orders. The goal is to keep expanding to get as many people employed and off the street as possible.
I think its fascinating that pounding out positive words, over and over for hours can improve a persons well-being, hope and motivation. And when you know that each unique key is being paid forward and passed around the world to people who need a little inspiration... well, that makes all of us feel so grateful; makes us understand that we are part of a love movement.
I go online everyday to read these stories and every one reminds me of what life is all about.
Calling all HuffPost superfans!
Sign up for membership to become a founding member and help shape HuffPost's next chapter