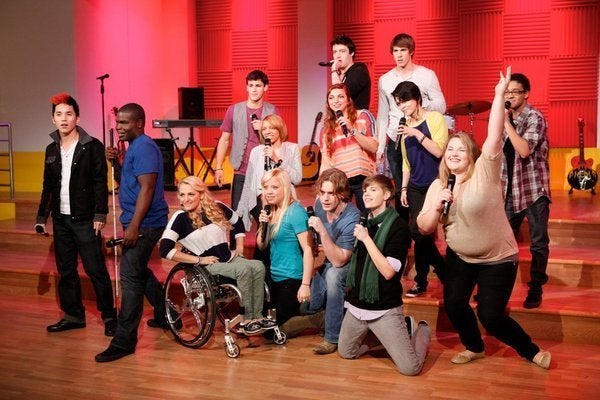 Tyler Ford seemed like a shoe-in to make it to "The Glee Project" Season 2 finale. The 21-year-old was the show's first-ever transgender contestant, and "Glee" mastermind Ryan Murphy was immediately drawn to Ford's charisma and unbreakable spirit.
Unfortunately, during this week's episode, which challenged the "Glee" hopefuls to showcase their sexy sides, Ford just couldn't stand out among his fellow competitors, and for the third time, he was asked to perform in front of Murphy. Despite being praised by "Glee Project" mentors Zach Woodlee and Robert Ulrich for his growth throughout the competition, Ford wasn't on Murphy's call-back list.
HuffPost TV chatted with the recent "Glee Project" castoff about his time on the show, his embarrassing moment in front of "Glee" star Naya Rivera and how he dealt with being told that he wasn't as vocally talented as everyone else.
"Sexuality Week" looked like it was rough for you, but how did you feel about your performance?
I actually thought that it was my best week so far, so I was very surprised to be in the bottom, let alone to be sent home that week. It was definitely different for me because I'm not an overtly sexual person. I've always been more attracted to intelligence, and it was hard being extremely sexy with someone that I didn't have a connection with. I couldn't be like Nellie, sticking out her ass and grinding against somebody. It was difficult for me to fake sexuality. I couldn't tell what I was doing. Obviously, I didn't have a mirror in front of me, so I was hoping for the best. [Laughs.]
In the episode, you mentioned that you were not entirely comfortable with your body yet, having been in the middle of your transition. Are you still struggling to feel comfortable in your own skin?
I'm definitely more comfortable now than I was then, but I'm just not that way with everyone. My idea of sexuality just wasn't what they were looking for. If I don't have a connection with someone and there's no spark, then I don't act that way.
Robert Ulrich, Nikki Anders and Zach Woodlee all said that you had grown tremendously throughout the competition, so were you really bummed when you were in the bottom three?
They kept telling me how great I was doing and how much my acting skills were improving week after week, and then they were like, "But, you're performing for Ryan. Bye!" [Laughs.] I didn't know how to react. I thought that I was getting better, but I guess getting better still put me in the bottom.
They said that you had a hard time standing out in the group. What did you think of their criticism?
I probably should have amped it up, but honestly, I didn't feel like I was fading into the background. I didn't really see it from an outsider's point of view. But having seen it now, I would have amped it up by a million sparks.
Well, at least you got to meet Naya Rivera. I know that you're a huge fan of Santana.
Oh, yeah. I love her. I was so happy that she was there that week!
And you also met Lea Michele and Cory Monteith, so that's pretty much the Holy Trinity of "Glee."
[Laughs.] I guess when you put it that way, I was very lucky.
Did you get to talk to Naya on set?
We didn't have that much time to talk to her. Of course, everyone knew that I loved her, so when we got there and she walked through the door, they were all like, "Tyler loves you!" You can even see Aylin tapping me on the shoulder at one point. They told her, "Oh my god, Tyler is in love with you!" I was like, "Guys, shut up! I'm not in love with her!" I just have a lot of respect from her. She's an awesome actress, and I think her storyline is amazing. I was like, "Way to sell me out, guys."
When you were filming the music video, did you even think, "What would Santana do?"
No, I wasn't, but that probably would have been a good route to go. [Laughs.]
Ryan Murphy seemed to be rooting for you throughout the season. Did it feel like that on your end?
I love Ryan. He's amazing, and I have so much respect for him, even though I feel like I don't really know him. So many people are intimidated by him, and that just makes the stakes higher. He's always honest, and I love that. I don't want anyone to BS me, even after he told me that I wasn't as talented as everyone else -- I was obviously crushed -- but it just made me work so much harder.
How did you react when he said that in Week 1?
It definitely bruised my ego, but I just used all of that frustration to get better, and I did! I came back the following week, and he was like, "You've improved 3,000 percent." Well, hell yeah, I did! I'm glad I had the chance to prove him wrong.
You needed the right song, too. Elton John was an amazing choice for Week 2.
Yeah. Ugh, I hated "ABC" [by the Jackson 5]. That was awful.
Are you glad that "Smile" was your swan song?
Definitely! I loved it. "Smile" was a beautiful song. I thought that it was high at first, but after I sang it a million times in the dressing room, my voice adjusted to the notes. I thought that I was going to be cracking all over the place, but it was fine. I'm really proud of that one. It was a good last performance.
Why did you audition for "The Glee Project?"
I love performing, and I love "Glee," but once I was going through the callback process, I realized that this is the only reality show that just wants you to be yourself. The don't want to make you into something. They just want you to be you, so that they can be inspired by your personality. That was definitely my favorite part of the show. We were competing against each other, but mostly, we were competing against ourselves. We were the only things stopping ourselves.
"Glee" has some terrific LGBT storylines. Is there one in particular that you really love?
Santana is definitely my favorite character. She's so rude, but sweet at the same time. Under all of her mean comments, she's a very vulnerable person. I just love when you get to see that. She's definitely my favorite, and I really love her coming out and falling in love with Brittany. I find her and Kurt to be the most honest characters.
So you're a Brittana fan?
Yes! I love them, and Klaine too, of course.
"The Glee Project" airs Tuesdays at 10 p.m. ET on Oxygen.
REAL LIFE. REAL NEWS. REAL VOICES.
Help us tell more of the stories that matter from voices that too often remain unheard.
BEFORE YOU GO