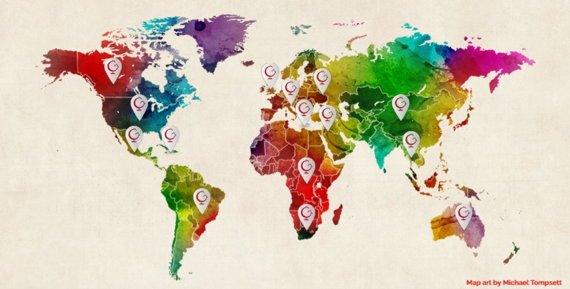 We say it all the time, but it bears screaming from the mountaintops: The Global Design Post loves talent and we are here to celebrate every aspect of global interior design!!
Nobody shares this passion more than the design blogger, yet so many times, their talent and work goes undiscovered by those of us who crave what they have to show us! We would avidly follow them if we only knew... So for this next series, we are going to showcase these talented designers/design writers and their fabulous blogs to throw open windows to the world (of design!)
Some are edgy, others traditional, but all are so, so good at what they do! Each was chosen because they married a great eye with a unique viewpoint and beautifully reflected their piece of the planet.
The internet has made design better and more accessible to all of us and it is the bloggers who have helped make sense of it all. They discover and curate and share. They elevate designers and shine a light on their products. They show us what and why something is exciting and when you are lucky enough to hook into one of their feeds, they share their beautiful world with you like a close friend. You can go to them over and over to get good advice and a great point of view! Designers need bloggers like coffee needs cream.
There are incredible blogs out there, many of which are already in our Outposts section on The Global Design Post, but we wanted to honor the ones who captured our imaginations right now! From different regions across the world, each was chosen for their insight, taste, or originality, giving you, dear reader, a broad sampling of styles and countries.
Because they are each so unique, we are not ranking them in any particular order, rather we will introduce them to you in the most interesting possible way; letting the next play off the last to keep you moving around the great, big, beautiful world of interior design.
And this is just our ta-da article! Look forward to a profile of each and every blog and blogger over the next 10 weeks. Some have graciously agreed to an interview, so expect to get to know these very happening people better than ever before!
Take the time to check them out and you will see why we chose them, what makes them different. Think of this like being at a great party, where only articulate, creative, design-passionate people have been invited!
Support HuffPost
A No-B.S. Guide To Life
Related
Popular in the Community