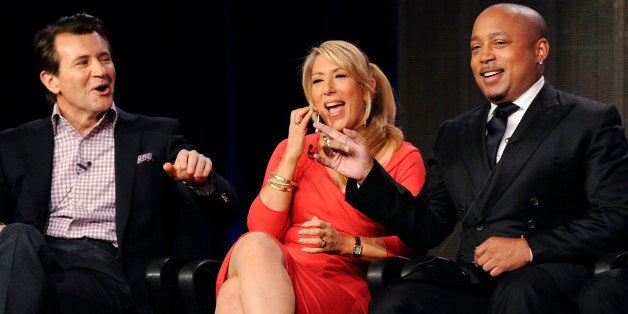 In 2010, I developed a gamification funding product called Root Square to help political campaigns and nonprofits raise money across social media sites. While I initially started out trying to raise money from investors, I eventually self funded Root Square because I no longer wanted to spend my precious time on figuring out how to raise capital. Instead, I wanted to focus on building the solution and the quickest path which would allow me to (obsessively) build my product, innovate and get to market. But, looking back, I might have gone the investor route if I had a network of support from which to raise capital. In hindsight I've always felt there was a missed opportunity in terms of how far I could have taken my product with the proper access to capital, not to mention the jobs I could have created. Fast forward to three years later, in 2013 I was appointed to the National Women's Business Council in the Obama Administration where my councilmembers and I focus our research on how to connect female founders with the basic assets they need to do business: access to capital and markets.
The under-representation of female entrepreneurs isn't just a women's issue. Diversity in business matters to the overall health of the economy to drive innovative solutions. Research shows that a workforce in which women are full participants and contributors to the economy helps better identify points of pain among potential customers and provide holistic solutions for everyone, not just a select few. Companies with more women board directors outperform by 66 percent in terms of return on invested capital, by 53 percent in terms of return on equity, and by 42 percent in terms of return on sales. Another study indicates that one-third of executives reported increased profits from their investments from employing women in emerging markets. Yet further research shows a correlation between the number of women on boards and higher corporate profits. A McKinsey study found that when women went from holding 37 percent of all US jobs to nearly 48 percent over the past 40 years, the productivity gains associated with this modest increase accounted for approximately one-quarter of our current GDP. In other words, more than a stunning three and a half trillion dollars was generated by the increase of women's participation in the economy. This gain is greater than the GDP of Germany and more than half of the GDPs of both China and Japan!

In order to encourage the full participation of women in the economy and to accelerate innovation through entrepreneurship, we must focus on enabling both female funders and founders by providing the needed and missing infrastructure. A key component of driving a more inclusive innovation economy is through diversity in funding. Female founders need to have a clear path to raising capital and gaining access to markets, both essential business assets.
In 2015, the National Women's Council in the Small Business Administration released a critical report Access to Capital by High Growth Women-Owned Businesses, confirming the underfunding of women entrepreneurs and the need to support women so they can reach their potential, as a group, which is undeniably vast. In 2007, there were 7.8 million women-owned businesses in the United States. As of 2012, there are 9.9 million women-owned businesses, reflecting a 27.5% increase from 2007 to 2012. Per the 2012 Small Business Owners' data released by the SBA, women-owned firms make up 36.2% of all nonfarm businesses and generate 1.6 trillion in total receipts. Of all women-owned firms, 10.6 % are employer firms; it's an increase of 143,000 women-owned employer firms. These women-owned employer firms employ 8.9 million people, and generate receipts of $1.4 trillion. There are 2.1 million more women-owned businesses in 2012 than 2007 and almost 1.5 million more jobs since 2007.
"With numbers like this, the impact of women-owned businesses on our economy is undeniable. The community is growing and diversifying and so too must the ecosystem that supports them. Women-owned businesses have made great strides in the last two decades, despite lower levels of access to capital and markets. Imagine if the doors of opportunity were fully open?" said Amanda Brown, Executive Director of the National Women's Business Council.
But, it's not just about the US economy. The World Economic Forum Gender Gap Report shows that where the gender gap is smaller in a range of areas--including access to education, health survivability, economic participation, and political participation--countries and economies are more competitive and prosperous. A Goldman Sachs paper notes that a reduction in barriers to female labor force participation would increase the size of America's gross domestic product (GDP) by 9 percent, the Euro Zone's by 13 percent, and Japan's by 16 percent. The Economist points out that the increase in employment of women in developed countries, during the past decade, has added more to global growth than has the economic emergence of China.
Putting the infrastructure in place
Number One: Contacts, contacts, contacts!

It matters who you know, it really does. While Tech startup founders, male or female, need to hustle and exhaust the power of their networks to raise capital, female founders need to hustle more and work harder at raising funding. Male angel investors and VCs invest in other men because they tend to skew towards what they know, also sometimes referred to as the unconscious male bias. Men also have trusted social networks from which to raise capital. But, the majority of women do not have such a social network of contacts of their own. Further, there is a glaring lack of women in critical positions to determine allocation of funding, which is also a missing piece of the infrastructure women need in order to raise capital successfully. Per the National Women's Business Council research, on average, men start their businesses with nearly twice as much capital as women - $135,000 vs. $75,000. This disparity is slightly larger among firms with high-growth potential - $320,000 vs. $150,000; and it is much larger in the Top 25 firms - $1.3 million vs $210,000. Thus, access to essential business assets such as capital and a stronger network of investors must be put in place in order for women to compete above board and raise capital to start, grow and scale businesses.
Number Two: Female Focused Investment Vehicles
The advent and rise investment vehicles specifically for investing in women led startups are key to removing barriers of entry into funding circles. By putting a process in place for female entrepreneurs to compete on a level playing field, investor networks such as Golden Seeds, Astia and Springboard, and pitch competitions such as Women Startup Challenge founded by my friend Allyson Kapin and supported by the ultimate champion of Women in Tech, Craig Newmark of Craigslist (also a good friend), are critical as they provide a more structured and objective process to raising capital and eliminating the need to rely solely on converting a hit or miss social connection into raised dollars. Companies in the private sector are also starting to step up to meet the challenge. In 2015 Intel Capital launched the Intel Capital Diversity Fund, the largest of its kind at $125 million, to invest in businesses led by women and minorities and fuel economic growth. In speaking with Lisa Lambert, Managing Director of the Fund, Intel's commitment to drive innovation through diversity and inclusion came through loud and clear.
According to the Harvard Business Review, women entrepreneurs only receive 4.2% of VC funding and last year a report issued by the Senate Committee on Small Business & Entrepreneurship on barriers to women's entrepreneurship found that women receive only 16 percent of conventional small business loans. This amounts to 4.4 percent of the total dollar value of all small business loans, leaving women-owned firms with only $1 out of every $23 that is being loaned to small businesses. Further, updated research, performed by Babson College, found that of the 6,793 companies funded by venture capital between 2011 and 2013, only 2.7% of the companies had a woman as the CEO. Babson College concluded that the lack of sufficient capital funding for women entrepreneurs will cost the economy nearly six million jobs over the next five years
Number Three: More women in venture capital
While pitch competitions, crowdfunding platforms and female focused funds are innovative means by which women are raising capital to scale their businesses, there is one more critical resource that is needed -more female venture partners. About a year ago, in a Tech Crunch article, "The Real Unicorns Are Female Angel Investors," Kristi Zuhlke wrote "to get more women in tech today, we need women investors." Based on this reasoning, more women in the upper echelons of investment firms and as angel investors will lead to higher investments in women led businesses. Indeed, venture capital firms with female partners are reportedly two and one half times more likely to invest in companies with women on the management team (34% vs. 13%). Yet, the number of women in high level positions in VC firms has actually declined since 1999 dropping from 10% to 6% in 2014. Just as the need for female role models and mentors for women and girls has been highly cited, we need female investors to become engaged in funding viable female led startups.
Today, I'm launching a new product that will help democratize access to capital for women led startups. The product is appropriately called Shatter Capital because in reality women need two types of capital to successfully start and scale their businesses: Relationship capital, because it matters who you know, and Shatter Capital, that will help them to break through the funding ceiling.
Calling all HuffPost superfans!
Sign up for membership to become a founding member and help shape HuffPost's next chapter