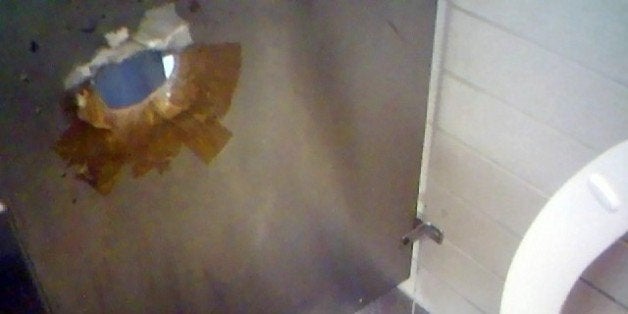 I was 16 when saw my first glory hole -- or, rather, saw my first filled glory hole. It was in Harrogate, North Yorkshire, a public-spirited, snobbish spa town well-served by shiny Victorian lavatories. The throbbing, fleshy wall fitting in my tiled cubicle was quite a sight. Glorious, even. Truly an impressive, proud piece of polished plumbing.
Cottaging, or cruising for sex in public lavatories and parks, was once a mainstay of the gay demi-monde. It's easy to see why. When any and all sex between men was still illegal, as it was in the UK before the (partial) decriminalization of 1967, anonymous sex was often the only kind available. It was probably the only sensible kind too, since the more your partner knew about you, the more you left yourself open to blackmail. Thanks to British municipal pride, toilets were everywhere -- and also nowhere: a kind of wordless no man's land where anything might happen. Much like homosexuality.
The glory hole itself is the ultimate symbol of anonymous "no-strings" sex: an erect, disembodied cock sticking through a wall. Even bricks and mortar can't hold it back. Nameless, shameless desire. As a horny teenager in the early 1980s, when sex with another male was still completely illegal for me -- not being over 21, and not in a position to have sex "in private," two key, killjoy stipulations of the 1967 act -- I was very, very interested in what went on in public toilets.
But I never really got the hang of it. Less Joe Orton and more sad Captain in Querelle of Brest, I preferred to scrutinize the filthy, imploring messages and somewhat optimistic anatomical drawings on the walls. The business of standing around for hours like cheese at fourpence pretending to piss was beyond me; I was far too self-conscious already. Plus, sex in cubicles seemed foolish: There's no escape route, either from the rozzers or from the other party.
It was only later, after running away to London and joining the out-and-proud gay world of gay bars and clubs and volunteering for London Lesbian and Gay Switchboard, that I discovered my true home: an overgrown corner of Hampstead Heath popular at night with gentlemen having trouble sleeping. The old-school twilight world of the homosexual is where I really belonged. I spent many warm summer evenings there enjoying wordless trysts that were often as romantic as they were anonymous. I also spent many long hours wandering around in ever-expanding circles in the freezing fog in February. Compulsive sex can be pretty compulsive, as that global glory hole called the Internet was to make even clearer.
The arrival of online "dating" sites like Gaydar in the late '90s depopulated gay cruising areas like Hampstead Heath, which had already suffered competition from the host of back rooms, sex clubs and gay saunas that opened in London that decade. But now everyone was at home, logged on with a lob on, looking to "accom." Today, of course it's all about Grindr, the mobile gay "dating" app that uses GPS technology to allow you to cruise for locally sourced cock at Tesco, on the bus or while having dinner with your mum.
This has created something that looks, through a vandalized toilet cubicle partition, like a paradox. Now that homosexuality has been completely decriminalized, legal equality and acceptance have been achieved, same-sex marriage is on the way, and most public toilets have been shut or turned into tanning salons, it sometimes seems as if all gay men today are e-cottaging. Constantly.
Some argue that this is a shameful and shame-filled hangover from the period of illegality and hiding, that it's a form of internalized homophobia preventing gay men from having proper (i.e., monogamous) relationships. This seems to be the thesis of Alexi Kaye Campbell's award-winning 2008 play The Pride, currently running at Trafalgar Studios, London in a new production by Jamie Lloyd. In it a 1950s male couple are driven apart by guilt and repression, while a contemporary gay couple are riven by the "self-hating" "addiction" one of them has to anonymous sex.
Some have gone further and argued that because gay men can get civil-partnered or, soon, married, they now owe it to society to leave behind their irresponsible lifestyle from an oppressed past, stop letting the side down and "grow up."
Now, I certainly wouldn't deny that casual sex can be a bad habit that's difficult to break, and one that can make having a long-term relationship more difficult -- but really only if monogamy is part of the deal. And in my experience most long-term gay male relationships are open (though I realize you're not supposed to say that in front of straight people). Arguably, the always-available culture of anonymous sex, the gaping glory hole, isn't what stops gay men from having relationships; it's perhaps what makes many long-term gay relationships possible where otherwise the commitment might be too smothering.
Precisely because sex is so freely and so anonymously available for gay men, it is less likely to be the foundation of their relationship -- and sex outside the relationship less likely to represent a threat. "Darling, I promise you, he meant nothing to me!" is a line that most gay men don't need to use, since they probably only know the "other woman" as "MassiveMeat69."
And if I wanted to be really cynical, I could say that as far as the penis is concerned, there is only one kind of sex, and it's anonymous.
While the general relevance of gay culture for gay people tends to recede as homophobia rapidly falls off and integration speeds up, it shouldn't really be a surprise that the world of anonymous sex persists and in fact flourishes. Like camp, it's the slutty sensibility of a culture of (too much) choice -- and an escape from (out-and-proud) identity. After all, Grindr's logo is a mask. Anti-social networking.
The gay culture of anonymous, or at least "no-strings," sex is also something non-gays seem very keen to appropriate. Ironically, now that gays have begun to convince much of the Western world that they're "just like straight people" and thus worthy of marriage, straight people seem to be spending all their time dogging, checking their messages on Badoo and deconstructing monogamy.
But I would say that. When it comes to anonymous sex, I'm a lifer. When I was in the grip of a pimply, hormonal frenzy, gawping at glory holes, scanning the dirty graffiti, or cruising Hampstead Heath, I used to kid myself that I was looking for love in all the wrong places. Then, later, I thought that I wanted love to save me from sex. Nowadays, like many other middle-aged men whose libido is in free fall, I pray for sex to save me from love.
Support HuffPost
Every Voice Matters
Related
Popular in the Community