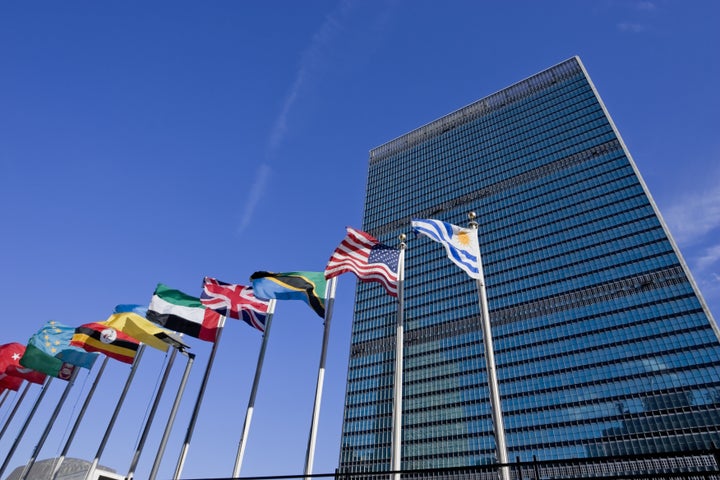 Today, persons with disabilities are celebrating their inclusion in the Global Goals.
There are 193 united nations and just one United Nations. Through the sum of its parts, maneuvering through political and diplomatic obstacle courses, this international community allows the world to see itself simultaneously as united and divided, to act both in cooperation and autonomy, and attempt to move the world forward.
This means progress does not come easy and it does not come often, but it can be done. And today the United Nations becomes more than just the sum of its parts. Its 193 members acknowledge that what binds people together is greater than their nation, and that setting an agenda for how we should develop as a planet -- coherently and sustainably -- requires bringing the voices of the people along.
The last time the UN set out a global development agenda, in 2000, they did it by themselves. When they left people out, people were left behind.
We, persons with disabilities, were not mentioned in the previous agenda at all. Being left out meant new schools and clinics weren't accessible and we were left behind. It meant cities grew bigger without means for us to move around and we were left behind. It meant women's and children's services didn't accommodate us and we were left behind.
When disaster and conflict struck, and humanitarian rescue arrived, we were, very much literally, left behind.
And so, even after 15 years of a UN development agenda, persons with disabilities continue to lack social protection and face physical barriers, institutional barriers, communication barriers, as well as significant barriers simply in the attitudes of the people around us. This inequality and discrimination means that persons with disabilities -- of whom there are one billion in the world -- and their families are excluded from society.
This time, though, as the UN commits to a new development agenda, things are different. Persons with disabilities, along with huge movements of public and civil society, made sure that people would be included in the creation of these new Global Goals and not only be heard, but change the conversation.
Today the Global Goals set us on a course for a new kind of progress: for all countries, by all countries; for all people, by all people. This world has come together with a determination to eradicate extreme poverty and create truly sustainable development. And guiding the agenda is the fundamental principle of equality. Equality means that as we progress, we do so for everyone, including for persons with disabilities.
This is one of the greatest achievements of the new Agenda, because inequality goes beyond the problem of unequal access to buildings, development programs or services. Historically, we, persons with disabilities, face inequalities in all areas of life and throughout our lives. As well as being guided by the principle of equality, the Global Goals address multiple forms of discrimination and vulnerability. For example, women and girls with disabilities are more likely to be targeted for gender-based violence and less likely to have access to reproductive health care. The new agenda commits states to now address this.
Persons with Disabilities are being given formal acknowledgment for our role in shaping these goals: inviting us to address the United Nations Summit on the day of their adoption. Both Mosharraf Hossain of ADD International and myself, representing the International Disability Alliance, will discuss with world leaders at the UN what it took for the disability movement to reach this point, and what must happen next to ensure the Global Goals mean progress for everyone, including persons with disabilities.
To turn the Goals from a set of commitments into a set of practical achievements that won't leave persons with disabilities behind, we must connect them with the Convention on the Rights of Persons with Disabilities (or the UN CRPD). This human rights and development treaty provides the blueprint for how to ensure persons with disabilities are included in the planning, implementation, and oversight of the Global Goals. The UN will also soon decide on the indicators by which to keep track of the progress of the Goals. We need to ensure that inclusion of persons with disabilities is measured fully and properly through the whole agenda.
As the Executive Director of the International Disability Alliance, the world's largest network of global and regional organizations of persons with disabilities and their families, I have deep hope that the Global Goals have opened doors for us to participate, to make a difference and to be recognized as active contributing members of our global society. We hope this is indeed a true turning point.
I have a hope that the new framework has opened doors for us to participate, to be included and to be recognized as active contributing members of society without any discrimination or fear of being left out or left behind. Not only today, but also in the future toward 2030 and beyond. Persons with disabilities are ready to invest all our strength and experience to help the United Nations and its members build a sustainable world -- without poverty or discrimination -- for everyone.
Related
Popular in the Community