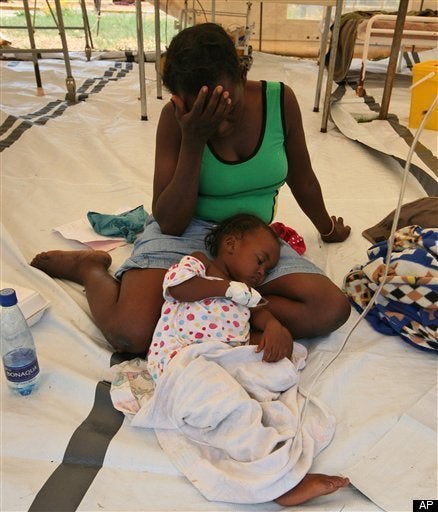 For those of you that have been following my blog, you know that I have written several times on the importance of nutrition in meeting the Millennium Development Goals (MDGs). Since my first post ("A Better ROI for the World's Poor at Davos"), which featured nutrition's return on investment of $17 for every $1 spent, nutrition has slowly but steadily been raising its political profile amongst leading actors in development policy.
Nutrition in the spotlight at UN summit
Nutrition experienced its biggest surge around the UN Millennium Development Goals summit, during which the importance of nutrition was emphasized in the final assembly resolution. In a high-profile announcement at the summit, Secretary of State Hillary Clinton, UN Secretary General Ban Ki-moon and Irish Foreign Minister Michael Martin launched the global nutrition movement 1,000 Days: Change a Life, Change a Future. The movement has brought together 60 different organizations active in combating hidden hunger (malnutrition) amongst the world's poor.
Its focus is on the critical window of opportunity we have to change the future of a generation. The first 1,000 days of a child's life determines her mental and physical development for life. Without proper nutrition, she will be more prone to infectious diseases, will struggle in school and will be less productive in her job.
Take a look at the video produced by 1,000 Days, narrated by Matt Damon, to see how nutrition can change a child's life and her future.
To achieve this, The Road Map for Scaling-Up Nutrition (SUN) was launched at the summit and has been endorsed by 1,000 Days, several governments, the United Nations, civil society organizations, development agencies, academia, philanthropic bodies, and the private sector. SUN is the result of the hard work of a Task Team and a number of Working Groups, which developed a Framework for Scaling-up Nutrition.
At the country level, the first ladies of nine African countries committed themselves to being "the champions of one of the most critical human development issues of the 21st century: the growing burden of malnutrition," and acknowledged nutrition's vital role in realizing the MDGs.
Working together to change the future
During the launch of 1,000 Days, I was pleased to hear Secretary Clinton's recognition that tackling hidden hunger is a societal effort and that cannot be managed by any one government, donor, NGO or company, stating that: "undernutrition requires action from people and groups from every sector of society lending their expertise and reaching out to their constituencies."
Collaboration between the public and private sector is a constant theme of mine and a goal I am committed to. My company, DSM, has been and continues to be involved in many partnerships, most notably with the UN World Food Programme. This week in New York, we increased our involvement by joining the Leadership Council of the New York Academy of Sciences' Global Nutrition Science Research Initiative.
This is a landmark move that will bring together the best scientific research available in nutrition to address global hidden hunger in rich and poor countries alike. The World Health Organization will play a fundamental role in the Leadership Council by shaping the global research agenda on nutrition. The hope is that this body of research can be used to help donor countries, development organizations, and governments design and implement effective nutrition programs.
From momentum to movement
Now that nutrition has finally started to receive the attention it deserves, it is imperative that strong words translate into strong action. I am optimistic about the prospect of seeing major changes in the international development agenda.
I only hope that nutrition does not become just a development "trend", when it should be a cornerstone of development policy.
If you have two minutes, I encourage you to watch this video from the World Food Programme to see why nutrition is so vital in realizing a brighter future for generations to come.
Related
Popular in the Community