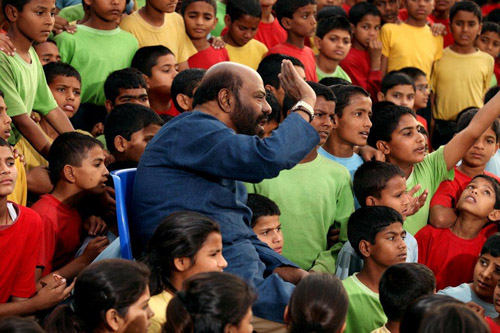 "While the government would continue to be the largest driver of education, there is a need for philanthropists to complement the role of the government." -- Shiv Nadar
Just imagine being able to offer very poor Indian children a chance in life: the gift of a world class education in boarding schools designed by the finest architects, spread over rambling acreage, complete with state of the art academic and housing facilities, not to mention an extensive sports complex with its own skating rink and cricket field.

Billionaire Shiv Nadar, Founder and Chairman -- HCL and the Shiv Nadar Foundation, gets to do that. The VidyaGyan schools (there are currently two: VidyaGyan Bulandshar and VidyaGyan Sitapur) are his brainchild. VidyaGyan comprises 2 words: Vidya and Gyan. Vidya is a Sanskrit name for knowledge. It also is an epithet of the Hindu Goddess of Learning, Saraswati. The name of the school was inspired by the names of Kiran Nadar's (wife of Shiv Nadar) maternal grandparents: Vidyavati, her grandmother, and Gyanchand, her grandfather. The VidyaGyan Schools are a social experiment in nurturing leadership from among highly gifted poor rural children in Uttar Pradesh, the most populous state in India. There are three major eligibility criteria for VidyaGyan Schools. First, the candidate should come from a rural area and must be studying in a government school. Second, the candidate should be a meritorious student (topper of class 5 board exam). Finally, the annual household income of the candidate's family should be less than $1850 a year.

I asked Mr. Nadar to share with me his perspectives and thoughts on this inspiring education based philanthropic venture.
What is your vision for education in India and how do you believe your endeavors at schools like VidyaGyan will impact the key issues?
Today, 70 percent of India is rural and offers limited contribution to the growth and development of the nation. I believe that education is the single largest tool for large-scale high impact socio-economic transformation. Education empowers individuals and is vital to reap our demographic dividend. Education has the power to tap into rural talent and create leaders from diverse socio-economic backgrounds.

Our VidyaGyan Schools are set up in Uttar Pradesh (UP), India's largest, but educationally one of its most backward, states. Of the population of 200 million, 77 percent of UP is rural. 70 percent of grade 5 students cannot read grade 2 text. VidyaGyan is a radical experiment to nurture and create leaders from rural India. We handpick the most meritorious grade 5 toppers from primary Government schools in rural Uttar Pradesh. They are selected through a rigorous admission process. The model is to reach out to the top of the bottom of the pyramid, create leaders for tomorrow and bridge the urban-rural divide.

We believe private foundations such as ours, the Shiv Nadar Foundation, cannot solve the problem of education in a vast country such as India. That is a role only the government can fulfill. We can, however, through VidyaGyan, hope to solve the problem of leadership in India.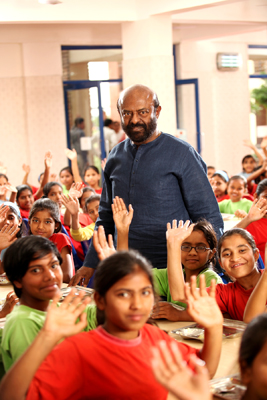 "The objective is that these students would be ambassadors of the school and make changes in the communities they come from." -- Shiv Nadar
What do you believe are the key steps your government must take if it hopes to substantially improve the quality of education in India?
The Government of India has done commendable work in forwarding the cause of education since independence. The Indian Institutes of Technology, India's tallest monument in technology higher education, has been an outcome of the government's vision to build centers of excellence in research and technology in India. In the last six decades, the IIT's have given the world some of the finest academicians, scientists, researchers, technocrats and entrepreneurs.

Today, the Sarva Shiksha Abhiyan, the world's largest mass education program by the Government of India, implemented in partnership with State Governments, covers the entire country and addresses the education needs of 192 million children.

While the government would continue to be the largest driver of education, there is a need for philanthropists to complement the role of the government. This is where private foundations can step in.
What are the 3 things of greatest value that students get out of their education at the VidyaGyan School?
Leadership skills.
Confidence to excel and compete with the best in the world.
Value to give back to society and create spirals of inspiration for the larger community.
Does your definition of educational excellence include an arts education for the students?
Education should encompass all the subjects and ensure all around development. Our curriculum is integrated into the Indian education system -- the Central Board of Secondary Education (CBSE). The structure is tailored keeping in mind the background of children to achieve their goals and the CBSE curricula. VidyaGyan provides the necessary intensive remedial inputs through the initial two years, including resolution of language barriers and developing all the soft skills that go into the making of leaders. In addition to the CBSE curriculum, we believe the arts and sports are essential to shape leadership.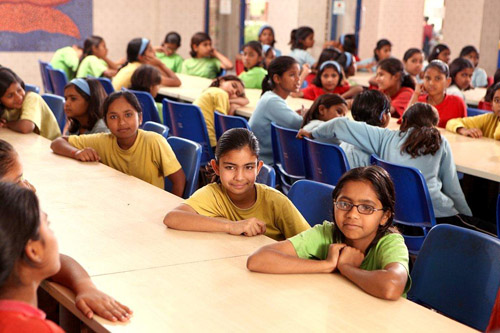 "The homogeneity helps bring in a level of comfort among the underprivileged children and helps them settle down in a reformed environment." -- Shiv Nadar
At $3200 per child per year, it would cost $3.2 million to educate 1000 students, $32 million to educate 10,000, and $320 million to educate 100,000 students. What is your ultimate objective for the number of students in your private system? Will you fund this entirely from your foundation's assets or do you anticipate using other private or public sources of funds.
VidyaGyan currently has over 1000 students at our two schools in Bulandshahr and Sitapur in UP. The Foundation plans to build three VidyaGyan schools in Uttar Pradesh, which would finally have around 4200 students. The objective, however, is that these students would be ambassadors of the school and make changes in the communities they come from and drive a force multiplier impact of transformation. VidyaGyan, in the next 10 years, would directly impact thousands of lives. This in turn will have an impact on a few hundred thousand people, showing a clear long-term multiplier effect... and that is our goal. VidyaGyan can be a blueprint to millions of lives. We have created this institution on the pillars of Transformational Education and Creative Philanthropy to develop leaders from the lowest economic sections of the society. Creative Philanthropy is focused on building lasting institutions of excellence. Currently, VidyaGyan is a 100 percent philanthropic initiative of the Foundation.
Do you run the risk of the student body being too homogeneous, i.e., poor kids in an elite private school? Are you concerned by the lack of diversity?
VidyaGyan is a unique model that uproots underprivileged children from their existing environments and brings them to a completely different one they are not familiar with, both in terms of education and lifestyle. VidyaGyan aims to be a true enabler of transformation through education.
The homogeneity helps bring in a level of comfort among the underprivileged children and helps them settle down in a reformed environment. VidyaGyan is conceptualized as an elite private residential school on the lines of a Milton in the U.S. or a Doon in India, to ensure that we are able to drive inclusive leadership development for tomorrow. Homogeneity is a conscious choice to ensure effectiveness of the results we are trying to achieve. Please note, the schools are co-ed with a boy:girl ratio of almost 50:50. This is remarkable, given the lack of opportunities and state of girls' education in India.
What do you anticipate/encourage your graduates to do after graduation? Will they be eligible for university scholarships in India or other parts of the world? Will they return to their villages or districts to find work?

We believe that VidyaGyan will be able to create complete accomplished individual leaders across all fields. Leadership is not of one's own making. It is a product of the environment in which you grow up and the opportunities you get. We are offering the best education and exposure to the students to ensure complete transformation. We are certain that all our VidyaGyan students will be ready to compete effectively with their urban counterparts for scholarships and admissions to universities in India or outside.

My personal belief is that VidyaGyan will produce leaders across all fields -- science, technology, sports, business, politics, government, academics, defense... and perhaps in time, even a Prime Minister of India. We also believe that the right balance of education, environment, values, ethics and opportunities would make these children go back to their communities. This is like creating concentric circles of impact to drive catalytic social transformation. And this is our vision for the future.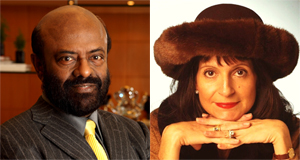 Shiv Nadar and C. M. Rubin
Photos courtesy of VidyaGyan Schools and Shiv Nadar Foundation
In The Global Search for Education, join me and globally renowned thought leaders including Sir Michael Barber (UK), Dr. Michael Block (US), Dr. Leon Botstein (US), Dr. Linda Darling-Hammond (US), Dr. Madhav Chavan (India), Professor Michael Fullan (Canada), Professor Howard Gardner (US), Professor Yvonne Hellman (The Netherlands), Professor Kristin Helstad (Norway), Jean Hendrickson (US), Professor Rose Hipkins (New Zealand), Professor Cornelia Hoogland (Canada), Mme. Chantal Kaufmann (Belgium), Professor Dominique Lafontaine (Belgium), Professor Hugh Lauder (UK), Professor Ben Levin (Canada), Professor Barry McGaw (Australia), Professor R. Natarajan (India), Dr. Denise Pope (US), Sridhar Rajagopalan (India), Dr. Diane Ravitch (US), Sir Ken Robinson (UK), Professor Pasi Sahlberg (Finland), Andreas Schleicher (PISA, OECD), Dr. Anthony Seldon (UK), Dr. David Shaffer (US), Dr. Kirsten Sivesind (Norway), Chancellor Stephen Spahn (US), Yves Theze (Lycee Francais US), Professor Charles Ungerleider (Canada), Professor Tony Wagner (US), Professor Dylan Wiliam (UK), Dr. Mark Wormald (UK), Professor Theo Wubbels (The Netherlands), Professor Michael Young (UK), and Professor Minxuan Zhang (China) as they explore the big picture education questions that all nations face today.
The Global Search for Education Community Page
C. M. Rubin is the author of two widely read online series for which she received a 2011 Upton Sinclair award, "The Global Search for Education" and "How Will We Read?" She is also the author of three bestselling books, including The Real Alice in Wonderland.