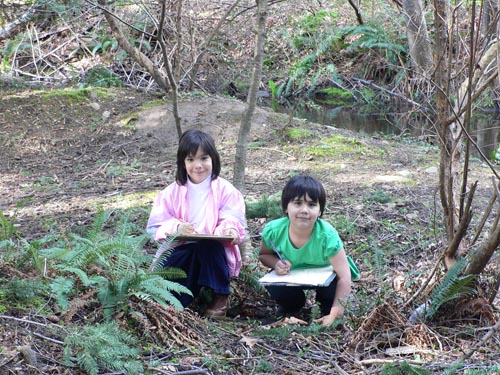 Will Apple's iPad 2 change the way we watch a book or appreciate nature?
(photo courtesy of Susan Leslie)
"If you asked a parent they might call it intuitive.
If you asked a musician they might call it inspiring.
To a doctor it's groundbreaking.
To a CEO it's powerful.
To a teacher it's the future.
If you asked a child, she might call it magic."
...And if you asked the producers of the Apple iPad 2 new global advertising campaign, they'd probably tell you they're just getting started...
So I asked Dr. Cornelia Hoogland (Faculty of Education, University of Western Ontario), author of "The Land inside Coyote: Reconceptualizing human relationships to place through drama" and Woods Wolf Girl (her 6th book of poetry), and the founder and artistic director of Poetry London, this question:
Do you believe we need to change the way the arts are handled in academic curricula given the dramatic changes in technology in today's world? If so, how do you believe this should be addressed?
Coyote has some thinking to do. In this story, Coyote goes down to the creek and then into the water. He sinks into the mud and sits there until he has an idea. For Coyote, thinking means immersing himself in the earth, quietly sitting and listening until something occurs to him. He doesn't separate knowledge into the disciplines; rather, he puts things into the holistic context of the earth. He's not afraid to get dirty.
In another story, Coyote tries to learn another creature's song and gets his teeth broken. But in the end, the desert that surrounds all the creatures becomes the landscape inside Coyote. It's as if he swallowed the mountain and grassland he now wears close to his heart. Such integration contrasts with mainstream western approaches to education that isolate content in order to observe it.
Concern for place is important to many Canadian educators. On Canada's west coast, the primary connection to place is captured in the life cycle of the salmon. Salmon's major role in the food chain sustains people and large mammals; as well, their decomposing bodies, when carried into the woods by wolves, fertilize the evergreen forests. So when asked by a parent about her curriculum, Mi'kmaq teacher Susan Leslie's reply that "We follow the fish," implied an interconnected curriculum in which the arts - dancing, carving, painting, drawing, singing, drama, sewing, writing or storytelling - not only expresses students' understandings but also provides the artistic methods of articulating (as well as of assessing) their understandings.
Canadians educators, who live in the same threatened and turbulent world as educators around the globe, are turning to native elders and teachers to help ground curriculum in aboriginal values which include the emotional, intellectual, physical, spiritual and place-based components of learning. Curriculum begins with children of diverse backgrounds valued for the strengths and resources they bring into the classroom. Aboriginal teachings are shown to be as contemporary as they are traditional. For instance, cutting edge research into the human brain that shows such things as spending time in the natural world is hardwired (or not) at an early age, confirms similar wisdom passed on for generations in native communities.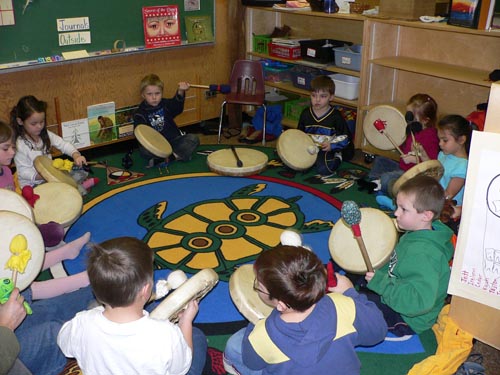 Children connect with the arts in a Canadian classroom (photo courtesy of Susan Leslie)
But can ancient understandings address contemporary arts curricula's growing dependence upon technology? Dr. Janette Hughes, in speaking to the importance of updating the curricula to reflect shifts in society as the result of the proliferation of digital media, says that "Teachers are attending more closely to visual and multimodal literacies - students can express themselves through image, sound, and gesture to wider audiences because of the affordances of digital media. The scope of the artist/designer is broadened and more accessible, particularly for students who cannot paint or draw with technical expertise, but who can create and design with attention to detail, color, line, light, and depth."

There's no doubt that the interactive environments that Web 2.0 technologies provide (video games, websites, wikis) do and will change artistic practice and understanding. Participants/students need to think about complex systems, webs of interconnectedness, and the complicated ways in which impulsive or short-term decisions can end in disaster.
As our awareness of human interconnectedness increases - not only connectedness within global commercial and security systems, but also within the context of our shared, blue planet - the tired chorus for standardized testing and accountability is moribund. It's time to join Coyote in the mud for a bit of clear thinking, to look to First Nations people for guidance in shaping the questions that science, industry and technology have failed to ask. Recently, while I hurried from building to building, an Elder asked me, "Where are your feet?" For the first in a long time I looked down to the concrete under my feet, to the place in which I found myself.

World Wisdom

1. Deepening human connections to the natural world leads to significant educational gain.
2. These connections also expand students' grounding for the complex web of relationships between technology and the arts.
3. Areas of knowledge are highly interconnected and should be viewed holistically and not just as separate disciplines.
4. As our awareness of human interconnectedness increases, the tired chorus for standardized testing and accountability is moribund.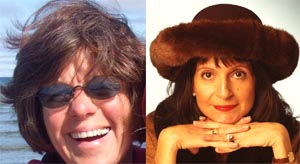 Dr. Cornelia Hoogland and C. M. Rubin
In The Global Search for Education, join C. M. Rubin and globally renowned thought leaders including Sir Michael Barber (UK), Dr. Leon Botstein (US), Dr. Linda Darling-Hammond (US), Dr. Madhav Chavan (India), Professor Michael Fullan (Canada), Professor Howard Gardner (US), Professor Yvonne Hellman (The Netherlands), Professor Kristin Helstad (Norway), Professor Rose Hipkins (New Zealand), Professor Cornelia Hoogland (Canada), Mme. Chantal Kaufmann (Belgium), Professor Dominique Lafontaine (Belgium), Professor Hugh Lauder (UK), Professor Ben Levin (Canada), Professor Barry McGaw (Australia), Professor R. Natarajan (India), Sridhar Rajagopalan (India), Sir Ken Robinson (UK), Professor Pasi Sahlberg (Finland), Andreas Schleicher (PISA, OECD), Dr. David Shaffer (US), Dr. Kirsten Sivesind (Norway), Chancellor Stephen Spahn (US), Yves Theze (Lycee Francais US), Professor Charles Ungerleider (Canada), Professor Tony Wagner (US), Professor Dylan Wiliam (UK), Professor Theo Wubbels (The Netherlands), Professor Michael Young (UK), and Professor Minxuan Zhang (China) as they explore the big picture education questions that all nations face today.
Popular in the Community