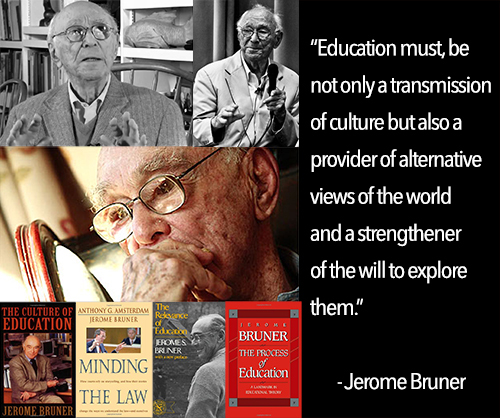 "I have a kaleidoscope of memories of Jerry," writes Howard Gardner, "sitting with a group of students and colleagues, raising questions in a broader way than most of us would, then asking us to connect the dots, and then offering his own connections, NOT in a way of closing the conversation, but rather encouraging us to stretch our minds, our emotions, our passions; as my colleague Steve Pinker reminded me, making us think that we were at the cusp of clarifying if not resolving issues that others had pondered for generations."
Gardner is speaking of famed psychologist, professor, education visionary and thought leader Jerome Bruner who died on June 5, 2016 at age 100 in his apartment in Manhattan New York. Bruner received his Doctorate in Psychology from Harvard University and would, throughout his career, be a pioneer in the fields of cognitive and educational psychology. He spent the first decades of his career studying what today we call cognitive psychology, or the study of how people think, perceive, and respond to stimulus. His 1956 book, A Study of Thinking, is widely viewed to have been the formal beginning of the cognitive psychology movement. Following naturally from the path of a man dedicated to studying how people think, Bruner would eventually shift his focus to how people learn.
In The Process of Education (1960), Bruner argued that any subject can be taught to any child at any stage of development, providing the material was presented in a way that did not overwhelm the child's current developmental stage. He believed that children are naturally curious and have the potential and desire to learn as long as they are introduced to tasks with the correct organization of instruction. When the presentation is too hard, the student becomes bored. A teacher must therefore present schoolwork at the appropriate level. Bruner's studies of knowledge acquisition in children would eventually coin several educational terms still used by teachers and curriculum designers around the world, such as 'scaffolding' and 'symbolic representation'.
Having gained a deep scientific insight into the paramount importance of well-designed curriculum, Bruner moved beyond theory and proposed his own style of teaching, known as the spiral curriculum. This method would focus on revisiting learned content at set intervals and re-teaching it at a more refined and difficult level. Eventually, learned content from one subject would be used to inform more in depth discussion of content in another subject. This form of education would work to enforce the idea that studies were intrinsically linked with a common thread running through them all.
Bruner would also go on to claim that learning merely to pass a test or avoid punishment was ineffective learning, and that the best and most thorough form of education came when one was taught content in a way that makes it appealing and memorable. Bruner's many writings on education and curriculum, particularly, Man: A Course of Study, would carve out his place in history as one of the greatest contributors to the educational field in the 20th century. He served on the Science Advisory Committees of Presidents John F. Kennedy and Lyndon Johnson. He was a professor of experimental psychology at the University of Oxford (1972-80) and a professor at the New School for Social Research, New York City, as well as a fellow at the New York Institute for the Humanities, New York University. Bruner continued to advocate for a more comprehensive and holistic approach to education. He would spend his life trying to change educational systems to focus less on facts and trivia and more on questions like 'how' and 'why' the world and humans are the way they are.
"The most important lesson we educators learned from "Jerry" or "JSB" is that if you take students of any age seriously, and engage their curiosity and their passions, you can communicate important ideas to them," says Gardner. "And the idea of the spiral curriculum -- where you can over time revisit basic ideas/concepts in ever more complex ways --- is so different from today, where we try to simplify things to lists, or memorization of isolated names and numbers, or multiple choice options, thereby deadening rather than waking up the mind."
Jerome Bruner served a pivotal role in the educational discourse of our time. He will be sorely missed.
(Photo Montage courtesy of CMRubinWorld)
Join me and globally renowned thought leaders including Sir Michael Barber (UK), Dr. Michael Block (U.S.), Dr. Leon Botstein (U.S.), Professor Clay Christensen (U.S.), Dr. Linda Darling-Hammond (U.S.), Dr. MadhavChavan (India), Professor Michael Fullan (Canada), Professor Howard Gardner (U.S.), Professor Andy Hargreaves (U.S.), Professor Yvonne Hellman (The Netherlands), Professor Kristin Helstad (Norway), Jean Hendrickson (U.S.), Professor Rose Hipkins (New Zealand), Professor Cornelia Hoogland (Canada), Honourable Jeff Johnson (Canada), Mme. Chantal Kaufmann (Belgium), Dr. EijaKauppinen (Finland), State Secretary TapioKosunen (Finland), Professor Dominique Lafontaine (Belgium), Professor Hugh Lauder (UK), Lord Ken Macdonald (UK), Professor Geoff Masters (Australia), Professor Barry McGaw (Australia), Shiv Nadar (India), Professor R. Natarajan (India), Dr. Pak Tee Ng (Singapore), Dr. Denise Pope (US), Sridhar Rajagopalan (India), Dr. Diane Ravitch (U.S.), Richard Wilson Riley (U.S.), Sir Ken Robinson (UK), Professor Pasi Sahlberg (Finland), Professor Manabu Sato (Japan), Andreas Schleicher (PISA, OECD), Dr. Anthony Seldon (UK), Dr. David Shaffer (U.S.), Dr. Kirsten Sivesind (Norway), Chancellor Stephen Spahn (U.S.), Yves Theze (LyceeFrancais U.S.), Professor Charles Ungerleider (Canada), Professor Tony Wagner (U.S.), Sir David Watson (UK), Professor Dylan Wiliam (UK), Dr. Mark Wormald (UK), Professor Theo Wubbels (The Netherlands), Professor Michael Young (UK), and Professor Minxuan Zhang (China) as they explore the big picture education questions that all nations face today.
The Global Search for Education Community Page
C. M. Rubin is the author of two widely read online series for which she received a 2011 Upton Sinclair award, "The Global Search for Education" and "How Will We Read?" She is also the author of three bestselling books, including The Real Alice in Wonderland, is the publisher of CMRubinWorld, and is a Disruptor Foundation Fellow.
Related
Popular in the Community