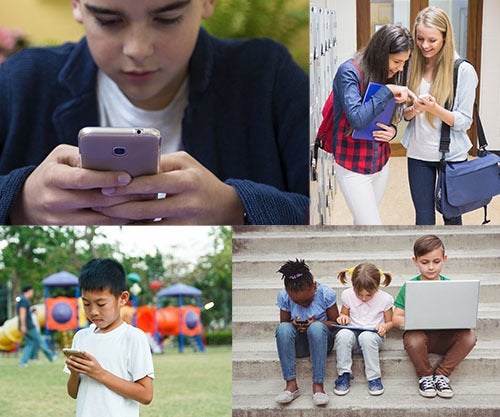 According to an Ipsos/Reuters poll, more than ten percent of parents around the world say their child has been cyberbullied and nearly one-fourth know a youngster who has been a victim. Another recent global study by the OECD/PISA of approximately 540,000 students in 72 countries clearly showed that over the last decade, student well-being has seriously declined. In our interview with Andreas Schleicher he noted that the "most distressing threat to student well-being is bullying, and it can have serious consequences for the victim, the bully and the bystanders."
Our Global Teacher Bloggers are pioneers and innovators in fields such as technology integration, mathematics coaching, special needs education, science instruction, and gender equity. They have founded schools, written curricula, and led classrooms in 13 different countries that stretch across every populated continent on earth. These teachers empower and enrich the lives of young people from nearly every background imaginable. This month we asked them: How do we help instill a sense of global citizenship, of civic-mindedness, and respect on the internet? What are some of the best strategies you have seen in practice in your school communities?
"It is never too early to start online safety conversations with kids," says Shaelynn Farnsworth (@shfarnsworth). "In the classroom, online safety or digital citizenship should not be discussed during a designated month; instead, students should hear it from all teachers and the components should be woven across the curriculum all year long." Read More.
"Digital citizenship is simply a reflection of how we treat each other in society," writes Nadia Lopez (@TheLopezEffect). "When children are taught to honor themselves, have compassion and be respectful of others, they will become global citizens who are productive and add value to this world." Read More.
"While we may not understand the fascination with the SnapChat dog-face filter, we should look for opportunities to have our kids teach us the ins and outs of a platform while we play the role of student," says Carl Hooker (@mrhooker). "Not only will this open up lines of communication, but it will also give you an opportunity to relay some life wisdom to your child and discuss scenarios of what to do when a troll or cyberbully attacks." Read More.
"As a teacher working for past 22 years, I'm ready to make your next generation cyber safe," says Rashmi Kathuria (@rashkath). "We have formed a Cyber ​​Congress in our school which consist of School Leader, Teacher members, Student members and Parents as members. The objective is to keep a watch on the internet and to be safe." Read More.
"Digital citizenship covers areas such as digital security, literacy, rights, use, and digital-emotional intelligence among others," says Jim Tuscano (@jimtuscano). "Digital citizenship is not external to the student's experience in a technology-rich learning environment. It is an integral part of it." How does Jim's school promote Digital Citzenship? Read More.
"The constant change in technology means we need to adjust 'the way we do things' and support the often diverse needs of our learners." says Craig Kemp (@mrkempnz). Craig shares three ways he believes we can "instill a greater sense of global citizenship and respect in using the Internet in our students." Read More.
"October is the month we work to take a stand against bullying, so this is a topic of emphasis this month for many of us," says Vicki Davis (@coolcatteacher). Vicki shares her interview with Anne Collier about how we can reduce cyberbullying. Read More.
"The statistics and my own experience both confirm it is a significantly bigger problem for girls," says Richard Wells (@EduWells) in New Zealand. "To combat this, school policies and environment must have a holistic approach towards restoring relationships." This month Richard discusses the need for a school "restorative justice philosophy". Read More.
"The good news is that K-12 education is developing a toolkit of student strategies for digital citizenship skills that incorporate the benefits and challenges of social media use," writes Adam Steiner (@steineredtech). "Organizations like Common Sense Media and ISTE have released helpful resources that take a proactive approach toward digital citizenship and emphasize the following qualities of effective digital citizenship instruction." Read More.
The Top Global Teacher Bloggers is a monthly series where educators across the globe offer experienced yet unique takes on today's most important topics. CMRubinWorld utilizes the platform to propagate the voices of the most indispensable people of our learning institutions – teachers.
(Photo is courtesy of CMRubinWorld)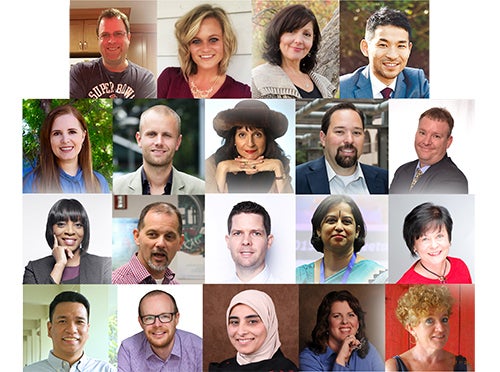 Top Row L to R: Adam Steiner, Shaelynn Fransworth, Pauline Hawkins, Kazuya Takahashi
2nd Row L to R: Elisa Guerra, Jasper Rijpma , C.M. Rubin, Carl Hooker, Warren Sparrow
3rd Row L to R: Nadia Lopez, Joe Fatheree, Craig Kemp, Rashmi Kathuria, Maarit Rossi
Bottom Row L to R: Jim Tuscano, Richard Wells, Abeer Qunaibi, Vicki Davis, Miriam Mason-Sesay
Join me and globally renowned thought leaders including Sir Michael Barber (UK), Dr. Michael Block (U.S.), Dr. Leon Botstein (U.S.), Professor Clay Christensen (U.S.), Dr. Linda Darling-Hammond (U.S.), Dr. MadhavChavan (India), Professor Michael Fullan (Canada), Professor Howard Gardner (U.S.), Professor Andy Hargreaves (U.S.), Professor Yvonne Hellman (The Netherlands), Professor Kristin Helstad (Norway), Jean Hendrickson (U.S.), Professor Rose Hipkins (New Zealand), Professor Cornelia Hoogland (Canada), Honourable Jeff Johnson (Canada), Mme. Chantal Kaufmann (Belgium), Dr. EijaKauppinen (Finland), State Secretary TapioKosunen (Finland), Professor Dominique Lafontaine (Belgium), Professor Hugh Lauder (UK), Lord Ken Macdonald (UK), Professor Geoff Masters (Australia), Professor Barry McGaw (Australia), Shiv Nadar (India), Professor R. Natarajan (India), Dr. Pak Tee Ng (Singapore), Dr. Denise Pope (US), Sridhar Rajagopalan (India), Dr. Diane Ravitch (U.S.), Richard Wilson Riley (U.S.), Sir Ken Robinson (UK), Professor Pasi Sahlberg (Finland), Professor Manabu Sato (Japan), Andreas Schleicher (PISA, OECD), Dr. Anthony Seldon (UK), Dr. David Shaffer (U.S.), Dr. Kirsten Sivesind (Norway), Chancellor Stephen Spahn (U.S.), Yves Theze (LyceeFrancais U.S.), Professor Charles Ungerleider (Canada), Professor Tony Wagner (U.S.), Sir David Watson (UK), Professor Dylan Wiliam (UK), Dr. Mark Wormald (UK), Professor Theo Wubbels (The Netherlands), Professor Michael Young (UK), and Professor Minxuan Zhang (China) as they explore the big picture education questions that all nations face today. The Global Search for Education Community Page
C. M. Rubin is the author of two widely read online series for which she received a 2011 Upton Sinclair award, "The Global Search for Education" and "How Will We Read?" She is also the author of three bestselling books, including The Real Alice in Wonderland, is the publisher of CMRubinWorld, and is a Disruptor Foundation Fellow.
REAL LIFE. REAL NEWS. REAL VOICES.
Help us tell more of the stories that matter from voices that too often remain unheard.
This post was published on the now-closed HuffPost Contributor platform. Contributors control their own work and posted freely to our site. If you need to flag this entry as abusive,
send us an email
.