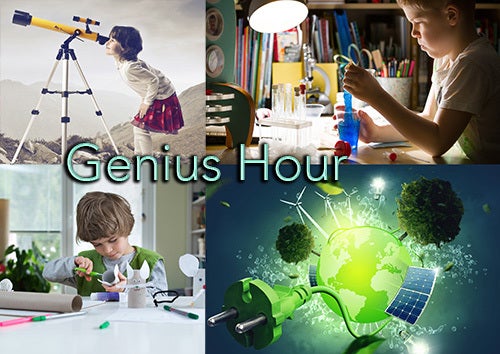 So search engine giant Google had this neat idea a few years ago to allow its engineers to spend 20% of their time working on things that really interested them – the goal being to inspire creativity and indirectly increase productivity. Some significant innovations came out of Google's 20% time. Well-publicized "20% products" have included things such as Google News, G-mail, and AdSense.
A goal in every classroom should be to create passionate, lifelong learners. It makes sense that the same 20% time or "genius time" principles should be available in all schools. A.J. Juliani notes that kids spend "14,256 hours in school between kindergarten and graduation. If we can't find a time for students to have some choice in their learning, then what are we doing with all those hours?" This month, our top teachers from around the globe talk about how 20% time or Genius Hour inspires curiosity, innovation and creativity, and enhances knowledge in students.
Teachers live for that moment in time when a student says, "I finally had an idea that is all my own and belongs to no one else," writes Joe Featheree (@josephfatheree). "Genius hour has the ability to help take your students places they have never dreamt of going." Read More.
"Genius Hour is not about a quick answer that is regurgitated in front of the class," writes Shaelynn Fransworth (@shfarnsworth). "Instead, we are asking students to become experts in that particular field and have the audacity to manipulate their knowledge in ways that will allow them to construct thoughtful responses with threaded experiences and support in multiple situations. Because of this cognitive complexity, I found my students struggled in 2 areas…" Read More.
"Educators around the world have employed and integrated genius time in their classrooms because of its positive effect on the students," writes Jim Tuscano (@jimtuscano). "More specifically, genius time has become a way for teachers to allow innovation to take root and flourish in the classroom." Here are Jim's "Four Important Lessons from Genius Hour". Read More.
"This past week, we have been evaluating and redesigning a module on artificial intelligence for our third grade. A.I. is already a major factor in today's world and is most likely to affect even more aspects in the lives of our students this century," writes Jasper Rijpma (@JasperRijpma). "Students can pick any of the research questions we provided, or come up with their own questions, thus providing a sense of autonomy and ownership." Read More.
"Every school should ask themselves is there one class where students can create and can invent? I truly think this makes a more creative student," writes Vicki Davis (@coolcatteacher). "I have found that there are nine ways to unleash student creativity when you're doing something like 20% time or genius or passion projects." Read More.
"One thing that always bothered me as a teacher was the curriculum. The school I was teaching at and the team I was teaching with would rarely stray from it," writes Carl Hooker (@mrhooker). So with almost all the first grade content covered and a couple months of school left, I decided to consult the most important people in the school about what to do with the time." Read More.
"This concept of empowering students to embrace their own way of learning is not new. It is, in fact, closely aligned with Universal Design for Learning (UDL), a system of curriculum development that emphasizes that students should be given choices," writes Adam Steiner (@steineredtech). "With that in mind, I wanted to provide a starter kit of nine of the best current tools that can help teachers to implement UDL and Genius Hour." Read More.
"If I was to give you, the educator, one piece of advice before embarking on a genius time concept roll-out in your classroom or school it is GO FOR IT! JUST DO IT! Don't micro-manage, step back and let it happen," writes Craig Kemp (@mrkempnz). "Guide your students as a mentor and coach and support their growth and skill development. Let it be exciting and engaging all the time and set aside dedicated time to make it happen." Read More.
"Every year, we set apart one full week in our school calendar, where regular classes will simply not take place. Instead, kids will work on a project of their choosing," writes Elisa Guerra (@ElisaGuerraCruz) in Mexico. "We poll the students to find out about their interests. We use this information to design 8 to 10 different workshops or 'cloisters'." Read More.
"We, at EducAid, are definitely not at 20% and have a long way to go before we could claim to be harnessing the innate power of all our students' curiosity, innovation and creativity," writes Miriam Mason-Sesay (@EducAidSL) in Sierra Leone. "But!!!….we have started down the road towards encouraging our youngsters to take time to engage with the realities of how they can design the EducAid that they want, how they can be part of designing solutions to problems." Read More.
"The Incredible Adventures of Captain Veggie Man can be seen at this link, http://bit.ly/2pxAape," writes Warren Sparrow (@wsparrowsa). This student lead project "ended up with a campaign at our school to change what was being sold at lunch and eventually the World Health Association approved our menus. The video was eventually aired in Taiwan at the annual Adobe Youth Voices Festival." Read More.
The Top Global Teacher Bloggers are pioneers and innovators in fields such as technology integration, mathematics coaching, special needs education, science instruction, and gender equity. They have founded schools, written curricula, and led classrooms in 16 different countries that stretch across every populated continent on earth. The Top Global Teacher Bloggers is a monthly series where educators across the globe offer experienced yet unique takes on today's most important topics. CMRubinWorld utilizes the platform to propagate the voices of the most indispensable people of our learning institutions – teachers.
(Photo is courtesy of CMRubinWorld)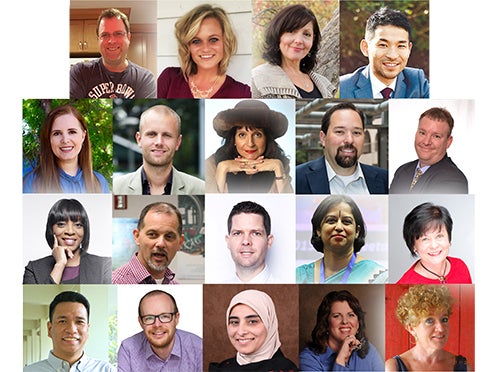 Top Row L to R: Adam Kenner, Shaelynn Fransworth, Pauline Hawkins, Kazuya Takahashi
2nd Row L to R: Elisa Guerra, Jasper Rijpma , C.M. Rubin, Carl Hooker, Warren Sparrow
3rd Row L to R: Nadia Lopez, Joe Fatheree, Craig Kemp, Rashmi Kathuria, Maarit Rossi
Bottom Row L to R: Jim Tuscano, Richard Wells, Abeer Qunaibi, Vicki Davis, Miriam Mason-Sesay
Join me and globally renowned thought leaders including Sir Michael Barber (UK), Dr. Michael Block (U.S.), Dr. Leon Botstein (U.S.), Professor Clay Christensen (U.S.), Dr. Linda Darling-Hammond (U.S.), Dr. MadhavChavan (India), Professor Michael Fullan (Canada), Professor Howard Gardner (U.S.), Professor Andy Hargreaves (U.S.), Professor Yvonne Hellman (The Netherlands), Professor Kristin Helstad (Norway), Jean Hendrickson (U.S.), Professor Rose Hipkins (New Zealand), Professor Cornelia Hoogland (Canada), Honourable Jeff Johnson (Canada), Mme. Chantal Kaufmann (Belgium), Dr. EijaKauppinen (Finland), State Secretary TapioKosunen (Finland), Professor Dominique Lafontaine (Belgium), Professor Hugh Lauder (UK), Lord Ken Macdonald (UK), Professor Geoff Masters (Australia), Professor Barry McGaw (Australia), Shiv Nadar (India), Professor R. Natarajan (India), Dr. Pak Tee Ng (Singapore), Dr. Denise Pope (US), Sridhar Rajagopalan (India), Dr. Diane Ravitch (U.S.), Richard Wilson Riley (U.S.), Sir Ken Robinson (UK), Professor Pasi Sahlberg (Finland), Professor Manabu Sato (Japan), Andreas Schleicher (PISA, OECD), Dr. Anthony Seldon (UK), Dr. David Shaffer (U.S.), Dr. Kirsten Sivesind (Norway), Chancellor Stephen Spahn (U.S.), Yves Theze (LyceeFrancais U.S.), Professor Charles Ungerleider (Canada), Professor Tony Wagner (U.S.), Sir David Watson (UK), Professor Dylan Wiliam (UK), Dr. Mark Wormald (UK), Professor Theo Wubbels (The Netherlands), Professor Michael Young (UK), and Professor Minxuan Zhang (China) as they explore the big picture education questions that all nations face today.
C. M. Rubin is the author of two widely read online series for which she received a 2011 Upton Sinclair award, "The Global Search for Education" and "How Will We Read?" She is also the author of three bestselling books, including The Real Alice in Wonderland, is the publisher of CMRubinWorld, and is a Disruptor Foundation Fellow.
Support HuffPost
The Stakes Have Never Been Higher
Related
Popular in the Community