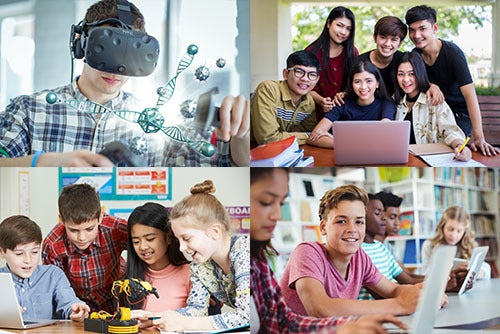 During the past year, we've discussed and debated the pros and cons of using technology in the learning journey. Whether we like it or not, kids are growing up in a technological environment, and knowing how to make the best use of good tech is a critical part of preparing them for their future lives. Important 21st century skills such as problem solving, communication and creativity can also be improved with the use of great tech. So it's time for our end of year round-up of what edtech tools have dramatically supported and improved learning in our teachers' classrooms around the world.
The question was put to our distinguished Top Global Teacher Bloggers.
"Images allow students to capture their learning and share their stories all from their phone," writes Shaelynn Farnsworth (@shfarnsworth). "With the plethora of available options," Shaelynn offers her favorite mostly FREE apps for editing, typography, Gif-making and sharing which include Snapseed, Word Swag, Motion Stills and Snapchat Stories. Read More.
"Whichever device you bring into your classroom, ultimately it is all about the content," writes Adam Steiner (@adamcsteiner). "The good news is that great new educational VR content is coming out every day." Adam's favorite picks for content include Titans of Space, Discovery VR and Anatomyou. Read More.
"Teaching is about the relationship," writes Vicki Davis (@coolcatteacher), "but there are tools that improve that relationship and help us teach better, faster and have more fun as we're doing it." Vicki's top 7 tech tools for improving learning include Power School Learning (LMS), EdPuzzle, and Hemingway and Grammarly. Read More.
Jim Tuscano's (@jimtuscano) personal criteria in selecting his top tech choices include tech that "supports active, creative, and collaborative learning, as well as critical-thinking, promotes independent and self-directed learning, and provides accessibility to all learners." So what's the good, the bad and the best from Jim? Read More.
"Technology has proved its potential to cater to the needs of all types of learners. It is with the advent of new tools; not only students are able to understand a concept but at the same time they are able to expand their knowledge," writes Rashmi Kathuria (@rashkath), who walks us through her journey from teacher to e-teacher with a passion for improving mathematics learning every step of the way. Read More.
Craig Kemp's (@mrkempnz) list of the Top 12 EdTech Tools for Teaching and Learning 2017/2018 includes the student driven digital portfolio Seesaw, Cospaces_Edu, Visme and Explain Everything. Read more.
"Teaching in the Fourth Industrial Revolution takes passion and initiative, and along with the challenges come the exhilarating opportunities," writes Elisa Guerra Cruz (@ElisaGuerraCruz), who shares the good, the bad, and the best, which include Stop Motion Studio, Weebly and Paths to Math (created by our very own Top Teacher Blogger Maarit Rossi). Read More.
"It's the time of year to reflect on what we've done and where we're going but the problem with reflections is they're rarely shared or documented," writes Richard Wells (@EduWells). Lucky for us, Richard shares his insights on his top two #edtech tools of 2017 – Virtual Reality and Voice Typing. Read More.
Warren Sparrow (@wsparrowsa) writes that not all his edtech recommendations are "new" but that's because he still thinks they're great. In addition, he specifically wants to highlight "edtech tools that you do not have to pay for or there is a free version." His top tips for tech to try include Kahoot, Commonlit and Office Mix. Read More.
Finally, just for fun, we invited Carl Hooker (@mrhooker) to reflect on his "bold predictions" (this is Carl's 5th year) for edtech winners and losers 2017. Carl admits that while some of his past predictions have hit it out of the park (in 2015 he predicted Pearson would lose its massive testing contract in Texas), others have struck out (in 2013 he predicted a non-Apple tablet would dominate edtech sales). So how many of Carl's predictions came close to becoming a reality this year? Read More.
Our Global Teacher Bloggers are pioneers and innovators in fields such as technology integration, mathematics coaching, special needs education, science instruction, and gender equity. They have founded schools, written curricula, and led classrooms in 13 different countries that stretch across every populated continent on earth. These teachers empower and enrich the lives of young people from nearly every background imaginable.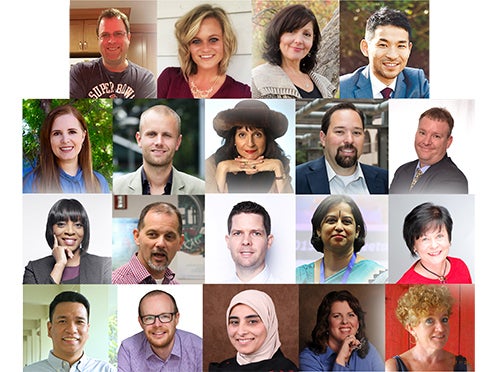 Top Row L to R: Adam Steiner, Shaelynn Fransworth, Pauline Hawkins, Kazuya Takahashi
2nd Row L to R: Elisa Guerra, Jasper Rijpma , C.M. Rubin, Carl Hooker, Warren Sparrow
3rd Row L to R: Nadia Lopez, Joe Fatheree, Craig Kemp, Rashmi Kathuria, Maarit Rossi
Bottom Row L to R: Jim Tuscano, Richard Wells, Abeer Qunaibi, Vicki Davis, Miriam Mason-Sesay
Join me and globally renowned thought leaders including Sir Michael Barber (UK), Dr. Michael Block (U.S.), Dr. Leon Botstein (U.S.), Professor Clay Christensen (U.S.), Dr. Linda Darling-Hammond (U.S.), Dr. MadhavChavan (India), Charles Fadel (U.S.), Professor Michael Fullan (Canada), Professor Howard Gardner (U.S.), Professor Andy Hargreaves (U.S.), Professor Yvonne Hellman (The Netherlands), Professor Kristin Helstad (Norway), Jean Hendrickson (U.S.), Professor Rose Hipkins (New Zealand), Professor Cornelia Hoogland (Canada), Honourable Jeff Johnson (Canada), Mme. Chantal Kaufmann (Belgium), Dr. EijaKauppinen (Finland), State Secretary TapioKosunen (Finland), Professor Dominique Lafontaine (Belgium), Professor Hugh Lauder (UK), Lord Ken Macdonald (UK), Professor Geoff Masters (Australia), Professor Barry McGaw (Australia), Shiv Nadar (India), Professor R. Natarajan (India), Dr. Pak Tee Ng (Singapore), Dr. Denise Pope (US), Sridhar Rajagopalan (India), Dr. Diane Ravitch (U.S.), Richard Wilson Riley (U.S.), Sir Ken Robinson (UK), Professor Pasi Sahlberg (Finland), Professor Manabu Sato (Japan), Andreas Schleicher (PISA, OECD), Dr. Anthony Seldon (UK), Dr. David Shaffer (U.S.), Dr. Kirsten Sivesind (Norway), Chancellor Stephen Spahn (U.S.), Yves Theze (LyceeFrancais U.S.), Professor Charles Ungerleider (Canada), Professor Tony Wagner (U.S.), Sir David Watson (UK), Professor Dylan Wiliam (UK), Dr. Mark Wormald (UK), Professor Theo Wubbels (The Netherlands), Professor Michael Young (UK), and Professor Minxuan Zhang (China) as they explore the big picture education questions that all nations face today.
C. M. Rubin is the author of two widely read online series for which she received a 2011 Upton Sinclair award, "The Global Search for Education" and "How Will We Read?" She is also the author of three bestselling books, including The Real Alice in Wonderland, is the publisher of CMRubinWorld and is a Disruptor Foundation Fellow.
Related
Popular in the Community