Communities worldwide, especially in the resource-rich Global South, have been fighting against the environmental, social, economic and political destruction inflicted by the fossil fuel industry for decades. Unfortunately many in power in developing economies still cling to the fallacy that progress is only possible by using fossil fuels, rather than taking the opportunity to leapfrog the mistakes of the Global North.
The reality is that true sustainable development is only possible by opting for economies built on renewable energy systems. Our governments should be bold and choose cutting edge renewable energy solutions that are not only cleaner and better for the environment, but also ultimately cheaper as they are fueled for free by the sun and the wind.
Faced with a vacuum of action, people worldwide are providing the much needed leadership by intensifying pressure through peaceful civil disobedience on a global scale, demanding a shift to happen.
These efforts to mobilise are inspired by many movements, especially those in the Global South where people who have contributed the least towards the problem are suffering the most. The effects of climate change are often a matter of survival - whether it is protecting tribal lands, dealing with extreme drought, or severe flooding. Stemming the effects of catastrophic climate change is inextricably linked to the global justice movement.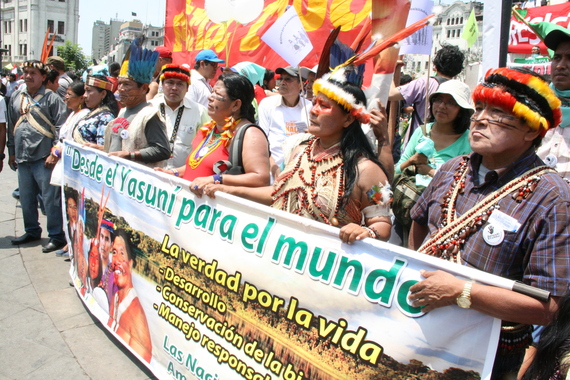 Photo credit: Hoda Baraka/350.org
Thankfully we have a solid foundation to build upon. The climate movement has gone from strength to strength over the past year, and is now posing a real threat to the environmentally destructive fossil fuel industry. To make sure that we maintain momentum, this May a great wave of peaceful direct actions under the banner of Break Free will take place, targeting the world's most dangerous fossil fuel projects.
One of the most iconic fights started over two decades ago taking place in the south-eastern corner of Nigeria, in the Niger Delta region territory known as Ogoni land. Shell and the Nigerian government profited unchallenged from the oil production in the region for decades, at huge environmental costs including massive oil spills and air pollution caused by continuously burning gas flares.
During the Break Free actions, the latest generation of activists, inspired by Ken Saro-Wiwa will take action in three locations in the Niger Delta. These will demonstrate that Nigeria, and the whole of Africa, is better off without the polluting activities of the fossil industry.
Other activities will be held in Brazil, also struggling to deal with the corrupting nature of the fossil fuel industry. Thousands of indigenous peoples and climate activists will join together in several different peaceful actions focussing on key parts of the country's oil and gas and coal infrastructure.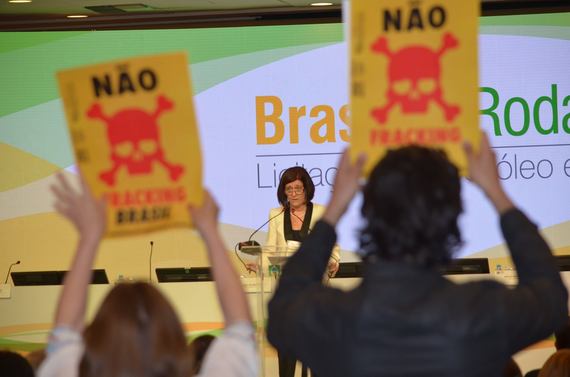 Photo credit: Nao Fracking Brasil/350.org
In Indonesia there will be a mass action involving thousands of people at the Presidential palace in Jakarta, and will include participants from many of the communities leading resistance to coal projects from around the country. A few days later there will be one or more actions at the site of coal infrastructure projects

In the Philippines demonstrators will build on the resolve from the Climate Walk last autumn, which was a 40-day, 875 KM journey from Manila to Tacloban City. This year anti-coal activists including participants from local government, the church, and affected communities will converge in another climate march that aims to mobilize 10,000 people in Batangas City.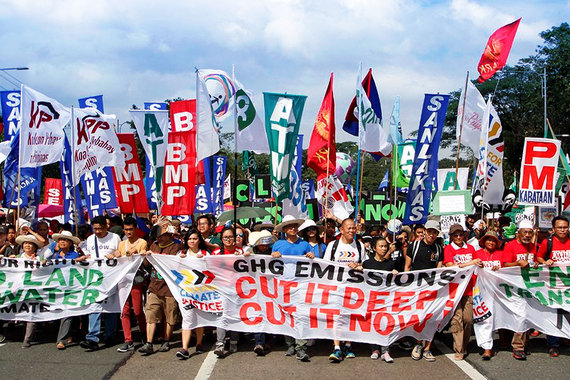 Photo credit: AC Dimatatac
We will also continue to push in South Africa, with two actions designed to highlight the local impacts of coal and climate change. In Turkey, community leaders will head a mass action in Aliağa (near Izmir) at a coal waste site to call for a stop to four fossil fuel plant projects in the surrounding area.
Campaigners from the Global South understand after decades of battles that the economic and infrastructural transformation needed -- going from fossil fuels to 100% renewable energy -- will not happen without resistance from the powers currently benefiting from the status quo. Unfortunately some of these challenges are being met with extreme violence, as witnessed with past and recent deaths of activists.
When violence is used to silence protest, democracy is placed under threat. However, we will not retaliate like with like, instead we will carry on building our numbers, standing strong as a unified global movement. We will also defend the defenders by building on their work - standing in solidarity - honouring their accomplishments. Intimidation will not stop the movement.
Our hope is that these peaceful mobilisations taking place in May serve as an important point in the climate movement's journey to increase pressure on the fossil fuel industry. The struggle in the Global South to finally break free from fossil fuels will continue making this a struggle the world cannot ignore.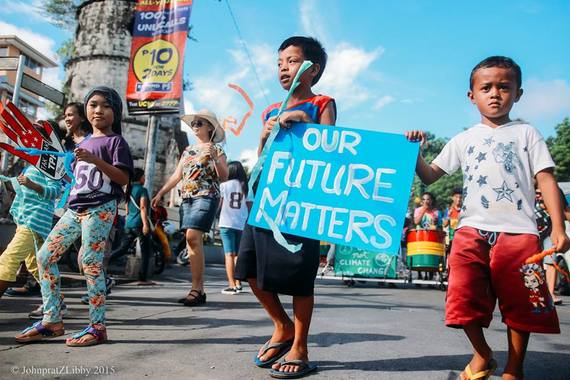 Photo credit: JohnpratZlibby
Popular in the Community