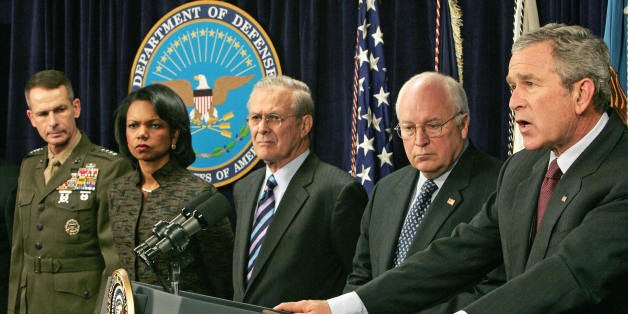 Jon Meacham's new biography of George H.W. Bush is causing a frothy and indignant stir in the Bush inner circle. In "Destiny and Power: the American Odyssey of George Herbert Walker Bush" the president takes combat pilot aim at the roles of Dick Cheney and Donald Rumsfeld in his son's White House. He describes Cheney as "iron ass" and Rumsfeld as "arrogant".
Rumsfeld responded by noting: "Bush 41 is getting up in years." Which should go a long way in dispelling the charge that he's, well, arrogant.
I had my own experience writing an insider's account of a Bush White House. "The Global War On Morris," published last year by Simon & Schuster, is a parody of Cheney, Rumsfeld and company. I dedicated it: "To former vice president Dick Cheney. And to my dad, who didn't particularly care for him." (If they can be "arrogant" and "iron ass," why can't I be snarky?)
The novel was inspired at various White House briefings on the war in Iraq. Prior to that, as a town councilman on Long Island, my most important meeting was with the Highway Superintendent. Now I was Member of Congress, sitting at lustrous mahogany conference tables with the President, the Vice President, the Secretary of this and the Secretary of that. I'd watch Cheney and Rumsfeld scorch anyone in the room who showed signs of softness. In one case, Rumsfeld got into a verbal rumble with Condoleezza Rice over limitations on State Department personnel in Iraq. Rumsfeld snapped at Rice. Rice snapped back. The president? He reminded me of my father at an Israel family Thanksgiving dinner: Bemused at the yelling and wondering when the football games would start.
The dialogue was sometimes absurd. The characters vivid. All I needed was a plot.
That materialized at a hearing of the Armed Services Committee. The Pentagon believed that a terrorist cell was planning an attack in Florida: and began a top secret surveillance operation. As it turned out, the suspects weren't terrorists. They were elderly Quakers. Their "attack" involved oaktag and sharpies at a peaceful protest outside a military base.
Some poor General was hauled before our Committee to explain how the government of the United States could accidentally spy on its citizens. His lumbering testimony could have been covered in one word: "oooops."
At the hearing, I realized that other innocent Americans were probably being spied on. I knew nothing about elderly Quakers, but I did have some expertise in Long Island Jewish men in their mid-fifties. That's when Morris Feldstein came to life. A guy who doesn't make waves, doesn't watch the news, doesn't want to be bothered, but who's fingered by Dick Cheney as a major threat to our survival and whose every movement is monitored by the acronymic assemblage of federal agencies designed to keep us safe.
The book captures real dialogue by Cheney, Rumsfeld, Bush and even Obama. It tells the inside story of paranoia and politics. The response was favorable. The Washington Post called it "an unexpected delight" (likely translated from "we didn't think a Congressman could even spell"). Rob Reiner is trying to develop it for television (a sure ratings winner over CSPAN coverage of the House Subcommittee on Trusts & Estates). On the first day of paperback sales, I wandered into the Barnes & Noble on 5th Avenue in New York. Imagine my joy to learn that a quarter of the books on display had already been purchased. In real math that's one book out of the four on the shelf.
In another section of that Barnes & Noble is the Meacham biography. A sturdy 835 pages with a gleaming gold cover and footnotes. His is serious and scholarly. Mine is satire and snarky. His is impeccably researched. Mine has the academic heft of any parody. Both help tell a story of highly peculiar political personalities at a critical moment of history. In both, Dick Cheney and Don Rumsfeld play their parts exactly as Bush 41 described them.
People have asked me how I think the real characters would respond to my novel.
I think George W. might have cackled.
As for the others, if I'm ever missing for more than a few days, check with Cheney.
Rep. Steve Israel's novel, "The Global War on Morris" was released in paperback this week.
REAL LIFE. REAL NEWS. REAL VOICES.
Help us tell more of the stories that matter from voices that too often remain unheard.