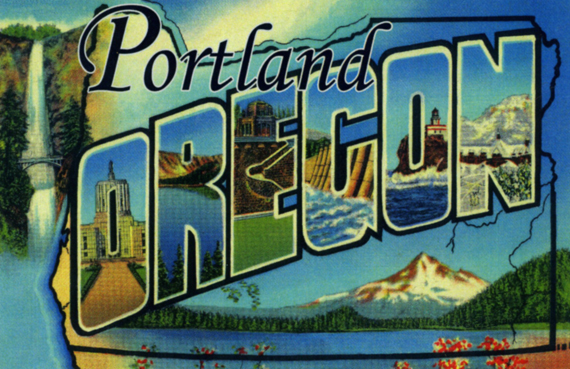 Oregon is a state that defies definition. Part of my personal feelings of love for this special place may rest with the fact that I was born in Seattle and have discovered through years of research that my great great grandparents were original donation land claim settlers (pioneers) in Oregon, having successfully traversed the entire Unites States in 1853 on the Oregon Trail!
In recent years I have visited Oregon a number of times, thanks to my son's interest in snowboarding. While he was in high school, he attended High Cascade Snowboard Camp on Mount Hood, (an incredible experience) and as his chaperone, I made several pilgrimages to the areas where my ancestors had lived doing research at local libraries (the old fashioned way). My mother was born in Grass Valley (just east of Mount Hood) and my great grandfather and great great grandfather ran a livery stable in The Dalles in the 1890's. What an incredible history that great town on the Columbia River has to tell, having been burned to the ground several times and rebuilt.
So given the time window of one week, with a central focus on Portland, where do you start mapping out a fun and exciting experience of this amazing state? Since our son just moved to Portland, and the main focus of our trip was a cherished family reunion, we knew we had to keep it pretty local. Nothing wrong with that! Let's face it, Portland is a city you could spend a lot of time discovering! We didn't over-research it, since we knew we also had to factor in a few days of serious relaxation at Cannon Beach on the coast.
We stayed our first two nights with my dear aunt who lives in Lake Oswego. There is no disputing the fact that those who can afford to live in this southern suburb of Portland know they are truly blessed with incredibly beautiful landscapes, just minutes away from the downtown area. The small city of Lake Oswego has a fabulous outdoor sculpture walk called the "Gallery without Walls" which is open year round and comprised of over sixty works of art. It's a fun way to see the town and enjoy some fascinating work as well.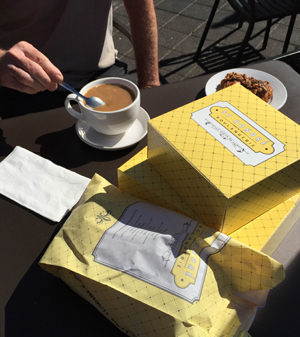 There are lots of little cafes, but we were especially impressed by St. Honore Boulangerie, where we made our last stop before departing for the coast and savored THE most delicious chocolate hazelnut croissant with a great cup o' joe, and packed out two fabulous sandwiches that we savored once we arrived at the coast.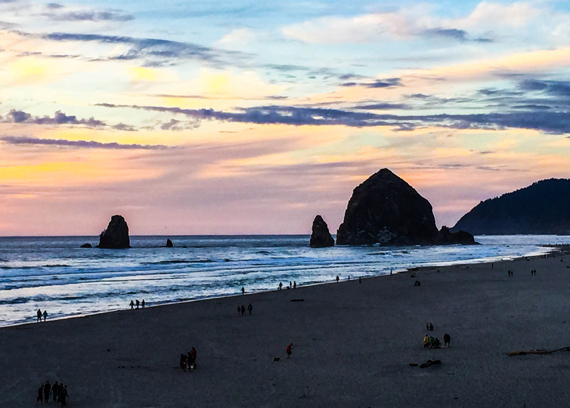 Cannon Beach is an easy one and one half hour drive from Portland (if it's not rush hour - huge caveat). The drive is surprisingly steep as it winds through pristine pine forests that have thankfully survived the ax, and tower enormously overhead as you drive through their shadows. Since we booked our reservations late in the season, most of the rooms in Cannon Beach were taken, but Tolovana Inn was recommended by some of my family members and they had rooms available, so we booked there for three nights. (Be sure to specify "ocean front views"). It's on the south end of this magnificent beach highlighted by stunning outcroppings of rock that make for great pictures any time of day! Several years ago I stayed at the SurfSand Hotel, right in the heart of town, (more modern than Tolovana and a bit more pricey), but Tolovana has a lot of heart and the people we met there were great!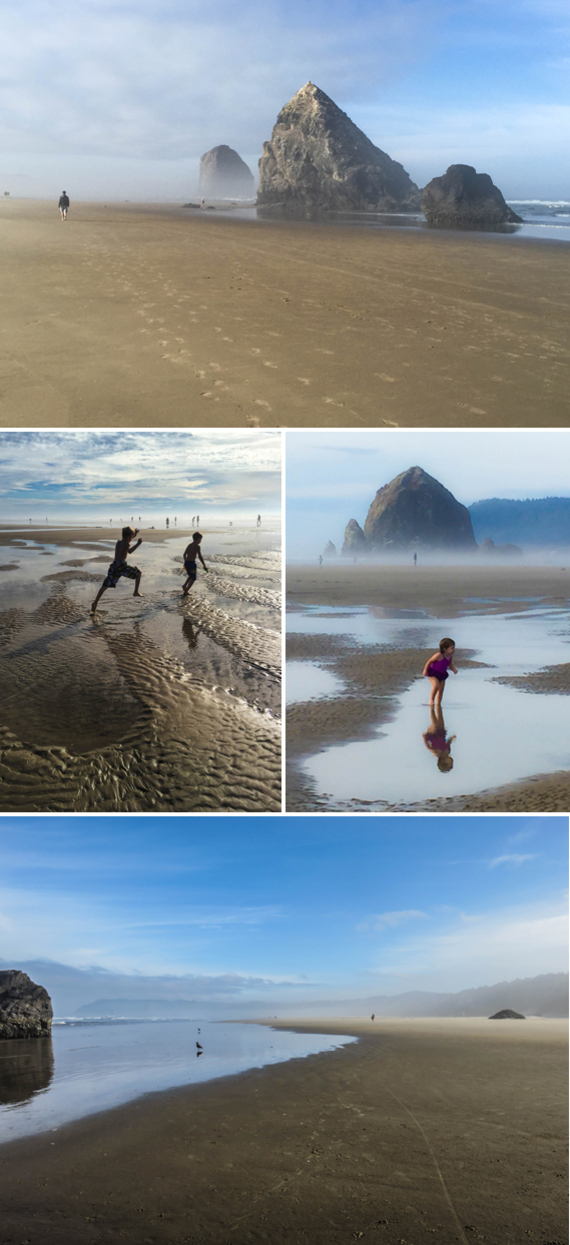 There are so many great hikes, both north and south from here. We hiked from Ecola State Park to Indian Beach, just north of Cannon Beach for a spectacular and not too challenging few hours. Also enjoyed another great beach, Hug Beach, just south of the town, less crowded with fascinating caves and rock formations. If you drive further south along the dramatic highway carved out of the rocks to Manzanita, enjoy a Mexican lunch at Left Coast Siesta, and enjoy the vast beaches there as well.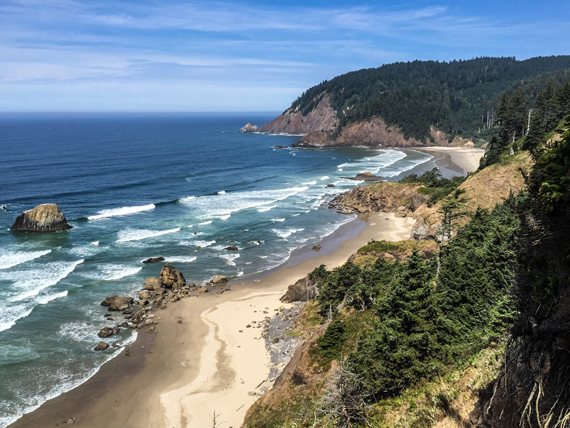 Sadly I have to report as someone who loves good food, the town of Cannon Beach lacks high end restaurants. Even a search on the Internet didn't provide many good options. We walked through the town and came upon a place not found in any guidebooks which boasted Cajun cuisine and was quite good, called Sweet Basil's Cafe. We loved the tiny, hip bakery and coffee spot called Sea Level, just a stone's throw from our hotel. And it appears the only really high end place ($45 for crab cakes was beyond our budget) is the fabulous Stephanie Inn.
The city of Portland really defies all definition! Yes we all have loved and laughed at Portlandia, and everyone knows the city is totally hip! But how does that translate to anyone over 25? We actually were lucky, since our son is 24, new to the city and lives on the east side, we could WALK to lots of places right in his wheelhouse! He wanted us to experience Toro Bravo (a highly acclaimed Spanish tapas restaurant, something we could appreciate having created the first tapas bar in Ulster County, New York many years ago at Blue Mountain Bistro restaurant in Woodstock). We naively went on a Friday night hoping to dine and the wait was three hours! (No reservations accepted). We ended up across the street at the Russell Street BBQ, which was actually quite good, all things considered! Luckily for us, we had another chance to try Saturday night and decided to tough out the 2 1/2 hour wait by yet again waiting even for drinks at The Secret Society Bar next door! Our son told us that this is the quintessential Portland experience: we had to wait to wait for drinks at the place we were already waiting for a table to eat! You just can't get there from here in Portland! Long story short, Blake at The Secret Society was a killer bartender, stirring up old fashioned cocktails with great repartee while you 're waiting for a table next door!
The meal at Toro Bravo was extraordinary! (See my review on tripadvisor.com). We chose the Chef's Tasting Menu, which for $40 is a great deal! Can't even count all the courses. Lovely wine list featuring of course, Spanish wines!
Don't miss The Alberta Arts District! A long street full of great shops, galleries, and Portland at it's finest. We also loved the Pearl Art District and the block full of food trucks for lunch. If you have a chance to rent bikes, it's a great way to get around the city, since it's fairly flat and parking is expensive. We biked our way up a very steep hill to Washington Park and The Japanese Gardens, which bike or not, is so worth the drive. Years of work have gone into planting this very serene and special place. It was the icing on the cake of our visit.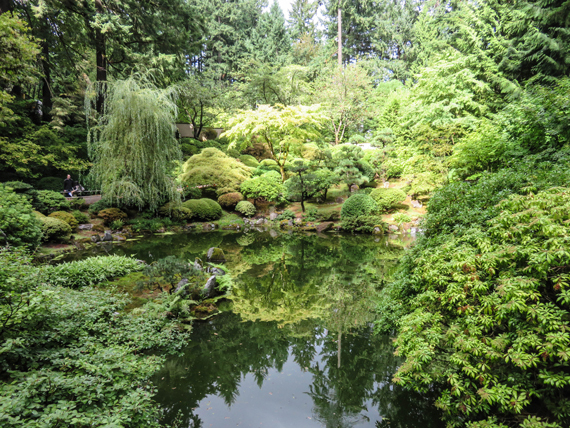 If you do some research on Portland and the area, you will find so many other amazing things to do here. Beer lovers could spend weeks traveling and tasting at the 80+ breweries the city has to offer. The Willamette Valley is a short drive and highly praised for its Pinot Gris, Pinot Noir, and sparkling wine production with over 200 wineries beckoning.
As a fan of the Oregon Trail, I can't say enough about the End of the Trail Interpretive Center in Oregon City, a short drive south of Portland. Their interactive displays give you the true feel of the challenges faced by our courageous forefathers and mothers that literally walked across our nation to claim a small piece of earth in Oregon. I am proud to be a descendant of just such amazing people, Edward Langley Grimes and Mary Smith Grimes who claimed a piece of land I found in Scio, Oregon - southeast of Portland.
We enjoyed exploring the upcoming Central Eastside of Portland and especially the Sunday Emporium at Rejuvenation + Flea, which happens the last Sunday of every month with a pop up market of local food and product purveyors. We bought some handcrafted Garam Masala peanut butter from Eliot's Adult Nut Butters and a delicious Lemon Ginger botanical syrup by Raft Syrups. Just across the street is The Grand Marketplace and Flea Market that has an entertaining selection of vintage stuff all under one roof.
Sadly we didn't have enough time to spend in Portland this time around, but we'll be back and looking for more adventures next time!
Mary Anne Erickson is an artist who has been documenting the demise of the American roadside culture for over 30 years in paintings and photography. Her work can be seen at vanishingroadside.com and maryanneerickson.com. She also blogs about great food and entertaining ideas at bluemountainbistro.com/blog
Related