Break out the cheesecake. In a fairy tale that only San Francisco could give birth to, four mischievous drag queens are revitalizing television's most celebrated characters, The Golden Girls.
But this isn't the first time the local Fab Four have slipped into the houseslippers of television's most endearing stars (Bea Arthur, Betty White, Rue McClanahan and Estelle Getty). The Golden Girls: The Christmas Episodes have been playing to city crowds for years. The big news? The gals' celebrity have reached new heights -- suddenly they need more spotlights. Literally.
Out: their former digs, a living-room-parlor setting that was adorably intimate. In: the historic Victoria Theatre, where the show opened last week and runs through Dec. 23.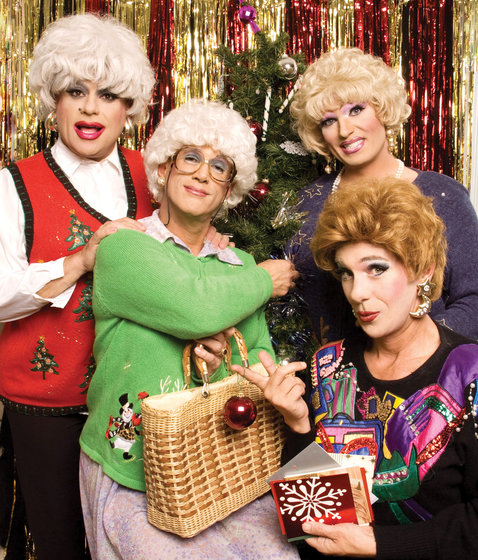 Photo: Courtesy Jose Guzman Colon
"There is something so surreal about these four drag queens playing these characters," says Heklina of the show's evolution. The drag performer vividly takes on the role of smart-mouth Dorothy. Cookie Dough (Sophia), Matthew Martin (Blanche) and Pollo Del Mar (Rose) are the other "girls." Manuel Caneri and Laurie Bushman co-star.
In addition to the new venue, the show itself is rebooted. The series, which ran seven seasons, only boasted two holiday episodes. After years of performing them -- with a drag twist, of course -- the "girls" opted to toss a little Christmas into two regular episodes, "Isn't it Romantic" and "Sister of the Bride."
"Romantic" finds Dorothy's lesbian friend, Jean, falling for the naïve Rose during a holiday visit. "Sister" spotlight's Blanche's gay brother planning to marry his boyfriend Doug.
Fans may want to alert their clans: The show is family-friendly, even with its drag elements.
About the origins of this distinctly original assembly of wigs, dresses and sitcom banter under the drag umbrella, Heklina says it all "happened organically and became a tradition."
But even she was surprised by how well it took off.
"The show is comforting to me," she muses. "Whenever I get ready for a show -- and not just Golden Girls -- I watch the DVDs in the background. I don't know why, but it has a lot of comfort for me. A lot of people say the same thing, that all the characters are likeable. But the show itself was well-written, funny and ahead of its time. It explored issues that people now take for granted. It was tackling AIDS, abortion, teenage pregnancy -- all that stuff way back in the '80s. Which doesn't seem so long ago, but it was."
She chuckles. "You just sort of wish you were there in the kitchen having cheesecake with the girls."
I chatted with the "Girls" recently. Here's an exclusive behind-the-scenes look:
REAL LIFE. REAL NEWS. REAL VOICES.
Help us tell more of the stories that matter from voices that too often remain unheard.