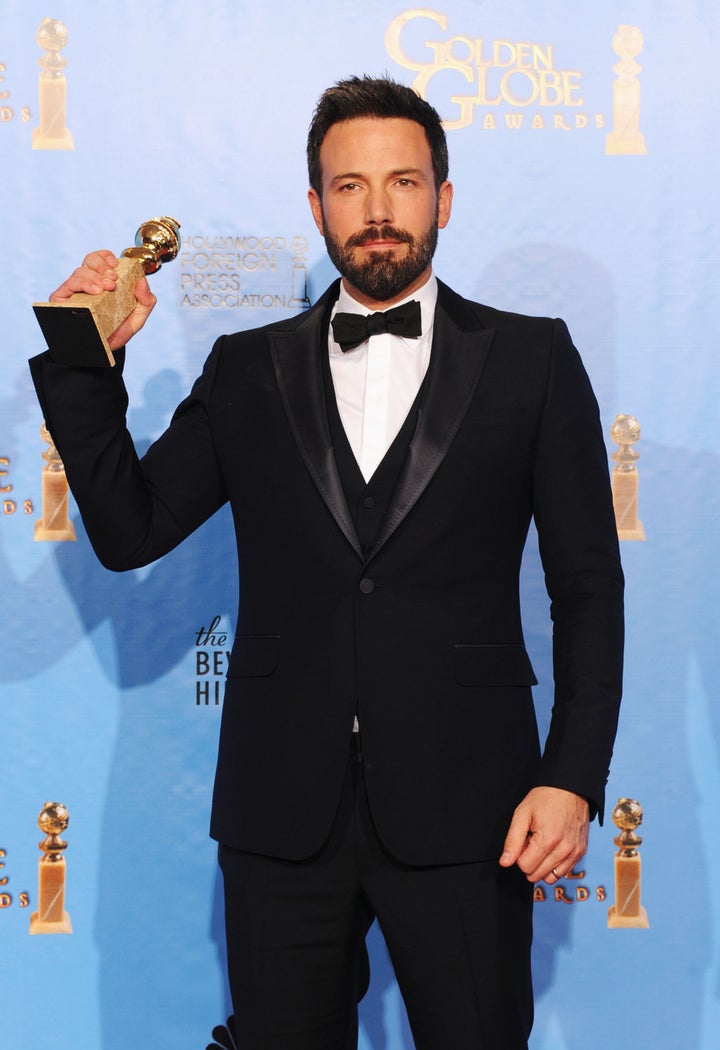 Best Actor: This is one of several categories where the Golden Globes scatter the Oscar nominees into multiple categories. Three of the Oscar nominees, Daniel Day-Lewis (Lincoln), Denzel Washington (Flight), and Joaquin Phoenix (The Master), were nominated in the "drama" group, while two of the Oscar nominees, Bradley Cooper (Silver Linings Playbook) and Hugh Jackman (Les Miserables), were in the "comedy or musical" group. We had Daniel Day-Lewis as a 97 percent likely Oscar winner for his performance as Lincoln, and that essentially unmoved by his victory in the Golden Globes. Hugh Jackman's victory in his category cements him as a distant second.
Best Actress: In our first of two really competitive categories, Jennifer Lawrence (Silver Linings Playbook) came into the Golden Globes with a 67 percent chance of winning the Oscar over Jessica Chastain (Zero Dark Thirty). Unfortunately, these two actresses were in different categories at the Golden Globes, and both won their respective awards; thus, the Globes did little to settle or shift this category. Two Oscar nominees, Jessica Chastain and Naomi Watts (The Impossible), were in the "drama" group, while Jennifer Lawrence was alone in the "comedy or musical" group. Emmanuella Riva (Amour) and Quvenzhane Wallis (Beasts of the Southern Wild) were not nominated for Golden Globes.
Best Supporting Actor: Our tightest category offered our best chance at market movement with four of five actors overlapping between the Oscar and Golden Globe nominations. We had Tommy Lee Jones (Lincoln) and Phillip Seymour Hoffman (The Master) enter the Globes virtually tied, with Jones leading Hoffman slightly. Alan Arkin (Argo) and Christoph Waltz (Django Unchained) were nominated in both contests as well, with Waltz in fourth place in the Oscar race. In a surprise win, the Hollywood foreign press gave the Golden Globe to Waltz over Jones or Hoffman. This propels Waltz into a clear third place in our expectations, but he remains far behind Jones and Hoffman, whose likelihood of taking home the Oscar remains about even -- in the mid-40s.
Best Supporting Actress: This category was a great preview for the Oscars, with four of five nominees overlapping: Anne Hathaway (Les Miserables), Sally Field (Lincoln), Amy Adams (The Master), and Helen Hunt (The Sessions). On par with Day-Lewis, Hathaway is our other sure bet for the Oscar and her victory in the Golden Globes further sealed that position.
This brings us to battle between Argo and Lincoln. While Argo swept the Golden Globes in the key categories of director and picture, it will be impossible for Argo to repeat at the Oscars. Lincoln is still the favorite to sweep these categories at the Oscars.
Best Director: Only two of the five nominees for best director overlapped between the Oscars and the Golden Globes. One was Steven Spielberg (Lincoln), our overwhelming favorite to win the Oscar at 90 percent likelihood, and the other was Ang Lee (Life of Pi). The Golden Globe went to Argo's Ben Affleck, who did not get an Oscar nomination. If Affleck had an Oscar nomination, it would be an extremely tight fight now for best director at the Oscars, but without Affleck, we have Spielberg holding steady on top, with Lee still clinging to second.
Best Picture: This is the most interesting category to watching following the Golden Globes. Lincoln entered the Golden Globes as our overwhelming favorite. Lincoln shared the Globe's best picture for drama category with four other Oscar nominees for best picture: Argo, Django Unchained, Life of Pi, and Zero Dark Thirty. The Globe's best picture for comedy or musical had two more Oscar nominees: Les Miserables and Silver Linings Playbook. And Amour was in the foreign-language film category. Les Misérables' victory in its category and Amour's victory in its category did little to move them out of distant places. But, Argo's victory over Lincoln was the most meaningful for us, moving it from the pack to a clear second place; it gained about 10 percentage points in likelihood of victory at the Oscars with its win at the Golden Globe.
Popular in the Community