The investment firm Golden Seeds has an angel network close to 300 men and women. It is the fourth largest angel group in the United States. The firm is unique because they invest in early stage, start-up companies that have women in leadership positions. Angel groups share their research and pool their investment capital. They are comprised of angel investors who give capital for a business start-up, usually in exchange for ownership equity. They also provide advice to their portfolio companies or, in the case of Golden Seeds, a leadership position on the seat of the board. The global angel network is headquartered in New York, with offices in Boston and San Francisco; Golden Seeds also has investor groups in Los Angeles and Dallas and has invested $58 million in 58 companies since 2005.
Golden Seeds has four primary operations fulfilling its purpose: an angel forum; an expanding family of venture capital funds; an educational institute and a private equity business. Golden Seeds has an innovative leadership structure to change the angel investment community for women. They are unique in that the four partners bring together diverse experiences and a wealth of knowledge to re-write the playbook for angel investments, especially for women. They are exceptional because they look to invest in women founders, creating a business culture shaped around women.
Astonishingly, only 17% of Fortune 500 Boards include women members. Golden Seeds has become a leading force in putting women at the top. In an interview, partner Peggy Wallace said, "Golden Seeds has over 30 board seats on high-growth companies because our investment activities allow us to obtain board seats." This is a prime example of how the company uses investors who are board members as role models and ambassadors for the empowerment of women.
To become a Golden Seeds member you must have $25,000; and these members, who have made their own money, are actively engaged in the investment process by sharing their varied expertise that spans the scope of technology, life sciences, consumer goods, financial services and media. They are so selective that they redefine the process of "due diligence." They have only invested in 58 companies of the 2,400 that they have vetted. So, there is a 2.4% that they will invest in your venture.
A group of phenomenally successful women came together to build Golden Seeds, which has become one of the greats in the angel investing industry. These women bring a broad range of skill sets to the table from their careers on Wall Street. I sat down and met with the partners at their New York headquarters. The four partners are Loretta McCarthy, Jo Ann Corkran, Vanessa Wilson and Peggy Wallace. I first spoke with Loretta about her role of women's leadership in the professional tennis arena. Previously, she served on the board of directors of the Women's Tennis Association, the governing body of women's tennis worldwide. She has worked with Billie Jean King as a board member of the Women's Tennis Association, where she launched the pension plan for professional players. Because there had been no plans for women, only men, Loretta saw an opportunity in creating a program that would change professional women's tennis for the better. Before co-founding Golden Seeds, she was with Oppenheimer Funds, Inc., where she was Executive Vice President, Chief Marketing Officer and a member of the Executive Committee. Before that she had been with the American Express Company where she developed and implemented the model for launching the American Express Card into new industries.
Peggy Wallace has invested in over 30 privately-held companies, either directly or through one of the Golden Seeds funds. She is also a juror on the International Cartier Women's Initiative. They are creating prominent positions and opportunities to place women in influential roles. Jo Ann sits on the board of Crimson Hexagon, a mid-stage, private company, and Boston Bespoke Global, an early-stage, private e-commerce company. She had been a CIO & Partner at UCM, a Managing Director at Credit Suisse Asset Management/BEA. She also held positions at Morgan Stanley, Greenwich Capital, First Boston, and Buck Consultants. Philanthropically, she was involved with the Investment Committee of the Common Endowment Fund of the UUA and the Socially Responsible Investing Committee UUA. Vanessa Wilson is the Chief Financial Officer at Golden Seeds and served as Managing Director at Deutsche Bank Securities, Inc. She also held a senior position at Credit Suisse First Boston; she is presently on the advisory board of the Women Entrepreneurs and Investors Program at SUNY Levin Institute.
Role models for them early on in their career were surprisingly mainly men. The men involved in their network have even earned the title as the "Golden Dudes." They often found women role models hard to come by. Jo Ann said her first boss who was even younger than her had the strongest impact on her early in her career. Greg Parseghian, a member of the Advisory Board at The Debt Exchange, Inc. and the former Chief Executive Officer of Freddie Mac was responsible for teaching her how to diversify her investments. She got a paycheck with more money than she ever thought she'd make and he taught her to invest it, diversifying her investments. She quipped, "It is much harder for women to invest $25,000 when they can't leave with shopping bags."
Vanessa Wilson's mentors were men on Wall Street whom she respected and emulated; but later in her career Golden Seeds Loretta McCarthy became her role model. Golden Seeds nurtures and promote women as leaders and executives, who develop incredible companies with no glass ceilings. Some examples of these companies are those that have the potential to cure Alzheimer's, provide ground-breaking solutions for the cosmetics industry and fashion eco-friendly disposable diapers. These four women, who pioneer ways to empower women as investors and entrepreneurs, are the most powerful kind of angels around.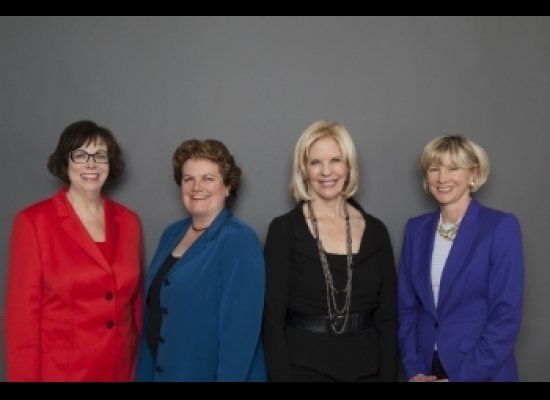 The four partners of Golden Seeds - (L-R) Peggy Wallace, Vanessa Wilson, Loretta McCarthy and Jo Ann Corkran.
Calling all HuffPost superfans!
Sign up for membership to become a founding member and help shape HuffPost's next chapter