The Grammys, for a while now, have been out of touch with the pulse of the culture, shutting out some of the most relevant and moving artists throughout generations all because a committee of a lot of old white men refuses to either give up its power or actually listen to a truly vast and inclusive array of music. The 65th Grammys ceremony on Sunday showed that although the Recording Academy wants to convince its audience that it's changing, it's still the same flawed institution at its core.
The night was full of historic moments, exciting performances and moving tributes that made for one of the more entertaining Grammys in recent years. Bad Bunny opened the ceremony with an all-Spanish performance of "El Apagón" and "Después de la Playa." An overflowing lineup of hip-hop all-stars honored the genre's 50th anniversary with a medley that would've made the Academy shudder just 20 years ago. And Beyoncé became the most decorated artist in Grammy history with her four wins on Sunday, bringing her trophy count to 32.
Along with the highs came some disappointments that cut deep. The omission of Gangsta Boo during the in memoriam segment — and during a year when celebrating hip-hop was at the forefront — was unforgivable. Documented abusers were celebrated and praised throughout the night, including Dr. Dre, who received an inaugural award named after him. And the Recording Academy did exactly what we knew it'd do — though we naively hoped otherwise — by awarding Album of the Year to a white man whose album was good, but by no means surpassed the brilliance and impact of two of its competitors: Beyoncé's "Renaissance" and Bad Bunny's "Un Verano Sin Ti."
The 2023 Grammys may have been fun and games in the beginning, but we left feeling unsatisfied and with a bad taste in our mouths. Let's get into why.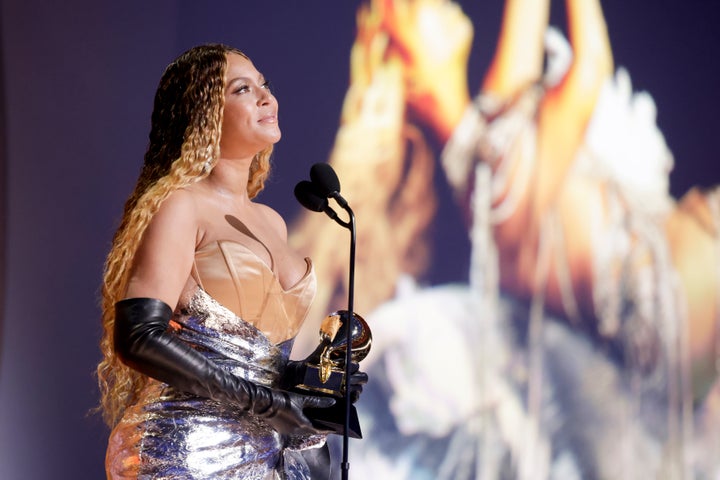 What The Grammys Got Right
Beyoncé's Historic Win
In one fell swoop, Beyoncé became the first by two measures. When she won the award for Best Dance/Electronic Album, she became the first Black woman to do so. In this victory, she also became the most decorated artist at the Grammys, bringing her total up to 32 wins. The "Renaissance" artist capped off the ceremonious moment by fighting back tears and giving praise to the queer community for inventing the genre. ― Taryn Finley
Hip-Hop Tribute
This was by far the most entertaining segment at the Grammys, so much so that I thought I was watching the Source Awards for a second (the Recording Academy could never). Especially because the Grammys has a complicated relationship with what's become the most popular genre today. There was a point when Grammys wouldn't even acknowledge rap. Now, with rap all grown up, the Grammys celebrated the 50th anniversary of hip-hop in what felt like a long-overdue tribute. Rap legend LL Cool J introduced a lively and memorable performance that walked us through the history and evolution of hip-hop. Artists throughout the generations performed, from Run DMC and Queen Latifah to Big Boi and Missy Elliott to GloRilla and Lil Baby. As electrifying as the tribute was, many songs were cut short and it felt like the Grammys' last-ditch effort to catch up to the reality of how influential hip-hop has been to the culture overall. ― Finley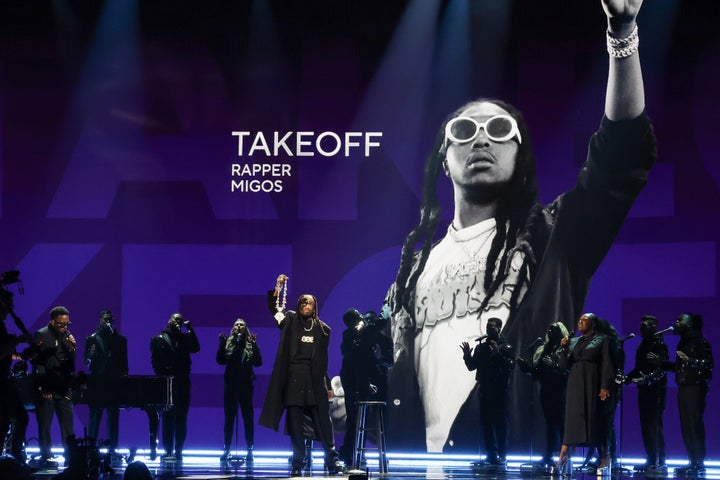 Quavo's Tribute To Takeoff
There couldn't have been a dry eye in the house when Quavo honored his late nephew and Migos member Takeoff during the in memoriam segment. The Atlanta rapper performed his new song "Without You" with Maverick City Music, alongside a rendition of Charlie Puth's "See You Again." Quavo held Takeoff's chain to the sky as the powerful, heartbreaking segment ended. The in memoriam tribute also honored the lives of Loretta Lynn, Fleetwood Mac's Christine McVie, actor and rapper Coolio, and others. As painfully sad as it was to watch the segment, the tone felt appropriate and I have to give the Grammys kudos for giving the tribute room to breathe. ― Finley
Viola's EGOT Win
Viola Davis' victory was sweet and felt so right, especially since the iconic actor already exuded big EGOT energy even before scoring the Grammy that capped off her status. Taking home the Grammy for Best Spoken Word Album for her memoir "Finding Me," Davis said she wrote the book "to honor the 6-year-old Viola." ― Finley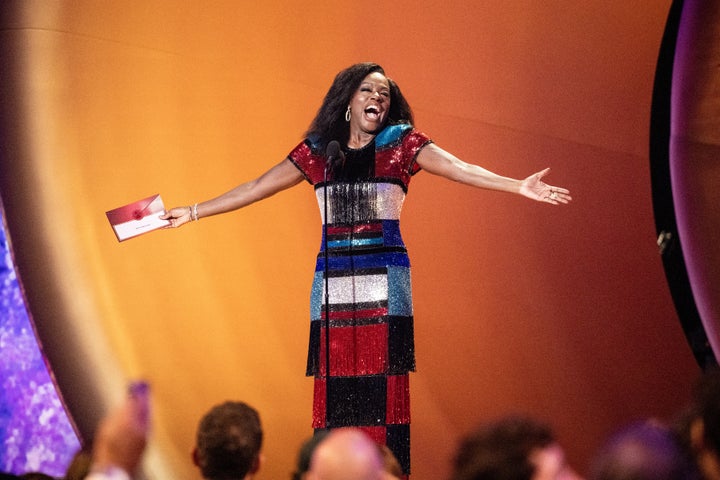 What The Grammys Got Wrong
Beyoncé's Album of the Year Snub
If the Recording Academy doesn't have anything else, it has some nerve. For the fourth time, Beyoncé was robbed of Album of the Year, and this time feels like the most egregious. Not only because it's officially been 24 years since a Black woman won the award, but because of who she lost to. I'll admit, Harry Styles made a really good, critically acclaimed album with "Harry's House." It was no "Renaissance." Not only by the measure of its cultural impact, but also by how the album pumped reinvigorated energy into a genre that the mainstream forgot was a product of Black queer culture. The Grammys wasted not only Beyoncé's time, but ours as well. To add insult to injury, the remark from Harry, a cis white man, that a win like that "doesn't happen for people like me" was grossly wrong.
Beyoncé had a huge night in the dance/electronic and R&B categories. But the fact that she didn't win one of the big three she was nominated for (album, record or song of the year) and continuously gets shut out of these categories — with the exception of 2010's ceremony when "Single Ladies (Put a Ring On It)" won for Best Song — rings true to the sentiment of Black women having to work twice as hard to get half as much. ― Finley
Forgetting Gangsta Boo And Lil Keed
Without fail, the Grammys always seems to either forget or misidentify late artists and music professionals. (See: Virgil Abloh's Grammy tribute in 2022.) This time, the show completely failed to acknowledge the death of iconic Memphis rapper Gangsta Boo or Atlanta rapper Lil Keed. The former Three 6 Mafia member died on Jan. 1, 2023, and Keed died on May 13, 2022. Neither was included in what was otherwise a beautiful tribute. This is not only disappointing but unacceptable, especially for a hip-hop pioneer. In a year dedicated to celebrating hip-hop, at a show that deliberately had a highly-produced performance, the show didn't take one moment to recognize Gangsta Boo. This is especially hurtful because of the ground she was able to lay for us to see such a wide array of women in rap dominating streaming. It feels like an unfortunate omen that shows just how far we have to go before these award shows truly see us, if ever. ― Finley
Limiting Categories
While the Grammys seemingly decided to air the Música Urbana award presentation for the first time, that isn't the norm; the attention appears contingent upon the popularity of the winning artist (i.e., Bad Bunny), which shouldn't be the case. Tems became the first female Nigerian artist to win a Grammy with her contribution to Future's "Wait For U," yet it wasn't televised.
Too often, musicians who appeal to non-Western and/or non-English-speaking audiences are cast aside. Both an amorphous and reductive title, the "Global Music" category is a haphazard attempt to feign interest and faux investment in international acts without acknowledging the specificity of their work. It just feeds into a colonial mindset and latent xenophobia to simply lump everyone together and say, "Here, damn." (Lest we forget last night's closed-captioning snafu.) By what arbitrary metric is the Recording Academy gauging talent in the "Global Music" category? Expecting Afrobeats artist Burna Boy to compete with Pakistani singer Arooj Aftab and Japanese composer Masa Takumi makes little to no sense, sonically or vocally, when their music is rooted in different instruments and histories. The popularity of Ckay's "Love Nwantiti" or Burna Boy's "Last Last" on- and offline confirmed what I already knew and have known since I was little: Black African talent deserves more. As Afrobeats continues to emerge into the mainstream, there should be a separate category for it, individually highlighting artists such as four-time nominee Tems to WizKid, Davido, Tiwa Savage and so many others. ― Ruth Etiesit Samuel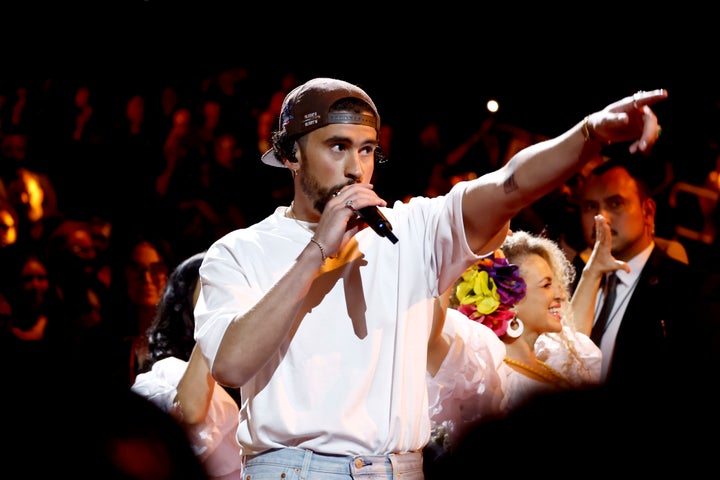 Why The Grammys Need To Do Better
Ruth Etiesit Samuel's Final Thoughts
The Recording Academy prides itself on bestowing "the music community's highest honor," and it is so clearly an institution that has a vested interest in placating whiteness, honoring abusers and transphobes (Dr. Dre and David Chappelle, to name a few), and maintaining the status quo. No matter how many well-intentioned, performative diversity and inclusion task forces it supposedly organizes, the Recording Academy is adamant in its refusal to give Black artists, who are the bedrock of American music, their due. The Grammys are yet another manifestation of the racism and xenophobia that runs rife not only in music and entertainment, but across all institutions in this country. With only 33% of representatives from "traditionally underrepresented communities" in its membership, the Recording Academy makes no earnest amends to redress and resolve its anti-Blackness.
I grew up listening to Harry Styles. I distinctly remember the day One Direction broke up (tears were shed in the lunchroom...) and when Harry embarked on his solo career in 2016. As show-stopping as his terribly styled outfits are, it is beyond me why the Recording Academy would award him Album of the Year over Bad Bunny — the most-streamed artist on Spotify for two years with record-breaking tour revenue — or Beyoncé, a Black female artist who has single-handedly changed album release days with one surprise drop. The only rightful contender against Beyoncé is Bad Bunny. According to Variety, a voter on the committee, dubbed "a music business veteran in his 70s," felt that Beyoncé is "too portentous" and "everyone's supposed to quake in their shoes" when she does something.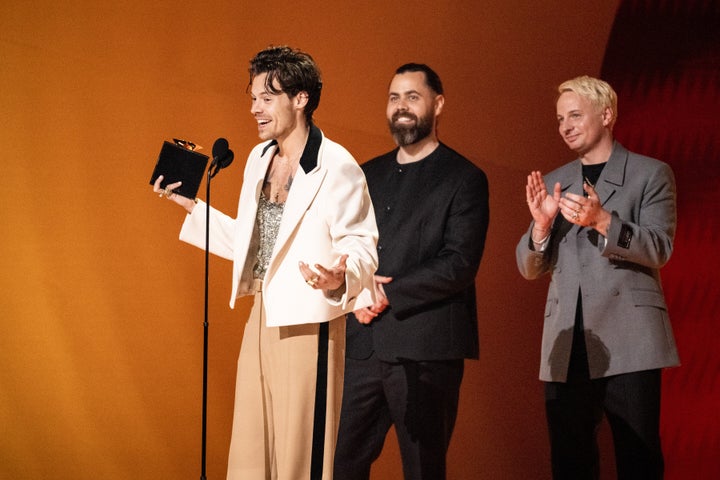 It's not that everyone must quake; everyone simply does. She has that innate impact. Beyoncé, along with Bad Bunny, has something thoughtful to say, something fresh to offer with each project. While it may be good, the same cannot be said of Harry's album. It is not radically different from any pop music I've listened to before. Benito has become a global phenomenon, lauded for speaking out against queerphobia and misogyny, unabashedly challenging gender norms and resisting neocolonialism. He continues to represent Puerto Rico on an international stage with anthems such as "Estamos Bien" and "El Apagón," celebrating the island's resilience and spotlighting the Caribbean at large. Beyonce gave us "Lemonade," a testament to Black womanhood, and gave the world "Renaissance" when we needed joy the most. In addition to honoring her Uncle Jonny, she included and collaborated with Black queer icons, giving them their flowers, crediting them in her speech and not merely profiting off an aesthetic or community in an extractive manner.
Meanwhile, Harry said, "There's no such thing as best in music ... This doesn't happen to people like me very often," a statement that I'm still trying to understand. I like a few of Harry's songs — barely enough to count on one hand — but they cannot compete with the seamless storytelling, soul, voice, creativity and efforts of Beyoncé. Not only is it disrespectful to equate a gyrating ex-boy band act with a seven-year solo career to a performer who has been running circles around the music industry for damn near 30 years, but it is a testament to the power of white mediocrity and a downright insidious display of misogynoir. The resounding question after the Grammys is whether white institutional approval is necessary or even something we should strive for, but it doesn't lessen the pain or hurt. There is something so intentional and deliberate about denying AOTY to a Black woman who is the winningest Grammy recipient. There is something so intentional and deliberate about missing not one, but two opportunities to make history. What little shred of credibility the Recording Academy is holding onto has dissipated into thin air.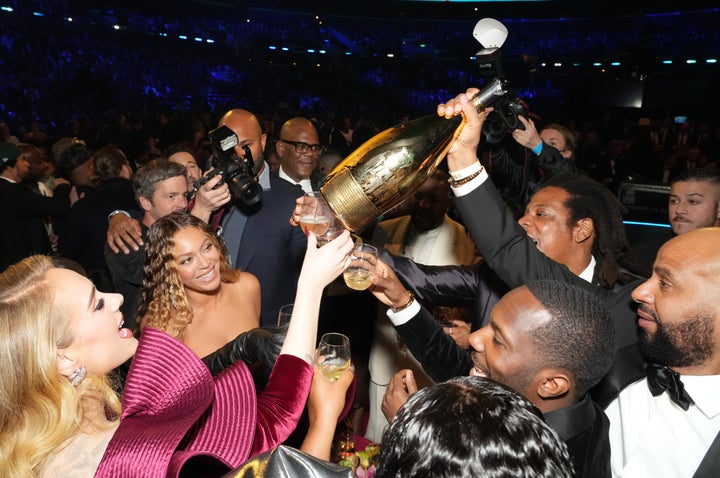 Taryn Finley's Final Thoughts
No matter how you feel, award shows do still matter to an extent. The validation and celebration that comes from these shows turns into real opportunity and more space for artists and audiences alike to have their voices heard. Yet time and time again, we're reminded of how out of touch the Recording Academy and entities like it are. When you front-load an award show with a stellar all-Spanish performance, a Motown tribute and some hip-hop medleys here and there, yet limit these same artists to succeed in their genre's categories with no room to spread out, especially in the big four, your efforts toward progress feel disingenuous.
The Recording Academy has a responsibility to not only do right by these artists and their audiences, but also to show up and invest in them in real and substantial ways. The truth of the matter is that Sunday's show would've been boring as hell had the artists that the Grammys has historically othered not been on stage. True progress means it shouldn't be another 29 years before another Black woman wins for Record of the Year (Congrats, Lizzo). It means that we'll see categories expanded to reflect how audiences are truly listening to music. And it means that abusers won't have a leg to stand on, let alone have full awards dedicated in their names.
The fact of the matter is, even though awards are important to a degree, the Recording Academy needs us more than we need it. And if it was smart, it would do better.
Popular in the Community