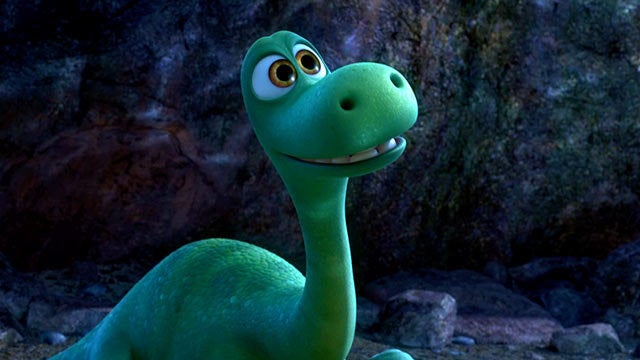 "The Good Dinosaur," Pixar's 16th feature film and its second to be released this year, asks what would happen if the meteor didn't hit the Earth and wipe out the dinosaurs.
As The Huffington Post heard from actor Raymond Ochoa, the voice of the good dinosaur himself, Arlo, the movie is a completely original concept following the story of a young dino as he makes his mark on the world with a new human friend. Despite that, don't be surprised if a few things look a little familiar. 
Here are five Easter eggs from "The Good Dinosaur" that may remind you of your favorite films: 
It's probably hard to do any dinosaur movie without something seeming straight out of "Jurassic Park," and "Good Dino" isn't any different. A few scenes, involving actor Sam Elliott's T. rex and some raptors, referred to as rustlers, may remind you of the final moments from Steven Spielberg's classic. 
Make no mistake, though, the movie is in no way a continuation of "Jurassic Park." We asked the voice of Arlo, Ochoa, if his human pal from the movie, Spot, could've grown up to be Chris Pratt in "Jurassic World." Ochoa doesn't think so, saying that since Spot grows up millions of years in the past, he probably wouldn't be "very close in age to Chris Pratt." 
One of the famous lines in "The Big Lebowski" is "The dude abides." Though "The Good Dinosaur" stops short of having Jeff Bridges walking around in jelly sandals, it does feature a laid-back pterodactyl named Thunder Clap who keeps saying, "The storm provides."
As we mentioned, Elliott plays a Tyrannosaurus named Butch in the movie, but he was also The Stranger in "Lebowski." We asked the actor if the pterodactyl's line was a nod to "Lebowski," and though he hadn't seen the final film yet, Elliott said, "It sounds almost too close to be an accident."
Ochoa says the movie is all original, but in any movie there are certain scenes "that anybody can reflect and be like, 'Oh, this reminded me of this [other] movie.'"
When it comes to "Good Dinosaur," "Lion King" flashbacks are almost inevitable.
(Hey, it's all in the circle of life, right?)
At one point, three raptors approach Arlo while he's helping his Tyrannosaurus friends wrangle their longhorns, and all you'd need is Whoopi Goldberg voicing one of the villains for it to seem like a direct callback.
Also, a scene involving Arlo's father, Poppa, has a resemblance to a certain stampede scene with Mufasa.
Actor Jeffrey Wright, who plays Poppa, says that wasn't a factor in his performance, though. Wright says the references he brought to the character were personal lessons he's learned as a father, and he hopes the audience will "bring their own experience with family and parenthood" while they watch.
In addition to callbacks to Disney films, a "Good Dinosaur" campfire scene where the characters share stories about their scars has drawn strong comparisons to a scene from "Jaws" where a similar moment occurs.
(We're gonna need a bigger boat to hold all these Easter eggs.)
Actress Anna Paquin, who plays "badass cowgirl T. rex" Ramsey in the movie, tells us she actually wasn't aware of the "Jaws" scene, mostly because she watched that movie as a kid while "hiding behind [her] hands."
Elliott, however, did say he's aware of the "Jaws" comparisons. When reflecting on the scene, he even gave a little secret about his character, saying he doesn't truly believe Butch the T. rex is scared of crocodiles and may just be saying he is for Alro's sake.
"I mean this guy is a Tyrannosaurus rex, and he'd make short work of the crocodile," says Elliott talking about his character's scar story. "I think [the crocodile] just nipped him is all. I mean he nipped a big scar into him, but I think comparatively speaking it was a long way from his heart."
5. A Ton Of Pixar Moments 
"The Good Dinosaur" Styracosaurus may remind you of a scene in "Inside Out" (seen above). And some silhouettes of the dinosaurs appear to be callbacks to the Dinoco sign featured in various Pixar films.
While watching the movie, we didn't notice a Pizza Planet truck driving through the background, but with a bunch of scenes by the river, there could likely be some "Finding Dory" characters appearing. 
Besides looking for callbacks to other films, also look for a box of tissues when watching "Good Dinosaur." Each actor we talked to reflected on how emotional the film was, with Paquin calling it "extraordinarily moving," and Wright saying, "It's so oriented around those elements of love and loyalty and kinship. I don't know if there's another Pixar [film] that goes so deeply into that." 
"The Good Dinosaur" opens in theaters Nov. 25. 
PHOTO GALLERY
Disney Easter Eggs
Calling all HuffPost superfans!
Sign up for membership to become a founding member and help shape HuffPost's next chapter