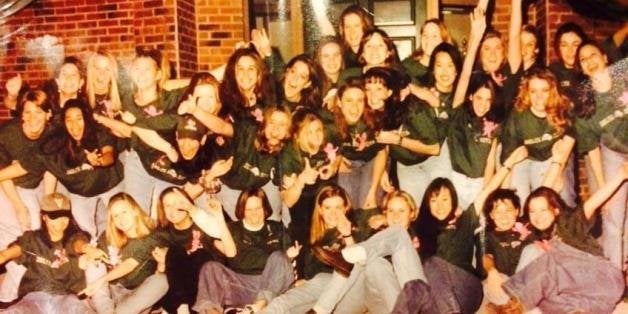 Miss America, Kira Kazantsev, made headlines this week for getting kicked out of her sorority over an email in which she claims making an event 'scary' for pledges was a joke. The spotlight was immediately put on sororities and specifically, hazing.
I find this deeply upsetting since, for me, being Greek was by far the highlight of my college career. It's hard for me to comprehend this kind of behavior in a system that had such a positive impact on my life.
In the mid-'90s, I pledged the Delta Zeta (DZ) sorority at Virginia Tech. That meant getting showered with gifts, pulling epic (but harmless) pranks that had me laughing for days, and building bonds that have lasted years. As one of my sorority sisters put it recently on my Facebook page -- when she pledged she was, 'gifted, friended, loved and celebrated the entire semester!'
Being a DZ, was a huge part of my identity during what I consider some of my most formative and fun years of my life. I attribute the support network cultivated by Greek life to my success today. Being a DZ gave me a sense of connection to others, and to something larger than myself. I was a proud member, and even more proud of the group of women who represented the organization.
That's why those of us who hold the Greek system in high regard need to speak up for the value it brings to people's lives and take a really clear stand against the kind of excessive hazing that is degrading and potentially harmful to our incoming sisters and brothers in the Greek system.
I admit, there was drinking during my time in the sorority. But I was a college student -- drinking happens. I know alcohol is illegal for people under the age of 21. But let's be real, drinking is, and was, a part of campus life. For me, alcohol was a by-product of having fun with my pledge sisters blowing off steam after class, chasing boys and primping ourselves for an endless social calendar of events. Drinking was always fun, not forced.
One of the best parts about pledging a sorority, was that I instantly met 40+ new people who became a built-in network and support system. It was important to my sorority as an organization that the pledges bond. Every pledge class had a Pledge Mom, an upperclassman with 'Mama-Bear' like qualities, who helped facilitate camaraderie among the pledges.
Every year, the Pledge Mom took her pledge class on an on an overnight trip near the Blue Ridge Mountains. It was kind of like a giant slumber party. Everyone was asked to bring something important from their past. This was meant to help us open up to each other -- share a piece of ourselves that we wouldn't normally talk about. Story after story poured out of every girl in the trust circle about struggles with body image, untimely death, family issues, substance abuse, assault -- and more. The vulnerability we shared was palpable, it was a great equalizer that formed instant connections and made us close as a pledge class.
But, the greatest thing for me about pledging was getting to know girls in my pledge class that I might not have gotten the chance to know otherwise. There are girls who might have intimidated me or who I wouldn't have talked to for any number of preconceived notions in my head. I know it sounds strange that a bunch of random girls could be thrown together and put through a series of rituals that make them closer. But pledging opened up my heart and mind to relationships that I still hold dear to this day.
I was crushed when I learned my chapter was stripped of its charter in 2010 for an alcohol related infraction. It felt like a big part of my life was simply wiped out of existence. I know many other greek organizations have suffered similar fates at Virginia Tech and other colleges across the nation.
I fear that Greek life could become obsolete in my lifetime. It is apparent to me that there is a slippery slope from rituals and traditions rooted in fun and games to demeaning behavior that has the ability to ruin the entire community and damage people's lives. Excessive hazing is robbing students of an opportunity to make deep connections that last a lifetime.
I'll always have the fondest memories of my time as a pledge and sister of the Delta Zeta sorority. To anyone out there that feels the same way, I hope we can find a way to save this community that we hold sacred. I'd like to see these organizations live on as they were intended, rooted in the core values they were founded upon.
I think the DZ creed says it best:
To the world, I promise temperance, insight and courage. To crusade for justice, to seek the truth and defend it always. To those whom my life may touch in slight measure, may I give graciously of what is mine. To my friends, understanding and appreciation. To those closer ones, love that is ever steadfast. To my mind growth, to myself, faith, that I may walk truly in the light of the flame.