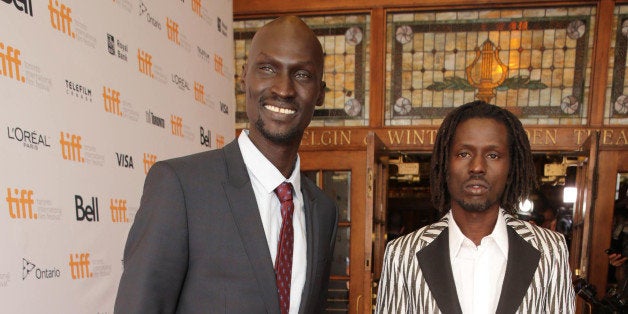 "Hollywood has given a voice to the dead."
At 7 years old, Emmanuel Jal walked several hundred miles, from Sudan to Ethiopia, to flee a civil war. Along the way, he watched as children succumbed to starvation, were killed by crocodiles and ambushed by hippopotamuses. By 8, he had become a child soldier. In early adolescence, he left the region for the Western world and, at 34, he walked the red carpet at the Toronto International Film Festival.
It's an unlikely trajectory for an emigrant whose native country has been embroiled in civil wars since the moment its independence was declared. But Jal is one of the lucky few who not only fled the horrors but managed to stay alive long enough to make a better life for himself.
Ger Duany, who escaped the region when he was "15 or 16," can count himself among this group as well. Together they star in "The Good Lie," playing two of four members of the Lost Boys of Sudan, a cohort of 20,000 children (including a few thousand girls) who were displaced during the Second Sudanese Civil War, which lasted from 1983 to 2005. A fictionalized version of their story is told in Philippe Falardeau's new movie, which opened Oct. 10 and expands to more theaters this weekend, following its Toronto International Film Festival premiere in September.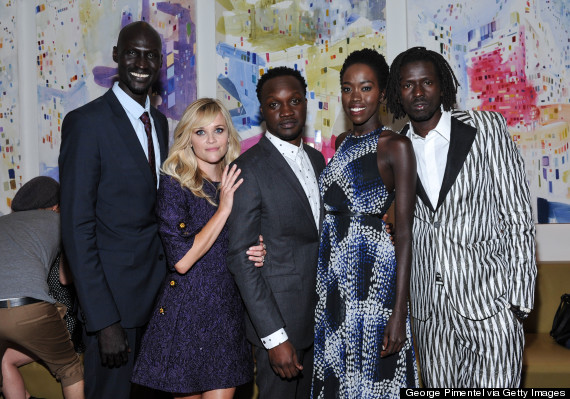 Ger Duany, Reese Witherspoon, Arnold Oceng, Kuoth Wiel and Emmanuel Jal at TIFF on Sept. 7, 2014
It's the mark of a new day for Jal and Duany, even though both have resided in North America for years now. (Jal is currently stationed in Toronto; Duany lives in New York City.) Anyone starring opposite Reese Witherspoon in his or her first mainstream feature film might say the same.
As it happens, the path to "The Good Lie" was fortuitous for both men. Duany, 35, first learned of the movie a decade ago, after meeting Outlaw Productions founder Robert Newmyer, whose movie credits include "Sex, Lies, and Videotape" and "Training Day." Newmyer was interested in bringing the Lost Boys of Sudan story to Hollywood, and Duany met with him in Los Angeles while filming a small part in 2004's "I Heart Huckabees." But Newmyer died in 2005, and it seemed to Duany that the idea for the movie was buried along with him -- until 2013, when he was handed a script written by Margaret Nagle, who wrote a couple of "Boardwalk Empire" episodes and later developed the new Fox series "Red Band Society." He sent casting director Mindy Marin ("Juno," "Up in the Air") an email.
Meanwhile, Marin contacted Jal to ask him to recruit Sudanese actors for the film. Duany, a longtime pal, was among his recommendations. Everything seemed to be coming together, except Jal wasn't originally asked to appear in the movie. Having never acted in an American film, he thought his involvement was over until Marin and the "Good Lie" producers finally requested he audition for the role of Paul. After seven rounds of auditions, Jal was convinced he wouldn't get the part. It wasn't until he read opposite Witherspoon that he was offered the role. (Jal was familiar with Witherspoon because he loves "Legally Blonde.")
Alongside Arnold Oceng (who plays Mamere) and Kuoth Wiel (who plays Abital), Jal and Duany (who plays Jeremiah) signed on as the movie's central stars. Their characters leave Sudan, among the 4,000 Lost Boys who came to America in 2001 with the help of the International Rescue Committee. Witherspoon plays the prickly employment agency counselor who helps them find work, with Corey Stoll portraying her boss. Both veteran actors have small but powerful parts that in no way paint them as the white-savior figures some have accused movies like "The Help" and "The Blind Side" of promoting.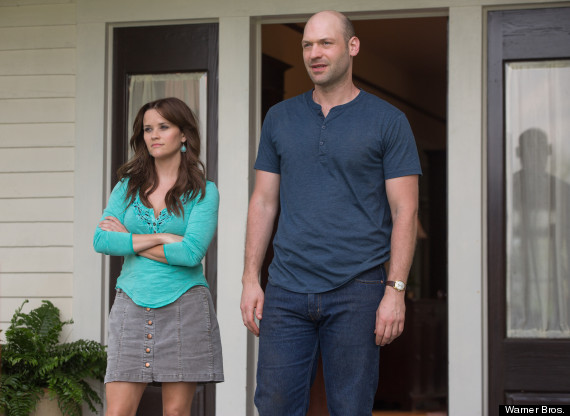 "Most of us spent all our lives in refugee camps and hunting for the opportunity to come to the Western world," Duany said, discussing a scene in the movie in which Paul, Jeremiah, Mamere and Abital see their names on a list of the kids granted refuge in America. "You see those characters screaming and laughing. That's really parallel to my life story from when I was coming too. It was like visiting past times."
Because the movie is about the refugees transitioning to Western lifestyles, "The Good Lie" bypasses some of the more haunting details of the Sudanese warfare. Instead, moments of confusion at how to consume airplane food or use a telephone provide insight. "I didn't come from a civilized environment where people go to the toilet inside the house," Jal recalled. "It was a new thing for me. Like, first time I saw a toilet it was amazing for me. Wow. How can someone come and download his stuff here and this little machine just takes everything away that fast? So when I'm using a toilet, I used to think a snake is probably going to come out of that hole because I thought it was connected to the river."
The production came close to experiencing some of the dire memories firsthand, having filmed parts in nearby Kenya as well as in South Africa and Atlanta, Georgia. Duany said Witherspoon even ventured to some of the refugee camps during the shoot.
"Once your spirit is crushed, you don't tend to want to give the next push to keep trying," Jal said of his trek to Ethiopia. "When I had no hope, I was going to eat my friend. He was dying and I was going to eat him, but I prayed. A miracle happened. It took a while to happen. But it came at a point when I was just going to bite my friend and eat him. What came between my friend was a crow. That crow saved me from eating my friend."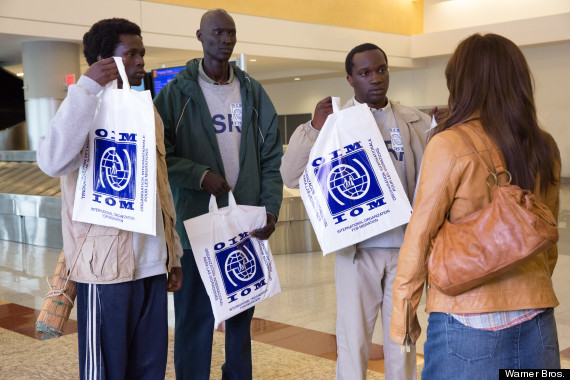 What the movie doesn't skip is remorse many of the refugees felt upon leaving their friends and family behind. Duany went back to his homeland for the first time 18 years after leaving. He reunited with his parents and brothers following nearly two decades apart. He also voted for South Sudan's independence, which became official in 2011. Jal has returned a handful of times, but some members of his family, stationed in refugee camps, are difficult to find. He keeps in touch with loved ones via telephone and Facebook.
For these actors, seeing their story play out on the big screen calcifies a hope for the future. Duany has been writing a memoir and making a documentary that chronicles his journey back to Sudan and reunion with his past. He doesn't have another acting job lined up, but, nonetheless, he said, "The future is taking care of itself." Focused on his music career, Jal has recorded five rap albums. Two of his songs, "We Fall" and "Scars" (the latter featuring Nelly Furtado), appear on the "Good Lie" soundtrack.
"I will not be the guy who will convince you what to take out of this movie because I've been through that," Duany said. "I want people to go see the movie and then they make a choice. See, we all have choices. We all make decisions on a daily basis. I think if a person goes to see that movie they'll make a choice that can change you and your own family and that can change your entire surroundings. So I hope people will go see the movie and then take something that they choose to take."
Jal, too, said "humanity" is the film's message.
"Hollywood has given a voice to the dead," he said. "It's no longer about the Lost Boys. They keep trying to make their way out, then they meet other people and empathize with them. It's a story that a lot of people are going to discover their purpose from. When someone doesn't know their purpose, they get lost."
Before You Go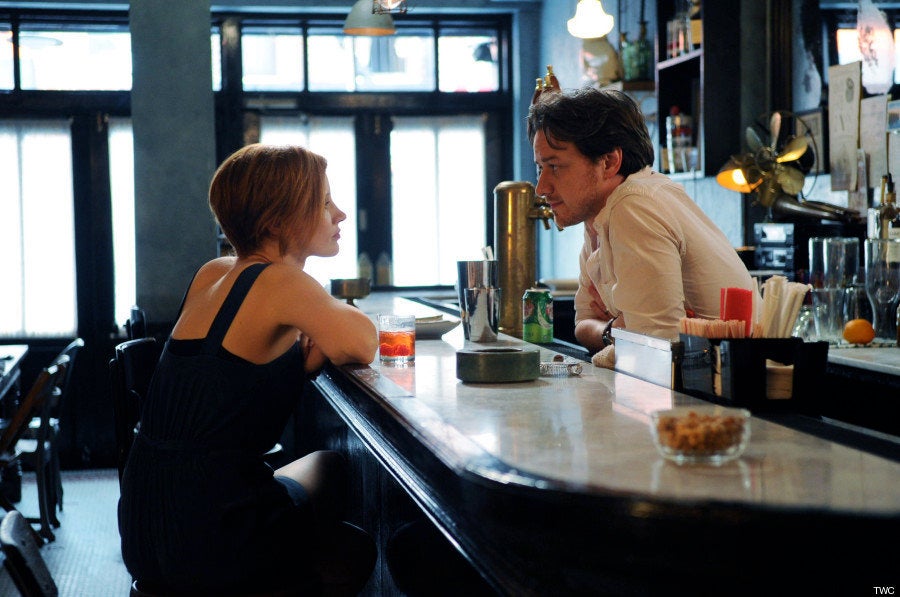 Fall Movies 2014
Popular in the Community