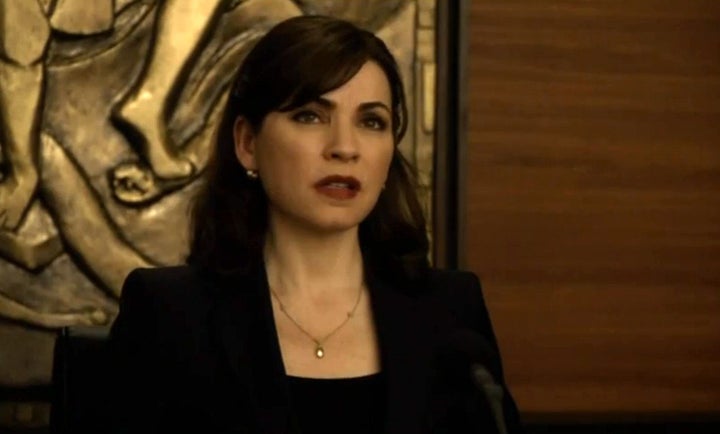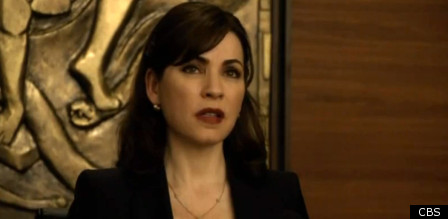 Note: The following contains spoilers if you have not seen Season 3, Episode 14 of CBS's "The Good Wife," entitled, "Another Ham Sandwich."
It's now safe to say whenever "The Good Wife" has an episode with the phrase "ham sandwich" in it, it's going to be a stellar offering. Like last year's "Ham Sandwich," Season 3's "Another Ham Sandwich" was filled to the brim with classic moments that make "The Good Wife" one of the most entertaining shows on TV.
When I watched the episode at my desk earlier this week, I warned my colleagues that there would be gasping. Boy, was there gasping. The dancing, the phone calls, the testimony ... everything clicked. There's so much to talk about.
Let's start with Julianna Margulies' pitch-perfect performance when Alicia finds out the grand jury could indict Will. It was like we knew what was happening inside her, her heart falling deep into the pit of her stomach. Diane's refusal to tell Alicia what to do -- knowing that Alicia would do whatever possible -- was a very nice character moment between the two of them.
GLAC. As much as I love Amy Sedaris and Alan Cumming as actors, this storyline was just so jarring when compared to the intensity of the grand jury testimony. Something was just off for me. It didn't click with the rest of it (although hearing Eli call Alicia a gay icon -- it's true, she is! "Suffering made you iconic." -- was almost enough to make up for the meh plot). Even though we got to see round two of Eli Gold vs. David Lee, it just wasn't the best. Although more Caitlin (Anna Camp), would be welcome.
Peter Florrick feels the heat. Alicia brought out the wine -- yes, viewers noticed she was drinking red wine with Peter and not a white wine -- in an effort to end the investigation into Will. It didn't go very well. "My god, you have changed," Peter told Alicia. "I used to be able to tell when you lied." Their conversation was a long time coming.
Absolutely adored how Diane turned the tables during her testimony; I was giggling with delight. Then David Lee did the exact same thing, totally throwing Wendy Scott-Carr for a loop. Will pushed her over the top and that's when she went after Alicia.
About Alicia's time on the stand ... Even though it was heavily promoted by CBS, and for good reason, I was still gasping away. "The witness has not been excused!" "You are out of control." Cue the gasps. Was very surprised, but delighted, when Cary tried to stop Wendy's line of questioning. I was hoping he'd walk out of the room in protest, but the fact that he said anything to begin with shows the character evolution Cary has gone through. When Alicia finally makes it outside, she immediately thinks of her kids learning about her fling. At first, I thought that reaction was selfish, but it makes sense. She's a lioness, protecting her cubs from her own indiscretions.
Kalinda saves the day. I knew her "betrayal" wasn't without a plan and it was SO great to see everything blow up in Dana's face. You don't use Kalinda; Kalinda uses you. To top it all off, her call to Alicia at the end of the episode was very cute. Alicia's hesitation in thanking Kalinda, obviously because of her returning friendship feelings, was probably enough to last all the Kalicia shippers out there for weeks.
"I like that pin." I cannot rave enough about Carrie Preston as Elsbeth Tascioni. She's a force to be reckoned with, but I wish we got to see her knock Wendy down a few more pegs.
Gasp count: Seven with one "Oh boy" and an "Oh shit!"
Some other things/quotes:
"You fooled me?"
"Yeah. Go ahead, hit me. It'll make you feel better."
SMACK
"If she's getting some, great." -Random member of the grand jury.
Diane and Will dancing, again. Amazing. They are the perfect couple.
"I haven't been the best of moms. I want to change all that. I think I should take a week off work and we should go on vacation." I hope Owen is going with them!
Did you like the episode? Do you think we've seen the last of Wendy Scott-Carr? Where do you think "The Good Wife" will go now that the investigation is over?
"The Good Wife" airs Sundays at 9 p.m. EST on CBS
Calling all HuffPost superfans!
Sign up for membership to become a founding member and help shape HuffPost's next chapter