Not since a mini skirt-wearing Calista Flockhart starred as Ally McBeal have I been interested in attorney fashion (save for the sexy suits worn by the men of the aptly titled TV legal drama "Suits"). But after hearing a few of my co-workers buzzing about the Armani and Yves Saint Laurent designs on "The Good Wife," I figured why not binge-watch the show on Netflix?
Two weeks later and I'm not only caught up in preparation for Season 5's return on Sunday (September 29 at 9 p.m. ET on CBS), but I've become well-versed on the political-legal style evolution of Julianna Margulies' character Alicia Florrick.
We've watched Hillary Clinton and Huma Abedin's image evolve in the public eye -- everything from their pant suits to their hairstyles and lipstick colors have been profiled. And Margulies' fictional portrayal of a woman who stands by her man during trying times reinforces our attraction to what's on the surface.
So how does one bring this element of reality to television? I dialed up "The Good Wife" costume designer Daniel Lawson to probe deeper into this theory. Read on to find out what it takes to style one of the most powerful women on the small screen, as well as Lawson's top tips on what we can learn from the ladies and men of Lockhart/Gardner.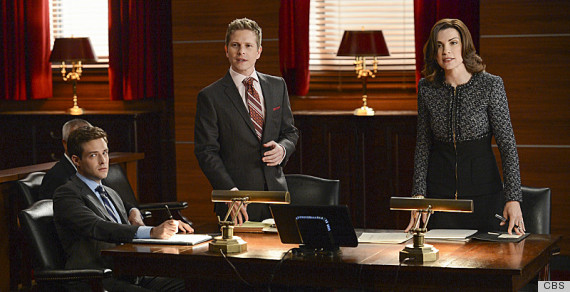 Can you talk about the transformation of Julianna Margulies' character Alicia over the seasons?
First of all, she was a politician's wife and had been involved for so many years doing ribbon cuttings for the local store or whatever it was. She had not been working as a lawyer for years, but once the scandal hit, she had to rework all of these clothes to get back to work. So the first season was all about mixing and matching.
After being on the front page for months and months, she did not want to draw attention to herself. She wanted to go into the law firm, be a wall flower, not stand out and draw any more attention. The labels that we used were not incredibly high-end. They were very respectable labels like Ralph Lauren and Elie Tahari.
As we got to the second and third seasons, we saw a sense of confidence start to bloom. She had this slight '40s silhouette to her look. I was like "Oh my gosh, she's Rosie the Riveter!" She is totally confident with her work, her affair with her boss and sexual life. She had gotten a promotion and was making money. She was able to buy new clothes and put together more full head-to-toe outfits, including wearing more jewelry.
And by the time we got into Season 4, she had been working towards becoming a partner and was wearing more high-end and color.
Alicia's closet has certainly expanded, but does she ever repeat outfits?
Absolutely. Maybe ten percent of her looks are things she's done in previous episodes. Julianna loves it because she gets to wear an "old friend," and from a character standpoint it makes sense because it's real. Every piece that's repeated is basic: black pants, black skirts and navy shoes.
What makes a great women's suit?
Number 1: It has to fit. I know you've been told that a million times. But you can go buy a $150 suit from Ann Taylor and have it tailored and altered to you and it's going to look like an $800 suit. And you can buy a $2000 suit that doesn't fit you, that hangs off of you like a bag and it's going to look like it's not even yours. It's so important for women and men when budgeting themselves for new clothes -- whether for work or recreational -- to include money for tailoring.
Number 2: Go with things that are more classic that will take you from season to season. If that means spending more money on good brand name pieces that will last, then you should do so. And let the trendy pieces that fall in from season to season be what you spice up your look with each year.
Number 3: Women need to know if they look better in skirts or trousers. Find the silhouette that works for you and stick with that as best you can.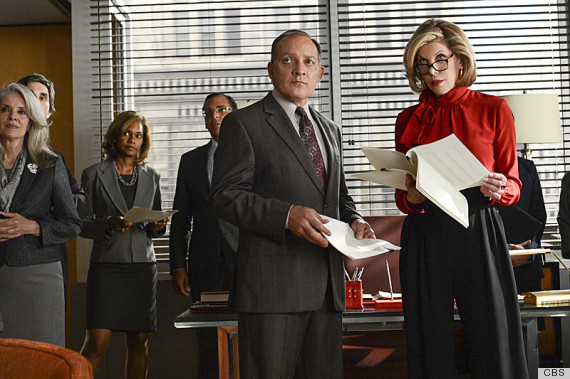 Moving on to Diane. How many brooches does she own?
My goal is to bring the pin back [laughs]. She probably has about 30 brooches. There are a couple pins that I just love. Christine [Baranski] knows of a resale shop near her house way up in Connecticut. And she said, "Darling, they have beautiful pieces there." I got them on the phone and we've had them ever since. And I know of some vintage stores here in New York.
When Christine came in for her first fitting, we had this big 10 foot long table. And it was covered in jewelry. We didn't even talk about it because we were so into the clothes. She could see that we had tons of jewelry and that we didn't need to worry about it. The first season, she wanted to wear a signature ring in every episode and then she got tired of it [laughs].
What's your secret to styling such a strong and determined character like Diane?
In the pilot, she wore two grey suits. But what I wanted to do with Diane, as well as Alicia and Kalinda, was make them look feminine, yet powerful. I always get frustrated unless it's the character, when a strong woman is dressed up as a man. Christine had a very good point, she said, "I'm known for my comedy and musical-comedy so I want people to believe me as a lawyer." And that was a challenge for me. But I wanted her to be really chic and really elegant. I wanted her to wear the clothes, not have the clothes wear her.
I remember we had this crazy red Gaultier blouse and the collar was a belt from a London Fog coat. And we were like is it too much, have we gone too far? We figured out a great way to drape it so that it was edgy and unique. Of course, Christine is so elegant anyway. You can put a burlap bag on her and she'd look great.
For Season 4, we have been using Oscar de la Renta, Carolina Herrera, and we also used Lafayette 148 New York. We certainly do Prada and Givenchy for her. Armani is good for both Diane and Alicia. Sometimes Dior on Diane, and YSL is really big for Diane. There is also this amazing clothing line called Number 35 and they're an English line. I discovered them the second half of the season last year. We're collaborating on a line called 35 DL. It's sort of high-end business wear. Hopefully, I'll be using some of those pieces on the show.
Is there anything the actors won't wear?
We don't have issues with brand names, where people are like, "No, I never want to wear X." But you certainly learn what silhouettes work on the actors. I tend not to do big, baggy sleeves on any of the women on the show because on camera it looks sloppy and they look sick. I do find that I slim a lot of women's shirt sleeves and take fullness out of them because there's just too much fabric. Last year, we used the peplum a lot and Dior was doing that wonderful nod with their new look.
We like slim skirts. We never do A-line skirts. There was that whole vogue for A-line skirts and dresses for women but it doesn't work on camera. It can work in real life though.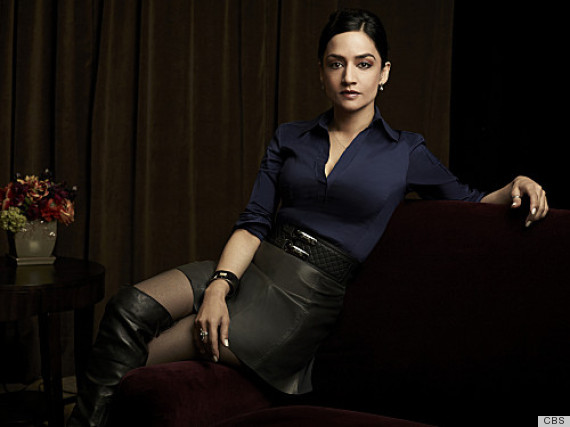 How did Kalinda's boots and skirts become so big?
I honestly had no idea it would be such a big thing. Archie Panjabi, who plays Kalinda, wore jeans in the pilot. And I was like you know what, I don't want her to wear that. It goes back to what I said. She's strong and tough and really sexy. Why do we have to put her in pants?
The producers said she wore boots in the pilot and they liked that. And she wore a slouch boot. So I thought, well if we are going to do a boot, let's get it up the leg. She came in and really wanted to wear pants. We experimented and finally got her into skirts. We even tried to put her in a regular pump and she was down with it. She got all the way to set, and then turned around and said to me, "I need the boots. I just don't feel like Kalinda." The actors on this show are brilliant. It's not just about how it looks on me, but is it right for the character.
With Kalinda we combine hard and soft all the time. She may wear leather, but she'll have on a chiffon blouse. Or she'll have high leather boots but she'll have on a buffalo plaid skirt. We're always trying to create this dichotomy with her looks.
I think I have her figured out and then the writers do something. And I think that's the same way the audience feels, and I want that in her clothes. It's hard because the skirt and boots have become iconic for her. I want it to always be this element of surprise as with her sexuality. For the longest time we didn't know that she was a lesbian or had lesbian tendencies. Then she turns around and has a relationship with a guy.
What is her go-to brand for boots?
A big brand that we've been using over the years interspersed with others is Via Spiga. You have to remember that they're wearing this footwear for up to 14 hours a day. There has to be a comfort level, it can't be a tortuous. But we did have to have the boots shaped for her. The part that comes up the leg, we'd have that taken in. I'd recommend that to all women. If you're going to invest in a pair of boots, take them to the shoe maker. It may sound crazy, but I hate when they're all gaped at the top. It should look like your boots.
What are your tips for finding a badass leather jacket like Kalinda's?
Don't have too many bells and whistles. People tend to go for the shiny bright things with a millions zippers and pulls. It may be cool for a second, but for longevity it may be hard to get versatility out of the jacket. Think about the purpose of your leather jacket. Is it to wear outside with a sweater, or a replacement for a sports jacket? Get one that fits your body well over the different layers underneath.
I also feel this about leather jackets: If you have one that has a zipper down the front, get one that zips both ways. That's because when you sit down, even when it's that butter leather, the jacket wants to bunch up because it wants to splay out over your hips. If you get a zipper that zips up, it will smooth out.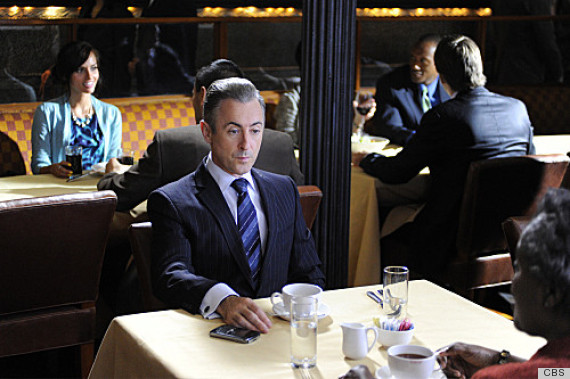 Let's discuss the best-dressed man on "The Good Wife," Eli Gold.
The thing with Eli I wanted to look like if you touch him he would shatter. He's so uptight! He wears mostly Dolce & Gabbana, Versace and Paul Smith. I wanted him in two-button suits that feel very snugged to create that stiff look.
Normally when a guy buttons a suit jacket and there are two buttons, he buttons just the top. Eli buttons both. The first time I saw that, I told the set costumer to go tell Alan [Cumming] to unbutton that bottom button and he said, "Nah, I'm going to wear this closed."
And I wasn't going to go to the mat for that, or argue with the actor about it. But it made sense because if he was going to have 10 buttons, he would button them all up. That's his thing. His collar and tie are always done up, practically strangling himself. There's always a perfect knot on the tie, and it's just like relax, dude.
Can you give us a sneak peek into what we can expect from the cast's Season 5 style?
We find out that Alicia is going to start her own law firm with Cary [Agos]. She still has the money and ensemble of suits, but heading into the new season, I dial back the color with the uncertainty of what's to come. I wanted her wardrobe to be more neutral-toned again and Julianna felt that as well.
Overall, the clothing will change but it can't change too drastically because that's not real. When something drastic happens you don't go out and buy a whole new wardrobe. I always want the evolution of the look to be steady and methodical. And this season is no different.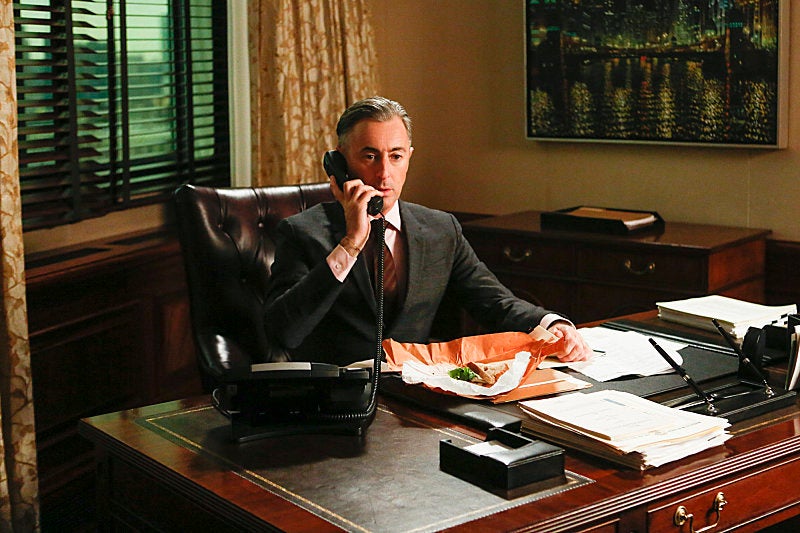 'The Good Wife'
Related