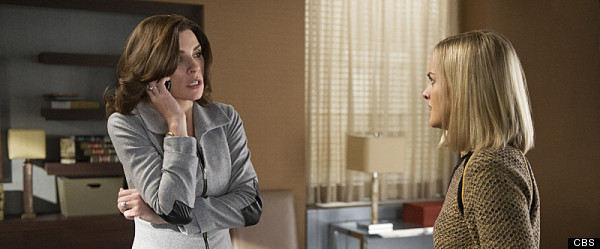 Note: Do not read on if you have not yet seen Season 5, Episode 5 of CBS' "The Good Wife," titled "Hitting The Fan."
"The Good Wife" has never been better. Everything literally hits the fan in "Hitting The Fan," a riveting hour of TV that I wished could have lasted forever. This was not only one of the best episodes of "The Good Wife," but one of the best episodes of TV. "Hitting The Fan" was expertly acted and paced, a fine piece of work.
I was tempted to just make this recap emoticons and exclamation points, but I guess I should use some words.
"It's time I tried something ... new." The episode picked up right where "Outside The Bubble" ended. Diane informed Will of Alicia's plan to leave the firm. Will, naturally, was shocked. Deeply shocked. As he marched to Alicia's office, images of their past flashed on screen. Their confrontation was electric. The venom was palpable. Will charged Alicia with betrayal -- he hired her when no one else would. It's true, which made it sting all the more for him. Will assembled the partners to relieve Alicia of her duties and went on a firing spree to stop the fourth years from getting client files.
"This was never meant personally." - Alicia
"I don't give a damn." - Will
[Alicia cries after the elevator doors close.]
When Alicia cries, we all cry.
Diane had an icy confrontation with Cary about going to bat for him and he played it totally cool. These characters were great as friends, but as enemies? It's going to be outstanding.
"Cary, you're fired." - Diane
"For a second time?" - Cary
"Yes, for a second time. Now get the hell out." - Dianie
Throughout the whole hour, Will and Alicia tried to one up each other. She used a planned deposition to distract him, he went after the top clients and alluded to Alicia mishandling money. The two firms jockeyed for Chum Hum, using restraining orders, Kalinda and Peter, all in an effort to land the big Internet company. In the end, Peter's veiled threat -- of course unethical -- swayed Chum Hum over to Florrick/Agos and Associates.
Kalinda, Kalinda, Kalinda. The mysterious investigator played both sides in this conflict. She told Cary she'd go with him so she could get information for Will. Is it for money? She seemed genuinely hurt when she admitted to Will that she wasn't friends enough with Alicia to be told about her plans, but she knew about it from Cary. :( I long for the days of tequila shots.
"You're friends with Alicia and she didn't tell you about leaving?" - Will
"No, clearly wasn't friend enough." - Kalinda
Diane is no longer supreme. Well, she's still supreme because she's awesome, but it's looking like Alicia's dismissal will cost her the Supreme Court spot ... and that might affect Peter's governorship down the line. It's about ethics, people!
"Oh, no, we're too busy kicking ass." The sex scene between Peter and Alicia seemed humanize the episode a little bit. Alicia has reclaimed sex from him. What did you think of it?
This episode was absolutely the best. It was an exhilarating episode that puts other shows to shame. If you're not watching "The Good Wife," well, you need to start.
"Oh god. You're awful. And you don't even know how awful you are."
Have you noticed Alicia has a lot of zipper blazers?
I still want Laurie Metcalf on this show.
I can't wait for Robyn to get more to do.
"The Good Wife" airs Sundays, 9 p.m. ET on CBS.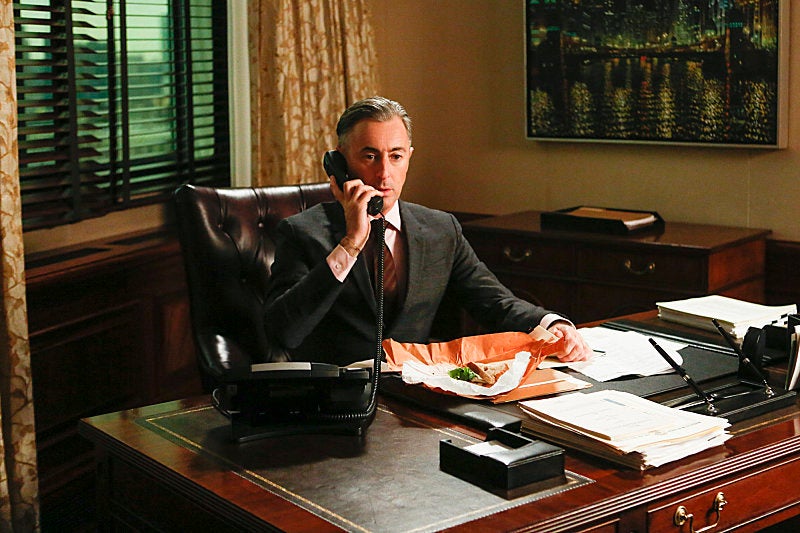 'The Good Wife'
Popular in the Community