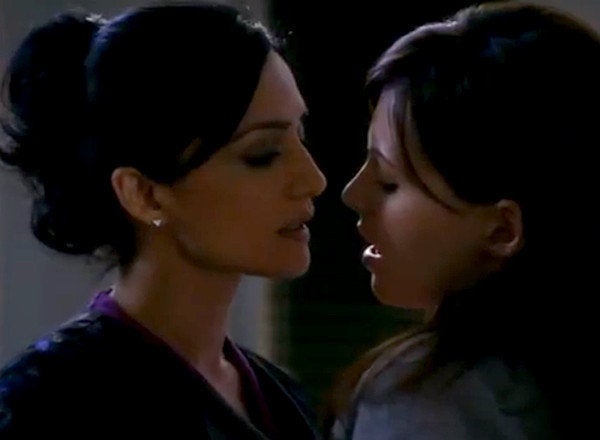 During Season 3 of "The Good Wife," viewers saw a very different side of Kalinda Sharma. Besides seeing her vulnerable side at the hands of the IRS audit, Kalinda started fearing for her life when the FBI started poking around Lemond Bishop -- the FBI being Kalinda's former lover Lana (Jill Flint).
"What's interesting about that scene is it was only meant to be a very tender kiss," Panjabi told EW. "But Jill and I just thought it would be really interesting to take it that one stop further in the rehearsal period when we actually started filming, so there was a lot more electricity between these two."
What was supposed to be a tender kiss now included some hand action, leading viewers to believe more was happening below the camera. She said she was surprised by how much ended up making the final cut.
Series creators and executive producers Robert and Michelle King revealed there were negotiations with Standards & Practices about how much hand thrusting could be shown. "Jill Flint and Archie Panjabi did such a wonderful job in the scene," Robert told EW. "We've always thought sexiness was better played on the face, but it was difficult to get around [what was happening below frame]."
Panjabi said she decided to go there with the character because Kalinda is so "incredibly sexual."
"I always try with her to do things that are not typical of her. And I think that was unexpected of her to do that in that scene ... I was really happy that they took it to that level, because I think everybody was expecting Kalinda to go all the way, and suddenly she just stops. Is it a new Kalinda, or is this the way Kalinda's always been? The layers are being peeled off."
For more on Kalinda's Season 3 mysteries, including some thoughts on that big cliffhanger, click over to EW.
"The Good Wife" returns this fall on CBS. Find out which other shows are returning by clicking through the slideshow below.
PHOTO GALLERY
2012 Renewal Index: Canceled, Safe and on the Bubble Shows
REAL LIFE. REAL NEWS. REAL VOICES.
Help us tell more of the stories that matter from voices that too often remain unheard.
BEFORE YOU GO