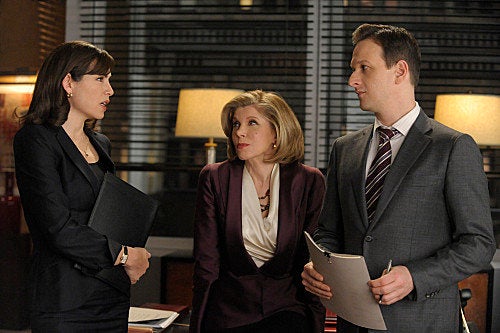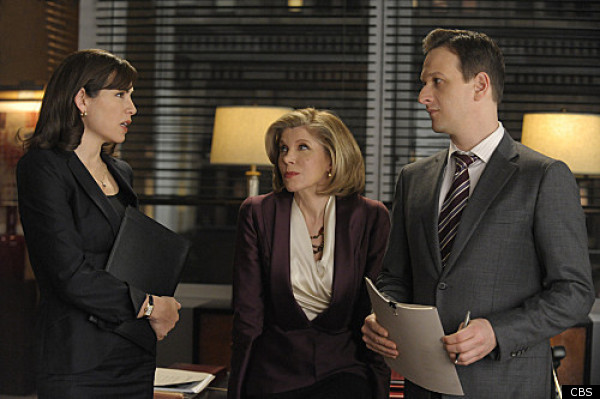 Note: The following contains spoilers if you have not seen Season 3, Episode 15 of CBS's "The Good Wife," entitled, "Live From Damascus."
"The Good Wife" has shoved a potentially big game-changing storyline in the middle of a very busy (and slightly inconsistent) episode.
"Live From Damascus" -- alternate title: "A Night Of Many Stars" -- sets the stage for the next chapter of "The Good Wife" in the matter of a mere 15 minutes. The rest of the hour? Kind of useless when compared to the bigger picture. Rita Wilson (she was deliciously smug), Jonathan Groff, Amy Sedaris, Parker Posey, John Benjamin Hickey, Denis O'Hare and Edward Herrmann all made return appearances in this jam-packed episode of "The Good Wife."
Let's just get through the less interesting stuff first -- and by less interesting, I just mean when compared with the overarching storyline that drives the show. As individual storylines, these two plot lines would be fine on their own; but shoved together with Will's storyline, they brought the episode down. OK, here we go:

Lockhart & Gardner took on Wilson's Viola Walsh and her client Neil Gross (Hickey) with a class action suit against a software company. Their claim: The software company allowed the Syrian government to ... get rid of American citizens, so to speak. Jonathan Groff played Lockhart & Gardner's main client. He turned in an understated performance while looking extremely sharp, which was refreshing compared to the other guest stars. Yadda, yadda, yadda Kalinda's Syrian contact dies, Viola offers Caitlin a job to unnerve her and mess with Alicia's head, Pink Damascus is really a man in Kansas, Groff's character's sister is alive. End of that story.
Eli's ex-wife, Vanessa (Posey) returned to talk about her campaign and sleeping with a Bin Laden. Eli yelled about some stuff and then ultimately agreed to help the campaign and Sedaris' Stacy made some cute faces and walked around. More and more Eli Gold feels like he belongs on a separate show. Nothing against Alan Cumming's performance, but when we're dealing with much meatier stories -- Will's potential disbarment -- having a good chunk of time used up by Eli and Stacy butting heads hurts the pacing of a once flawless show.
Hello, Lockhart & Associates. Will is suspended! After Wendy Scott-Carr tipped off the bar, Edward Herrmann's character gave Will the scoop. Diane flew into action, telling the board that Will started the pro bono initiative at Lockhart & Gardner, a lie she hoped would save his career. In a way, it did. Instead of an investigation, the board agreed to offer Will a six month suspension. After counsel with Alicia, Will took the suspension. Lockhart & Gardner is now Lockhart & Associates. "You'll still have a place when you come back," Diane tells him. What will this do for "The Good Wife"? I hope it does wonders. Maybe a little less court time, a lot more Diane time and ... Alicia and Kalinda. That's right, Alicia is Kalinda's attorney now.
"You and Kalinda should talk as soon as possible." Thanks for saying what we've all been thinking, Diane. We know "The Good Wife" is bringing on Kalinda's ex-husband, so Alicia will be diving into Kalinda's past thanks to this IRS case. Despite her hesitation, Alicia will represent Kalinda and the two will rekindle their friendship ... I hope. Tequila shots for all by the end of the season!
We will still see Will this season -- his sisters are coming to town -- but let's end this recap on a high note: "Follow Diane's lead, Alicia, you'll be fine."
Gasp count: About one and a half. (Yes, half a gasp.)
Did you like the episode? What do you think will happen at Lockhart & Associates?
"The Good Wife" airs Sundays at 9 p.m. EST on CBS
Popular in the Community