Note: Do not read on if you have not seen Season 6, Episode 11 of CBS's The Good Wife, titled "Hail Mary."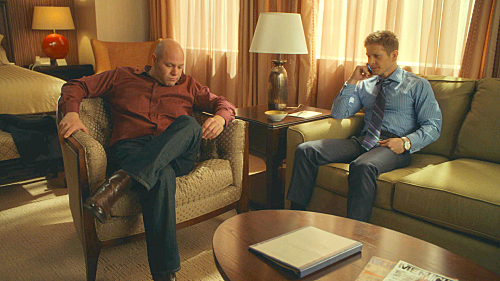 I knew we couldn't lose Will and Cary. This return episode was necessary to set the stage and get the rest of the season moving, but other than that, it was a little slow.
The whole gang gets together to find a violation in Cary's case after Kalinda catches someone saying import instead of export (it could be the other way around). Meanwhile, Alicia is prepping for her debates and Cary is being coached by Herc from "The Wire" to prep for prison.
1) Alicia and Peter fight about helping Cary and I love how you can just see her disgust with him. He keeps trying to give her advice and throw in his two cents about debate prep, too, and no one is having it. They finally really don't like each other it seems.
2) Kalinda faked evidence to help Cary get off and she let Herc twist her arm (ahem) into sleeping with Cary before he goes off. it's always weird to watch her have emotions and she most certainly does for him.
3) I was hoping that the guy in the parking garage would be Finn, but alas it was her campaign advisor. The smooch was just part of feeling good about getting Cary out of prison time, right? Like an extended "hell, yes!" Because he is totally not her type.
The Good Wife airs Sundays at 9 p.m. ET on CBS.
Calling all HuffPost superfans!
Sign up for membership to become a founding member and help shape HuffPost's next chapter