Note: Do not read on if you have not seen Season 6, Episode 18 of CBS's The Good Wife, titled "Loser Edit."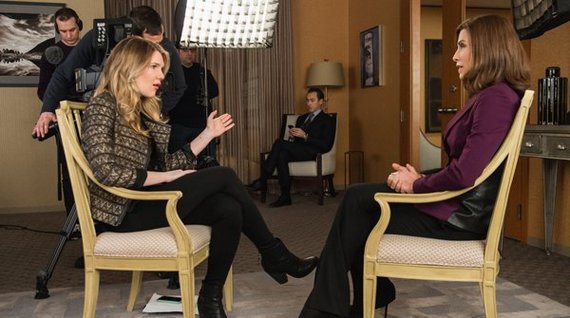 So much scandal these days! This week opened with a very Good Wife-y montage of Alicia being interviewed by an evil journalist who wants to take her down. The email leak breaks and we see that it won't be an easy ride for Saint Alicia. Especially because there are some steamy emails between her and Will in the dump.
Eli enlists Peter's help to clear her name and two very good things come from this. The first is about those steamy emails. We always knew it was hot and heavy between those two and that it was an intense emotional and physical affair. But we never got the romance. In the (sort of) cheesy emails between them, you have them admitting their desires and all the good stuff. It's funny how a year after his death on the show, we finally get a full picture of who he was to Alicia and how he felt about her.
Same goes for Peter. He and Alicia share oversized glasses of wine in the kitchen to strategize and catch up. He's no rookie and gives her advice. They laugh. The moment comes when Alicia wonders outloud of they've finally made it to the other side -- where they can be ex-husband and wife and not hate each other. She tells him he's disgusted her and speaks for all of us (or at least me) when she laughs off his come hither eyes. "It's always about where you can stick it," she tells him. And it is. Peter's always been a jerk and maybe I was always so biased by the fact that he's also Chris Noth. Peter Florrick is no Big.
The other shoe drops in the cliffhanger. They clear the sexy stuff with the television station in an Ocean's Eleven like little plot where everyone has a role, a line, and a cue. But then they allege voter fraud. It's big time trouble now.
Meanwhile, Kalinda is on the hook for falsifying that meta data. Her lies are catching up to her and if you were wondering how they were going to do her character's farewell, now we know. She could be going to prison. Maybe Bishop disappears her like he offered Cary earlier this season. It's all coming together.
One big question, though. Diane was consulting on a case based on the recent "religious freedom" laws passed in Indiana. But the episode was probably filmed long before that. How'd you do it, guys?
The Good Wife airs Sundays at 9 p.m. ET on CBS.
Calling all HuffPost superfans!
Sign up for membership to become a founding member and help shape HuffPost's next chapter