Note: Do not read on if you have not seen Season 6, Episode 20 of CBS's The Good Wife, titled "The Deconsruction."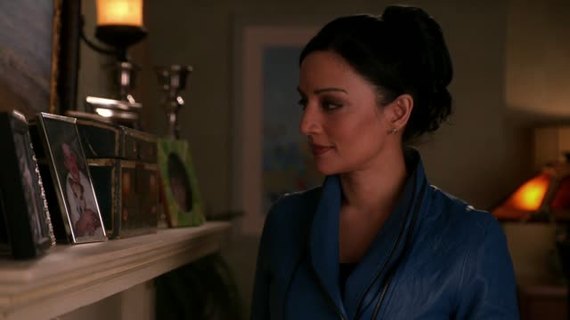 There is nothing worse to watch than Alicia Florrick sobbing by herself in her apartment. All around, this episode was about how absurd and lonely life is. The show itself has come full circle, as Alicia has to give up her State's Attorney position in front of the press.
Remember when it was Alicia trailing behind Peter amidst all the scandal? The opening shot was pretty much everything we watched in season one. She's risen all the way to the top, and falls because of some stupid political game, and has nothing left. We really are back at the beginning.
Politics has ruined her, a little. Remember how moral and fair she used to be? When the firm welcomes her back, they do so to play all those silly partner games they've always played. So she bites back. Just after waxing philosophic with Grace about how maybe "it will be different this time." Nothing's ever different. Except that no she's asking Peter for advice on how to fight back.
More importantly -- Kalinda is gone. Cary and her both are turning on BIshop and things are getting too hot for her. If there's one thing Kalinda does well, it's snoop. That whole jump drive thing was sloppy work. I think she deserved a little better. Her room all torn apart in that cheesy "someone ran away" way? Even when I'm in a hurry, I don't dismantle the drawers in my dresser. Why didn't she take her brush? Why was it so hard to not focus on the brush on the table? But I digress.
Alicia could probably use Kalinda right now, even though their friendship has taken a back seat in the past season.
I just want them to drink wine together in swanky bars and be friends. Now everyone's all spinning out on their own. What did Gallagher say? "This is starting to get old."
What do you think Kalinda's not said? And did they want her back or not? Tweet me @karenfratti.
The Good Wife airs Sundays at 9 p.m. ET on CBS.
Calling all HuffPost superfans!
Sign up for membership to become a founding member and help shape HuffPost's next chapter