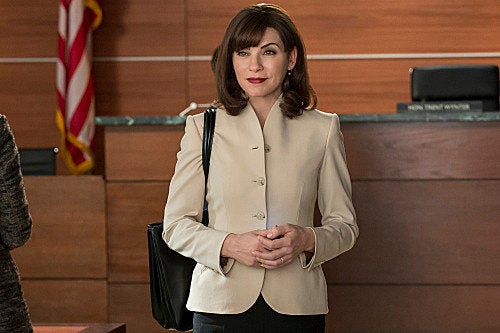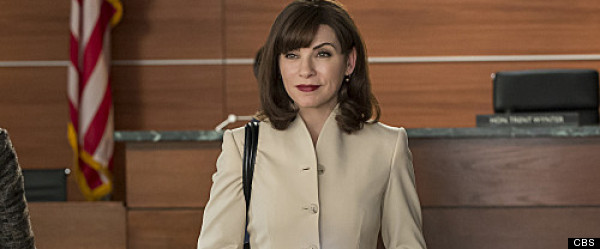 Note: Do not read on if you have not seen Season 3, Episode 22 -- the season finale -- of CBS's "The Good Wife," entitled "The Dream Team."
Tequila shots are on me, Alicia and Kalinda are back ... but for how long? "The Dream Team" brought Patti Nyholm and Louis Canning together to take down Lockhart/Gardner, but we all know the true dream team of "The Good Wife" is Kalinda and Alicia. Kalicia. Not in a romantic way, but in the sense that together, nothing can stop these two. Their relationship is so incredibly fun to watch. I could not be more pleased that the episode picked up with the two of them awkwardly at the bar, downing shots (even if they weren't at the same time) and continuing a bar conversation from two years ago.
"I'm not gay, I'm flexible." The gasps were flying at only about two minutes in.

"We're the dream team." As per usual, "The Good Wife" did another stellar out-of-court episode. After a generous settlement from one of Will's basketball buddies, Louis Canning (returning guest star Michael J. Fox) teamed with Patti Nyholm (returning guest star Martha Plimpton) to sue Lockhart/Gardner for judicial misconduct. Of course, since it's the two of them, there's more than meets the eye. Yes, they wanted to take down Lockhart/Gardner, but they settled for taking away the firm's biggest client and exposing Peter and Alicia's separation. Peter's campaign just got more difficult. It's no secret Michael J. Fox is a great actor and he always delivers on "The Good Wife," but Martha Plimpton doesn't get enough credit for her work as the deliciously conniving Patti Nyholm. When she gets away from "Raising Hope" and comes to play on "The Good Wife," it's a treat. If you're an actor and want to play against type, head to "The Good Wife."

Going up? "The Good Wife" and its love affair with elevators will soon make it into TV history books. The scene assembling Peter, Cary, Alicia, Will, Kalinda and Eli outside the elevator made me laugh more than this show has ever done before. It was pitch-perfect, complete with Will's line about Patti's daughter being the new associate.

Kalinda + Sledgehammer = Ahmahzing. Forget the bat: Your new 'ship is Kalinda and the sledgehammer. The scene where she throws on the glasses, gets the hammer and then goes to town on her wall. Money, a gun and ammo come out of the wall. How bad is her husband? Also, on the topic of her husband: "Alicia Florrick." may be the creepiest line from "The Good Wife" ever. And that's including Colin Sweeney. He's calling Alicia and coming for Kalinda. Season 4 starts when? The way the episode ended with Kalinda perched for confrontation, gun at the ready. Can you say, "Holy crap"?

Will she stay or will she go? Will Alicia go in and have some pizza or carry on with her life? She always gets the emotional cliffhangers. Will Alicia actually sue Jackie? I love how they've cut the BS and just go toe-to-toe now. It makes for incredibly entertaining TV.
"Do you think it was a mistake?" - Will
"No." - Alicia
What do you think ,"Good Wife" fans? Was pairing them off earlier in the season a mistake? Did you like the finale? Excited for Season 4?
Gasp count: Four, two within the first two minutes, one long one at the end.

"The Good Wife" will return for Season 4 on CBS.
Related
Popular in the Community