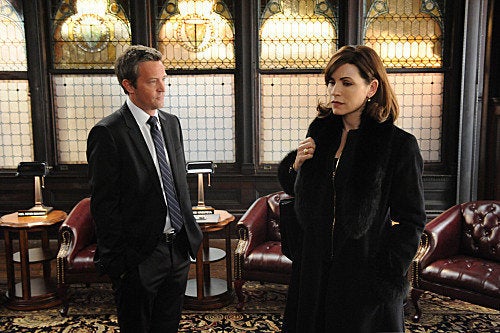 Perry has appeared in two episodes of the CBS legal drama as Mike Kresteva. His character recently announced plans to run against Peter Florrick (Chris Noth) for governor of Illinois and threatened to come after Alicia (Julianna Margulies). However, the future of Perry's involvement in the series came into question when NBC ordered his new comedy pilot "Go On" to series. Perry said he hopes to be able to pull double-duty on "The Good Wife" and "Go On," just like recurring guest star Martha Plimpton has with "Raising Hope."
"In the last five years I've tried to do a mix of comedy and drama, so it's been really fun to play a kind of sociopathic jerk lawyer," Perry told TVLine about "The Good Wife." "It's a fun character for people to sort of root against, and The Good Wife is one of my favorite shows, so it's all been very cool."
Perry got his role on the series thanks to Margulies. While chatting with Anderson Cooper on his daytime talk show, Margulies revealed she bumped into Perry at a Halloween party and he told her he'd love to be on "The Good Wife."
"The Good Wife" Season 3 finale airs Sun., April 29, 9 p.m. ET on CBS.
Popular in the Community