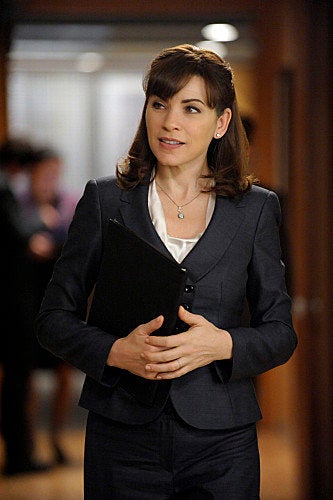 For fans of "The Good Wife" and CBS's other Sunday night shows, the NFL caused a big headache last year. Well, don't expect anything different this year.
Sunday night kickoffs will move from 4:15 p.m. ET to 4:25 p.m. ET in an effort to reduce overlap with 1 p.m. ET games. According to the NFL, the 4:05 p.m. ET games will remain the same. The NFL announced the change on its website.
"In researching the kickoff time shift, the NFL analyzed games from the 2009-11 seasons and found that 44 games required part of the audience to be switched to a mandatory doubleheader game kickoff," NFL said in a statement. "With a 4:25 p.m. ET kickoff time, that number that would have been reduced by 66 percent to only 15 games."
Good news for football fans, but what about fans of Alicia Florrick? Last season, "The Good Wife," "60 Minutes," "Amazing Race" and "CSI: Miami" suffered from football overruns. When NFL games run long, it's not reflected in the DVR scheduling. "The Good Wife" suffered in ratings during its first season in the Sundays at 9 p.m. ET timeslot. Season 3 averaged 11.8 million viewers, down from the Season 2 average of 13 million.
Season 4 of "The Good Wife" will air in the same Sunday at 9 p.m. ET timeslot with "The Mentalist" joining the line-up at 10 p.m. ET. "60 Minutes" will remain at 7 p.m. ET and "The Amazing Race" at 8 p.m. ET. In an effort to combat the DVR timeshift problems, CBS started airing commercials prompting fans to learn how to ensure their shows weren't missed.
Calling all HuffPost superfans!
Sign up for membership to become a founding member and help shape HuffPost's next chapter
BEFORE YOU GO