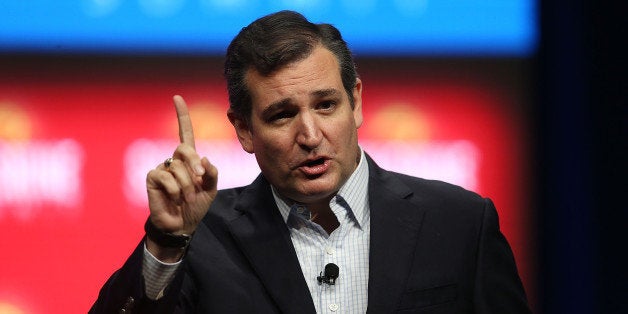 If anyone wonders how and why the United States refused to admit very many Jewish refugees from Germany in the late 1930s and during World War II, the GOP's response to the Syrian refugee crisis is instructive.
Back then, a bigoted Department of State, working for a Democrat President, did not want European Jewish refugees coming to the United States, a sad story well-documented by Jay Wink in his new book 1944. The technique used was the "big stall." Red tape and concerns for safety were used to deny access.
The GOP as a party is now doing the same thing with Syrian refugees. More than 4 million desperate people have fled that war-torn country in fear for their lives and for that of their families. They are leaving everything and walking into Europe at the start of a winter, where they face inadequate refugee assistance. Many are dying on the way out of Syria.
The GOP's response has been for dozens of governors to publicly state their unwillingness to take any of these refugees, even if in-state volunteers, civic groups and churches stand ready and even eager to help these people. The GOP-controlled Congress is trying to enact legislation that creates a "big stall" red tape process that effectively will keep virtually all these refugees out of the U.S. Some GOP Presidential candidates are calling for a total exclusion or the admission of only Christians.
We know this approach. The exclusion being used by the GOP on Syrian refugees is the same technique being using against American citizens in other areas. Indeed, exclusion is now the GOP's favorite way around the Constitution, laws and personal morality. Women have the right to abortion, for instance, but the GOP in dozens of states is eliminating places where that right can be exercised. All done under the name of women's safety. The approach is now before the GOP-dominated Supreme Court where abortion exceptions may be sanctioned next year and made U.S. law.
Minorities have the right to vote, but the GOP is making it difficult for them to register and then making the act of voting a long wait in a slow line because not enough voting machines are put into place. The expressed purpose is to deny the vote to GOP opponents.
Virtually every Republican supporting the big stall is a professed Christian and many who are office holders carry a copy of the Constitution with them everywhere they go. Their hypocrisy is glaring.
If 10,000 is the number of Syrian refugees the U.S. will take, that number and many more can be admitted without risking any terrorist dangers here. How about from that 4 million person flood of refugees in Europe, admitting,
1. 10,000 children under the age of 10, or
2. 10,000 married people who are 60 or older, or
3. 10,000 widows with one or more dependent children under 10 years old, or
4. 10,000 people who are 70 or older.
This list of choices as to who gets to come to U.S. safety or not can be extended on and on. Regardless of which is chosen, the tiny 10,000 person quota can be filled now and done without the risk of a terrorist attack.
Crises such as this are a way to see how our elected officials think and act. We learn much about their character and their morality.
The GOP governors, members of Congress and presidential candidates are failing the tests of leadership and morality being created by the Syrian refugee crisis.
Hopefully, our personal memories are good enough to remember this in November 2016.
But for now, we must push these officials to stop their use of this crisis to make political points with low-information voters and quickly help these 10,000 refugees, plus consider having the U.S. do more.
Calling all HuffPost superfans!
Sign up for membership to become a founding member and help shape HuffPost's next chapter