Fox News is the enforcer of Republican orthodoxy.
At Thursday night's GOP debates in Cleveland, moderators Bret Baier, Bill Hemmer, Megyn Kelly, Martha MacCallum and Chris Wallace peppered the party's 17 presidential candidates with tough questions. But several of those questions had one key thing in common: They hit candidates for deviating from Republican orthodoxy.
These are fair questions. But they show the role journalists play in highlighting when one or two candidates profess views that are different from the majority of the field -- and the pressure those candidates face to bring their positions in line with other Republicans.
Climate change (Hemmer to Sen. Lindsey Graham) "You worked with Democrats and President Obama when it came to climate change, something you know is extremely unpopular with conservative Republicans. How can they trust you based on that record?"
Medicaid expansion (Hemmer to Louisiana Gov. Bobby Jindal and former New York Gov. George Pataki): "You know the saying, right? No Republican wins the White House unless you win here in the Buckeye State. Well, here in the Buckeye State, the governor, John Kasich, took the federal money for Medicaid expansion under Obamacare. And Gov. Jindal of Louisiana, you passed on those tax dollars. Why do you think Gov. Kasich got it wrong here?"
Abortion (MacCallum to Pataki): "Gov. Pataki, you're the only pro-choice candidate running. A Republican holding that position has not won a single primary in 35 years. With the recent Planned Parenthood videos that we have all seen shedding new light on abortion practices, I know that you have said that you would defund Planned Parenthood. But has this story changed your heart when it comes to abortion?"
Foreign policy (Baier to Sen. Rand Paul): "Sen. Paul, you recently blamed the rise of ISIS on Republican hawks. You later said that that statement, you could have said it better. But the statement went on, and you said, quote, 'Everything they've talked about in foreign policy, they've been wrong for the last 20 years.' Why are you so quick to blame your own party?"
Medicaid expansion, again (Kelly to Ohio Gov. John Kasich): "Gov. Kasich, you chose to expand Medicaid in your state, unlike several other governors on this stage tonight, and it is already over budget, by some estimates costing taxpayers an additional $1.4 billion in just the first 18 months. You defended your Medicaid expansion by invoking God, saying to skeptics that when they arrive in heaven, Saint Peter isn't going to ask them how small they've kept government, but what they have done for the poor. Why should Republican voters, who generally want to shrink government, believe that you won't use your Saint Peter rationale to expand every government program?"
Immigration (Wallace to former Florida Gov. Jeb Bush): "Gov. Bush, you released a new plan this week on illegal immigration focusing on enforcement, which some suggest is your effort to show that you're not soft on that issue. I want to ask you about a statement that you made last year about illegal immigrants. And here's what you said: 'They broke the law, but it's not a felony, it's an act of love. It's an act of commitment to your family.' Do you stand by that statement and do you stand by your support for earned legal status?"
The National Security Agency (Kelly to New Jersey Gov. Chris Christie): "Gov. Christie, you've said that Sen. Paul's opposition to the NSA's collection of phone records has made the United States weaker and more vulnerable, even going so far as to say that he should be called before Congress to answer for it if we should be hit by another terrorist attack. Do you really believe you can assign blame to Sen. Paul just for opposing the bulk collection of people's phone records in the event of a terrorist attack?"
Universal health care (Baier to GOP frontrunner Donald Trump): "Fifteen years ago, you called yourself a liberal on health care. You were for a single-payer system, a Canadian-style system. Why were you for that then and why aren't you for it now?"
Common Core education standards (Baier to Bush): "Gov. Bush, you are one of the few people on the stage who advocates for Common Core education standards, reading and math. A lot of people on this stage vigorously oppose federal involvement in education. They say it should all be handled locally. President Obama's secretary of education, Arne Duncan, has said that most of the criticism of Common Core is due to a, quote, 'fringe group of critics.' Do you think that's accurate?"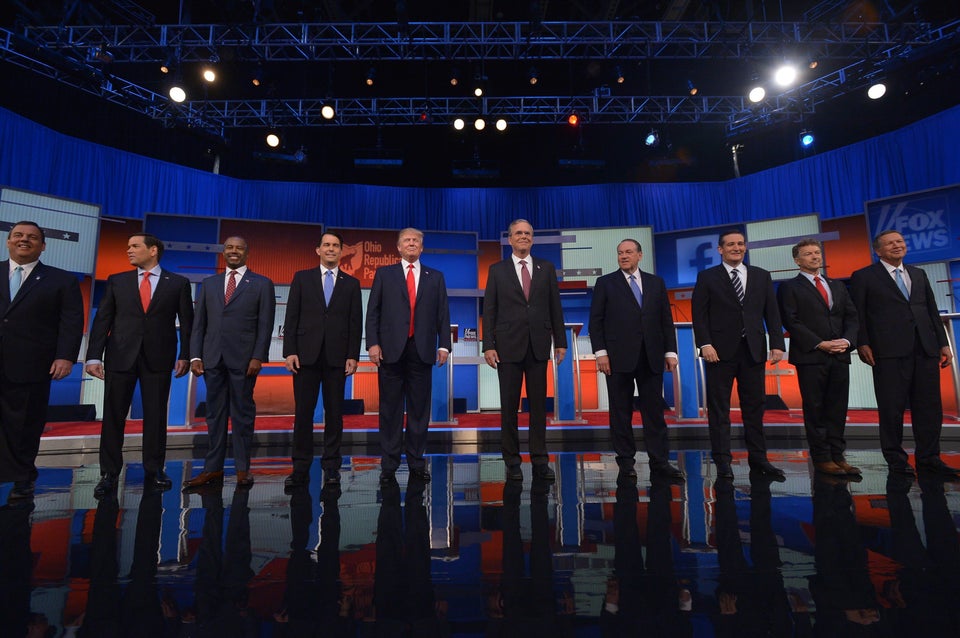 Fox News GOP Debates Aug. 6, 2015
Popular in the Community