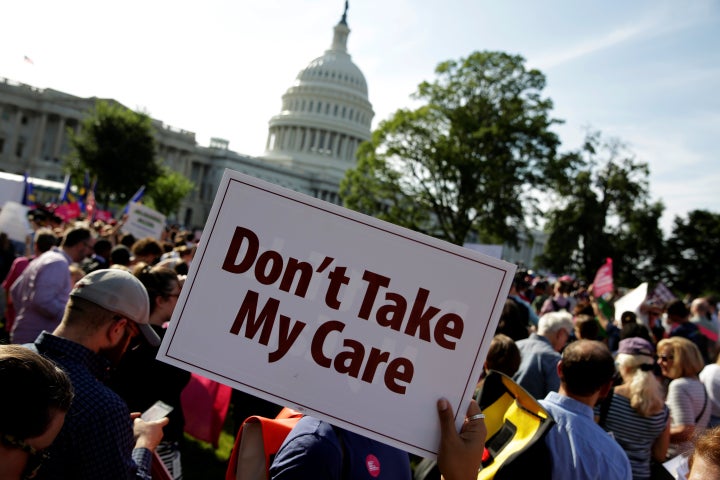 House Republicans' bill to repeal and replace Obamacare is less popular than more than a dozen major bills spanning nearly three decades, according to analysis from Massachusetts Institute of Technology political science professor Chris Warshaw.
Using historical data from the Roper Center's polling archives, Warshaw found that the American Health Care Act's average approval numbers lagged significantly behind polling on everything from Bill Clinton's failed 1993 attempt at health care reform to the 2008 bank bailout.
"It's rare for Congress to move ahead with legislation when the signs are this clear that the public doesn't want it," Axios' David Nather and Lazaro Gamio noted.
Recent polling on the GOP's health care plans have reported feelings ranging from tepid to dismal. The most positive surveys, from Morning Consult and Politico, show favorable opinion of the proposals hovering near 40 percent, with most other polling putting it well below 30 percent. By contrast, average support for Obamacare currently stands at 46 percent and never fell below about 38 percent.
The Republican bills are weighed down in large part by the lopsided partisan dynamics at play. Especially in recent years, it's not unusual for opinions on political topics to be deeply polarized, with people who identify with one party strongly in support of a bill or policy and the other side equally opposed. But while Democrats are almost unanimous in hating the House and Senate GOP health care bills, rank-and-file Republicans have been comparatively lukewarm.
A Kaiser Family Foundation compilation of recent live-caller polling found that Republican support for Obamacare replacements ranged between 26 percent and 63 percent in June, with most surveys putting it below 50 percent. In contrast, two-thirds or more of Democrats opposed the plans in every poll.
But Republicans still want their representatives to get rid of Obamacare. In a recent HuffPost/YouGov survey, just 55 percent of Republicans backed the House GOP bill, but 68 percent said they'd prefer it over no repeal at all.
'OUTLIERS'
― Links to the best of news at the intersection of po
lling, politics and political data:
Want to get more stories like this? Sign up for emails here.
Support HuffPost
The Stakes Have Never Been Higher
Popular in the Community