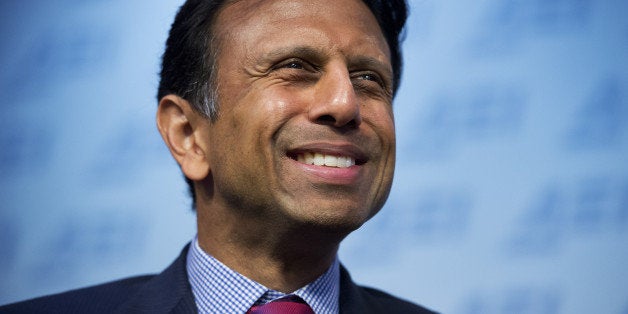 If you want to know the current state of the Republican Party, look no further than the activities that the party's leading presidential hopefuls have planned for this weekend. With two such extreme choices, how does a candidate pick just one?
Several top GOP contenders -- including New Jersey Gov. Chris Christie, Texas Sen. Ted Cruz, Wisconsin Gov. Scott Walker, former Arkansas Gov. Mike Huckabee, and former Texas Gov. Rick Perry -- will be spending Saturday in Iowa at a conference organized by the party's most vocal anti-immigrant extremist, Rep. Steve King, and featuring King's favorite birther ally, Donald Trump.
Each candidate seems to want to find just the right right-wing niche to launch his candidacy.

Republican leaders sometimes like to make a show of distancing themselves from Steve King -- John Boehner memorably called him an "asshole" after he described DREAM Act beneficiaries as drug mules with "calves the size of cantaloupes" -- but that hasn't stopped them from allowing him to have plenty of influence over immigration policy. Last summer, the House GOP handed over its immigration policy to King, passing a bill repealing deportation relief for DREAMers that King gushed was like he "ordered off the menu." And his influence is anything but fading.
The fact that potential Republican presidential candidates are flocking to King's "Iowa Freedom Summit" is telling enough. The fact that it is cohosted by Citizens United -- an organization now synonymous with the defense of big money in politics -- and features Donald Trump -- a man who has dedicated himself over the past few years to proving that President Obama was born in Kenya -- is just icing on the cake. Anti-immigrant hatred, racist birther theories, and legalized corruption all in one conference -- truly tempting!
One person was evidently able to resist: Bobby Jindal, who already had plans to cater to another set of extremists the same weekend.
Jindal has apparently decided that if he's going to run for president, his role model will be Rick Perry.
Jindal was already working hard, if somewhat more quietly, to solidify his ties with the religious right -- for instance, by pouring millions of dollars in taxpayer money into religious schools that teach junk science and revisionist history. But what Jindal doesn't appear to have counted on is that when you partner with extremists to host a massive public rally, it's hard to hide the fact that you're partnering with extremists to host a massive public rally. The AFA, which is footing most of the bill for the event, is most notorious for the bigoted ranting of its chief spokesperson, Bryan Fischer, who, from his perch at the organization's radio network, manages to regularly insult and demean LGBT people, Muslim Americans, African Americans, Native Americans, women, and even Medal of Honor recipients. He also frequently declares that the First Amendment is meant to protect only Christians, a category in which he does not include Mormons, and calls Hinduism -- the faith of Jindal's parents -- a "doctrine of demons."
Lane, for his part, has predicted that car bombings in major American cities will soon be part of God's "mercy" on the country for such sins as letting an openly gay poet read at a presidential inauguration, and hopes for the day when the Bible is used as the "principle textbook" in American schools.
Not that it's unusual for Jindal to partner with these people. The AFA is a top sponsor of the annual Values Voter Summit, which always draws a who's who of Republican leaders. And Lane has partnered with Perry, Huckabee, Cruz, Rand Paul, Mike Pence and the Republican National Committee.
As the presidential primary approaches, the GOP's candidates are scrambling to win the support of theocrats, bigots and anti-immigrant extremists. What they don't seem to realize is that that will make it much harder for them to win the respect of the rest of us.
Popular in the Community