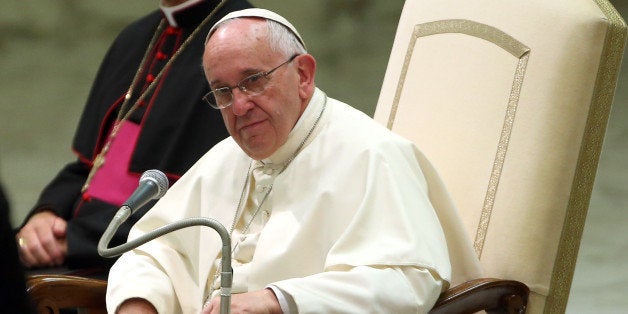 Pope Francis is a popular figure and the GOP would do well to endorse much of what he has to say. However, what does the GOP do when its economic philosophy for the past thirty years is wholly antithetical to Pope Francis' condemnations of "repressive capitalism?"
He also speaks of the moral imperative to address the issue of climate change noting that "We know that technology based on the use of highly polluting fossil fuels -- especially coal, but also oil and, to a lesser degree, gas -- needs to be progressively replaced without delay." This happens to sound explicitly like an advocation of President Obama's recent Clean Power Plan, a plan with sharp GOP criticism, which sets standards to cut carbon emissions by 32 percent by 2030 from 2005 levels. Yet the Pope's sentiment appears sharply at odds with a party where much of its support relies on its docility to extract campaign finances from the very individuals who benefit most from destructive fossil fuels.
One would expect after hearing such a condemnation of "unbridled capitalism," that the GOP would respond to such remarks and that they did. They responded irrationally, thoughtlessly and crudely. Presidential candidate and Catholic Jeb Bush rebuked "I think religion ought to be about making us better as people, less about things that end up getting into the political realm." Similarly, Rick Santorum too refutes, arguing that the Pope ought to "leave science to the scientists."
If therefore it is now the case that religion shouldn't be active within the political realm, then it highlights a significant double standard. Jeb calls for religion to be curtailed in its activity within the political realm, yet this is the same person that cut $302,843 for family planning services for poor women through Planned Parenthood when he was Governor of Florida. This the same person that also doesn't believe that same-sex marriages constitute a constitutional right. If there is a rejection of the Pope's advocation to address the moral obligation of tackling climate change, as well as address the gross inequities of our time, then perhaps social conservatism that derives from religious doctrine and dogma should also be sidelined. That same double standard can similarly be applied to Rick Santorum.
The content and substance of the first 2016 GOP primary debate in Cleveland mentioned very little and practically sidelined the issues of climate change and inequality. Rather than offer policy proposals to actually ameliorate the debilitating effects of climate change, the debate was dedicated much to triviality. According to an April Washington Post/ ABC News poll, 58 percent of registered voters state they want a presidential candidate that takes action to fight climate change, and while that percentage should be far higher, it at least highlights the importance the issue is to a majority of Americans. This preferential priority highlights why the GOP would be wise to at least address the same concerns that the Pope has, to which the Democrats have effectively capitalised and practically monopolized on.
A negligible tie to the Pope is detrimental for the GOP, given his status and influence on voter's decision making. Woes are compounded with changing demographics, particularly a growing Hispanic population, that should hurt GOP electoral success. The Hispanic community, for example, sees climate change and economic injustices as important issues with the Pew Research Center noting that 63 percent of Hispanic Catholics see climate change as a very serious problem.
The detachment from the Pope's remarks, be it climate change or addressing injustices and inequalities will only further explicate with the Pope's visit to Congress next month. For at that moment, the GOP may well acknowledge, their detachment from reality, their detachment from morality.
Calling all HuffPost superfans!
Sign up for membership to become a founding member and help shape HuffPost's next chapter