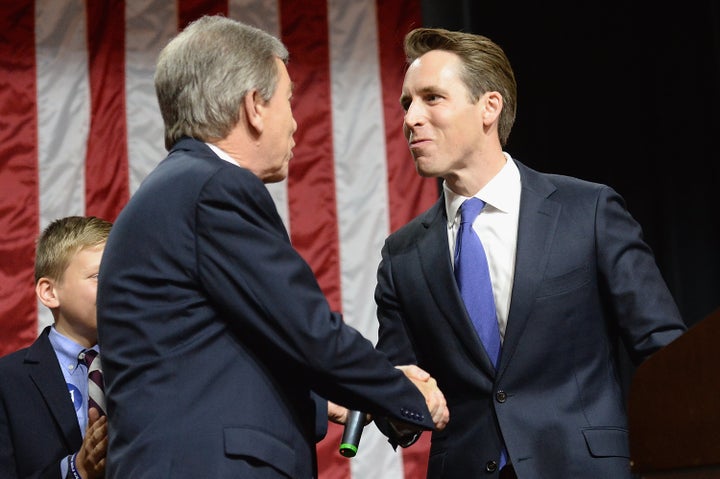 When Missouri Republican Attorney General Josh Hawley announced his bid for the Senate, he made one thing clear: This wasn't the plan. It was the pleas of donors, activists and politicians from around the state rather than his own ambition that convinced him to challenge Democratic Sen. Claire McCaskill, who analysts rate as one of this year's most vulnerable incumbents.
"Next year, I'm going to run for the United States Senate," he said in his launch video in October 2017. "This wasn't something we were planning to do."
He's repeated the claim in many interviews since then. "No. No. No. Not on the agenda," he told The New York Times when asked if he was planning on running for Senate after just winning the attorney general's office in 2016
Emails obtained by a public information act request and reviewed by HuffPost, however, show Hawley discussing a potential bid for office and at least joking about running for Senate as early as 2011.
The emails come from Hawley's time as a professor at the University of Missouri's law school, where the former Supreme Court clerk taught after working in private practice in Washington. While the emails don't lay out a master plan for Hawley to hop from one office to the next, they make it clear his lofty ambitions were known to his colleagues and show him admitting his return to his home state was partly driven by politics.
Hawley, 38, hopes to topple McCaskill, who turns 65 on Tuesday, in a state President Donald Trump won 18 percentage points in 2016. Democrats have attempted to portray him as a young man on the make, ditching his job as attorney general to run against McCaskill, who is seeking a third term.
"Roy Blunt (born January 10, 1950)," Robert Bailey, another law professor at Missouri, emailed Hawley in October 2011, referring to the state's junior senator, who won re-election in 2016.
"About to be 62!" Hawley replied.
"Just enough that you can get tenure and then run," Bailey wrote.
"Only if you manage my campaign," Hawley replied. (It's unlikely the offer was sincere ― Bailey once worked for a Democratic member of the Missouri Senate, according to his online resumé.)
"We should commence our strategy sessions soon," Bailey concluded.
In an April 2013 email exchange, Hawley wrote to an Air Force Academy professor he had met at the Aspen Ideas Festival ― an event he remembered with "great fondness" ― that "part of my decision to move back to Missouri was political."
"I may try to get involved in public service here in the future," he wrote. "Time will tell."
The Hawley campaign didn't dispute the accuracy of the emails. "If Claire McCaskill would like to give the press all her emails from the last six years we're sure there'd be some interesting reading about her vacations with Senator and Mrs. Chuck Schumer," Hawley spokeswoman Kelli Ford wrote in an email, referring to the Senate minority leader and his wife.
Ambition is a tricky subject for Hawley, who graduated from Stanford University and Yale Law School, leading the conservative Federalist Society at the latter. He clerked for Supreme Court Chief Justice John Roberts and spent two years in private practice at the elite law firm Hogan Lovells in Washington before working at the Becket Fund for Religious Liberty in the nation's capital and then returning to Missouri to teach.
When he was running for attorney general two years ago, Hawley aired a TV ad attacking "career politicians just climbing the ladder, using one office to get another."
"I think you deserve better," Hawley said directly to the camera.
Democrats made it clear they would use the ad against him if he ran for Senate just months after becoming attorney general. It didn't stop Republicans, enamored with his youth, ties to major donors and lack of a voting record, from recruiting him into the contest.
Bigwigs in the state, including political megadonor David Humphreys and former Sen. John Danforth, helped him elbow out GOP Rep. Ann Wagner, who had long been McCaskill's presumptive challenger.
Republicans saw him as a perfect candidate to contrast with McCaskill, a career politician who first won elected office when Hawley was a toddler. He's considered the party's top Senate recruit this cycle.
McCaskill, who has made 22 bids for office over the years ― with only a single loss, in the 2004 Missouri governor's race ― has never made any secret of her political ambition, and wrote frankly about her desire to become governor after she left the state legislature in her memoir, Plenty Ladylike.
"I didn't hide my interest in gaining a bigger perch," she wrote.
Hawley told National Review his decision to jump into the Senate race was driven by a desire to shape the nation's judiciary. "I had not planned to do this," he told the conservative magazine. "But ultimately I came to believe that this is an urgent moment. We're at an inflection point. The choices we make today will set the trajectory for the next 50 years."
His colleagues previously seemed to think that such an urgent moment would, indeed, arrive sooner rather than later.
In an email sent just days after McCaskill won re-election in 2012 over the infamously gaffe-prone Rep. Todd Akin, a fellow law professor from Boston ended a discussion of Supreme Court cases with a brief question for Hawley.
"Also, are you running against mccaskill in 2018?," Northeastern University's Dan Urman, wrote to Hawley. "Akin did a great job making himself lose."
Support HuffPost
The Stakes Have Never Been Higher
Popular in the Community