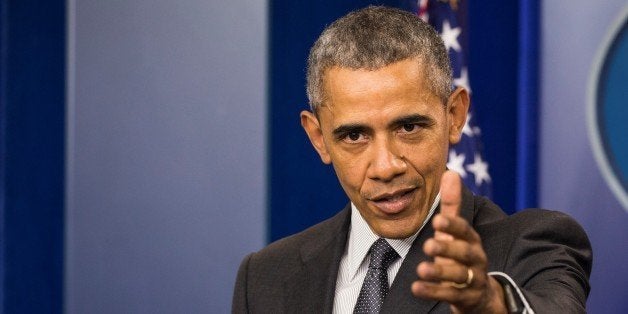 Despite some claims that Barack Obama will be seen as a failed president in the future, the current primary election campaigns make it clear that he is likely to be viewed historically as a highly successful president. It is becoming evident that those Republicans and others who worked hard to oppose and defeat Obama's policies have gravely damaged themselves. Their efforts to destroy his presidency have harmed the country and their own standing. This can be seen in many arenas.
Those who fought to block government actions to rebuild and expand the U.S. economy and to do so by reversing growing inequality are revealed as guilty of producing political stalemate and failing to allow the government to serve the people. The country was held hostage to demands to reduce taxes, even for the richest people. That understanding is widely shared by the public calling for outsiders. The wisdom of Obama's efforts to make the government serve the people's needs is becoming clearer.
Those who fought to delegitimize and undermine the first African-American president gained some visibility, but they will be recognized as marginal and by-passed. The achievements of that president and the increased social, cultural, and political status of African Americans will be heralded as American successes and validations of American greatness.
The resistance to Obamacare is revealing. It was based on a Republican concept, which was instituted in Massachusetts in 2006 by then Governor Mitt Romney. But, when it was proposed by Obama, an all-out, total opposition campaign was launched. Even after it was enacted, actions were taken to try to undermine it and Republicans in Congress repeatedly took doomed votes to repeal it. It has been a considerable success and can and will be improved over time, when its reality is recognized.
Many harms were caused by those who deny the reality of climate change as a result of human actions, partly in order to counter Obama. They resist rational efforts to slow down and halt climate change and to prepare for its consequences. Obama took needed steps to counter those harms. His actions in this regard, even as limited as they were, will be esteemed as the reality of climate change washes away any denial.
The unwillingness of Republicans in Congress to cooperate in reforming the immigration laws and the arousal of racist sentiments in the current primary election campaigns are further ways of attacking Obama. They do grave disservice to all people in the United States. Obama has acted to mitigate the unfortunate resulting circumstances.
Those who decry Obama's foreign policies as failures, while urging vague bellicose alternatives, will be recognized as mistaken. The great value of actions taken and of actions avoided, during the challenging years of his administration will come to be appreciated upon reflection. He and his close associates overcame the ill repute of U.S. foreign policy related to the tragic invasion of Iraq and the subsequent de-stabilization of the Middle East during George W. Bush's administrations. With great skill and persistence, he led in negotiating the reversal of Iran's nuclear programs into ones limited to peaceful uses. He boldly ended the failed policies to isolate Cuba and opened an era of better relations with all of Latin America. He has strengthened alliances in Asia and managed to avoid hostile contentions with China. He has avoided large-scale military engagements in the Middle East, which would have exacerbated the circumstances there. Throughout the world, he has been attentive to what were the highest U.S. priorities and also taken into account the interests and concerns of local actors. Again and again he has fashioned constructive alternatives to problems that would have been worsened by hasty war making.
Obviously, Obama's deeds have not always achieved what was intended; he could not control everyone else's actions. But his long-range time perspective on all major issues will bear enduring benefits. That he has accomplished as much as he has in the face of unreasonable, extreme resistance, across so many issues, enhances his achievements. The irony for those resisting him is that their behavior is proving so self-destructive. It may take more than one presidential election defeat before a reformed Republican Party emerges and can regain American respect.
Louis Kriesberg is Professor Emeritus of Social Conflict Studies at the Maxwell School at Syracuse University. He is the founding director of the Program on the Analysis and Resolution of Conflicts and the author of Realizing Peace: A Constructive Conflict Approach.
Popular in the Community